Cowboy Christmas Preview: Part Three – Belle Fourche, Crawford Celebrate 4th
Many of the best and most important rodeos of the entire season are staged during Cowboy Christmas – a fast and frantic week that incorporates the Fourth of July run. It's a busy time for contestants, and also for rodeo committees, who plan all year for their big event while working to provide the best opportunity for cowboys and splendid entertainment for adoring and paying fans. Contestants who succeed during Cowboy Christmas often set themselves up to contend for a gold buckle. Committees always seem to succeed, and put on a great show for their communities. When it's over, they try to catch a breath before starting work on the next year's rodeo. We salute six of those committees with Cowboy Christmas on the horizon – the groups from St. Paul, Ore.; Prescott, Ariz.; Ponoka, Alberta; Belle Fourche, S.D.; Red Lodge, Mont.; and Crawford, Neb. All of those rodeo-proud towns are gearing up for their grand entry, and as the big week approaches, we wish a Merry Christmas to all. Cowboy up!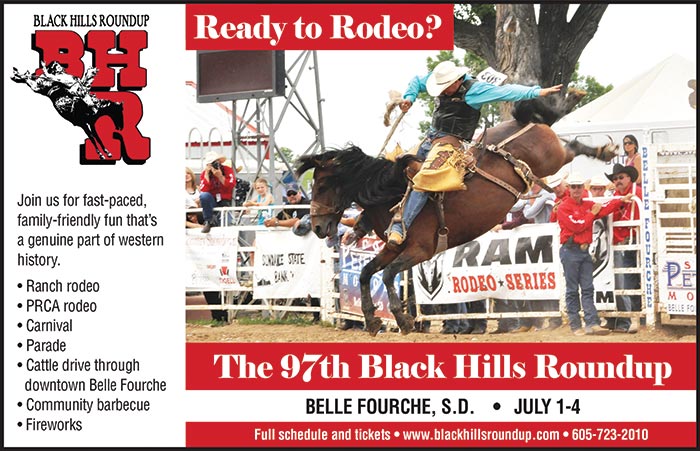 BLACK HILLS ROUNDUP
Belle Fourche, S.D.
July 2-4
blackhillsroundup.com
Belle Fourche means "beautiful fork" in French, for the confluence of what is now known as the Belle Fourche and Redwater rivers and Hay Creek. Beaver trappers worked these rivers until the mid-1800s and Belle Fourche became a well-known fur trading rendezvous point. By 1895, Belle Fourche was shipping 2,500 carloads of cattle per month in the peak season, making it the world's largest livestock-shipping point.
The town embraced a project to raise funds for World War I and that's when the rodeo was born. When the war ended, the locals wanted to continue the popular rodeo.
"There is documentation that about 15,000 people showed up over a couple days to watch the rodeo," said Justin Tupper, chairman of the Black Hills Roundup. "And it was a spectacle, with Indian dances and lots of other things."
The town's population was about 1,400 a century ago and is 5,700 today as the area gears up for its 97th annual Black Hills Roundup.
"For us to add close to $70,000 in this little community is huge," Tupper said. "We get about $150,000 in sponsorships for the rodeo and our largest is about $10,000 – with a lot of those from $2-5,000. We live on the smaller sponsorships, and those people are very important to us."
Especially when the town also hosts the state high school rodeo two weeks before the Black Hills Roundup and a 4-H rodeo the week after.
A golf tournament fundraiser is part of the Black Hills Roundup week, as is a barbecue and the traditional ranch rodeo, which is comprised of 12 teams of cowboys from local ranches. A week-long carnival is also part of the festivities.
"We have the largest fireworks show in South Dakota on the night of July 3," Tupper said. "Our parade is the largest in the five-state area with over 200-some entrants and, we believe, up to 25,000 people watching the parade." Located on the edge of the famed Black Hills, Belle Fourche is just a few miles from the geographic center of the United States when Alaska and Hawaii are considered. The Tri-State Museum is another local attraction.
"They're a great museum, and they work with us on the Roundup," Tupper said.
The committee spent approximately $600,000 on new aluminum bleachers about a decade ago, and is working on a $1.2 million restoration of the main grandstand to have ready by the rodeo's 100th year. The committee is sponsoring a special needs rodeo during the high school state finals and is also proud of its "Chute for Charity" group, a women's fundraising organization that gives about $40,000 back to the community.
"We've been fortunate to have awfully good crowds and hope to do more of that to help those people in need," Tupper said. "The Black Hills Roundup is very important to our community and we're very proud of it. The Roundup grounds are quite a spectacle, too, right along the river."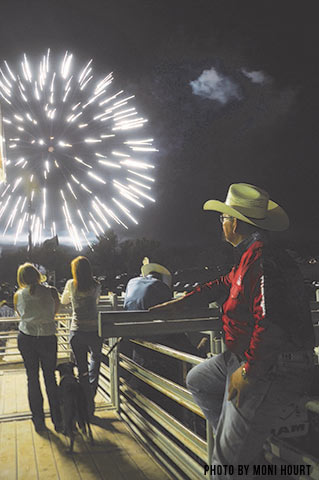 OLD WEST TRAIL RODEO
Crawford, Neb.
July 3-4
oldwesttrailrodeo.com
When six residents of Crawford were trying to figure out how to fund a new hospital just after World War II ended in 1945, one of them suggested having a rodeo. The idea was a hit – it was called the Hospital Rally Day Rodeo – and when the fundraising was complete two years later, enthusiasm for the rodeo was so high that it has continued to this day.
"It all started to fund a hospital, and it just never quit," said Old West Trail Rodeo President Brooke Bass. "It's probably the biggest event in the whole area. There are more people in town on the days of the rodeo than there are in the county at any other time of the year. We get people from several different states."
The date of the rodeo was changed to the Fourth of July in 1947, and lights were added in 1949 in a joint venture with the Crawford baseball association, who shared the arena. The name was officially changed to Old West Trail Rodeo in 1981, after being called several things in prior years, including the Crawford Fair and Rodeo Association.
"Our arena sits below Legend Buttes, a pretty unique backdrop," Bass said. "We've got some pretty rough buttes and some pine trees – not a typical Nebraska look.
"We're about three miles from Fort Robinson, which was a huge Army post in its day. We get people from all over the world out there. That's probably our biggest calling card."
The Crawford Rodeo Arena features an old-fashioned setting, with uncovered wooden grandstands that were built in 1946 where a dirt bank was dug out and concrete was poured.
A flood roared through the area in 1991, necessitating some changes.
"We were completely wiped out in 1991 with that flood, and got all new bucking chutes then," Bass said. "We've since put in a new roping chute."
Old West Trail Rodeo AdStock contractor J.D. Hamaker of Summit Pro Rodeo, who is a native of Crawford, provides great stock for the Old West Trail Rodeo.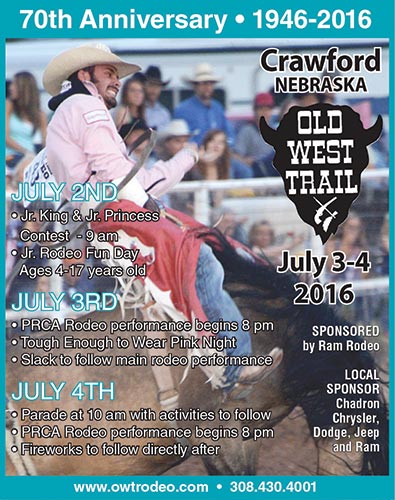 "We put on a kids' rodeo the day before the PRCA event, just to let the kids have fun and let them compete in the same arena where all their idols are the next night," Bass said.
"Our announcer, Les Ohlhauser, donates his time and announces for the kids, too, and that makes them feel like they're big stuff. I was part of that when I was a kid. When school gets out, that's what the kids are looking forward to.
"We have a parade on the morning of the Fourth. The Chamber puts on a deal in the park with vendors and music. The rodeo and everything else is very family-oriented.
"We're a real small community, and this is a really nice place to be. Everybody knows everybody. If someone is having trouble, whether it's on the side of the road or in a snowstorm, it doesn't matter whether you know them or not, they just stop and give them a ride. Everybody's kind of got everybody's back."
Courtesy of PRCA