Cowboy Christmas Preview: St.Paul and Prescott
by Bob Stephens, PSN Managing Editor | Jun 20, 2016
Many of the best and most important rodeos of the entire season are staged during Cowboy Christmas – a fast and frantic week that incorporates the Fourth of July run. It's a busy time for contestants, and also for rodeo committees, who plan all year for their big event while working to provide the best opportunity for cowboys and splendid entertainment for adoring and paying fans. Contestants who succeed during Cowboy Christmas often set themselves up to contend for a gold buckle. Committees always seem to succeed, and put on a great show for their communities. When it's over, they try to catch a breath before starting work on the next year's rodeo. We salute six of those committees with Cowboy Christmas on the horizon – the groups from St. Paul, Ore.; Prescott, Ariz.; Ponoka, Alberta; Belle Fourche, S.D.; Red Lodge, Mont.; and Crawford, Neb. All of those rodeo-proud towns are gearing up for their grand entry, and as the big week approaches, we wish a Merry Christmas to all. Cowboy up!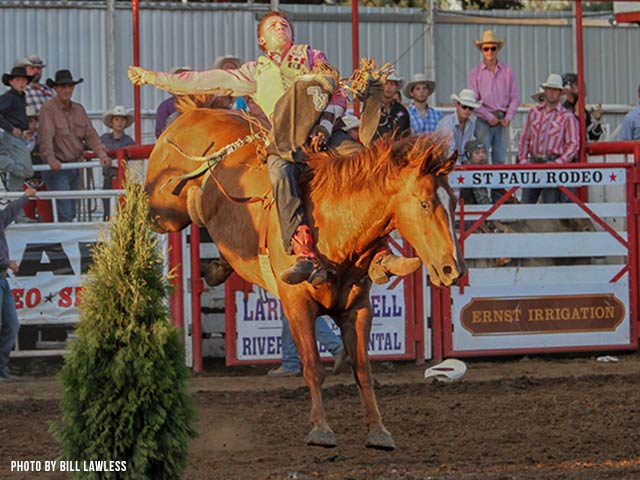 ST. PAUL RODEO
St. Paul, Ore.
July 1-4
stpaulrodeo.com
Every rodeo boasts of tradition, and St. Paul is no exception as five of the nine members on the Board of Directors have grandfathers who were among the original group in 1935. The rodeo began in 1936 and is celebrating its 80th anniversary. An unusual element to this proud event is that it's staged in a small town in the heart of the Willamette Valley with a population of about 350, but two million people live less than an hour from the arena in the big Oregon cities of Portland and Salem, the state capital.
"We're a small farming town," said Kevin Smith, the board's secretary and historian. "We do have a lot of city folks here in Portland and Salem. They can drive a very short distance and have a real country-style experience. I think they like that about coming to St. Paul, a really small town, and park on the street or in a field and walk to the rodeo grounds. It's only a couple blocks from anywhere in town."
Smith was born in St. Paul, and learned the importance of the rodeo at a young age.
"I was answering rodeo phone calls with my folks when I was probably 6 years old," he said. "My dad (Gene) had this job for 45 years before me. I guess you could say I was born into this job."
Unique to St. Paul are the small fir trees that populate the arena during the rodeo. They were first planted to mark the track used for pony races. Now, they're part of the tradition.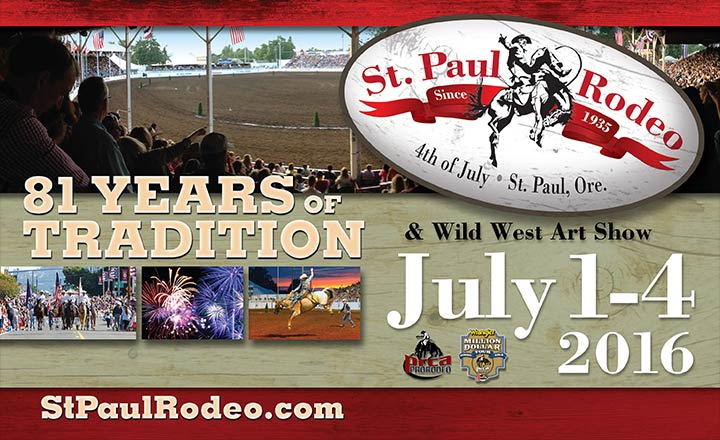 "We have about 17 arborvitae that are planted a couple of days before the rodeo," Smith said. "Arborvitae means 'tree of life' in Latin. They're baby Christmas trees – I like the way that works with Cowboy Christmas. It's always incumbent on the clown to run the arborvitae.
If you get into one of those trees in the calf roping, you're out of the money, but if you get into it in the team roping, you're right where you need to be."
Two days after the rodeo, the arborvitae are removed and grass is planted in the city-owned arena so the St. Paul High School Buckaroos can play football under the stadium lights in the fall.
The four-day rodeo – which ranked 15th by committee purse among all ProRodeos in 2015 and had a total payout of $327,357 – features five performances. Two perfs are scheduled July 4, with the parade that morning at 10 a.m.
"Our rodeo membership is over 400," Smith said. "We've got a large grounds, and we do a lot of other things. It's not just a rodeo – it's a festival. We've got a carnival, food everywhere, a Wild West art show, a barbecue cook-off, and fireworks every night.
"The St. Paul Parish has barbecue chicken stands in town and at the rodeo; it's kind of what we're famous for here. The Catholic church was built here in 1846; it's the first one west of the Rocky Mountains. The local Jaycees run the beer garden. The Booster Club runs most of the parking and the stadium concessions. It's a real community effort.
"Since 1947, on the first Sunday in June, there has been a trail ride. There's a big breakfast in the community hall and we probably get 400-500 horses. It goes along the Willamette River."
Smith said the closest hotels are 10 miles from St. Paul.
"We have a little food cart and one tavern with a hamburger stand, and one bank," he said. "It's difficult for us to measure what we do financially for the area, because it's spread around to other cities.
"This is an interesting operation; we produce this rodeo. If it was big business, and it wasn't about passion and volunteerism, it probably would've died a long time ago. We've got the biggest game in town. It's a year-round story, with fundraising events and auctions, and entertaining our members at social events. We have a footprint all year long, and that's why we have loyal, returning fans.
"That's why committees are so important, for the work they do all year long and their connection to the communities."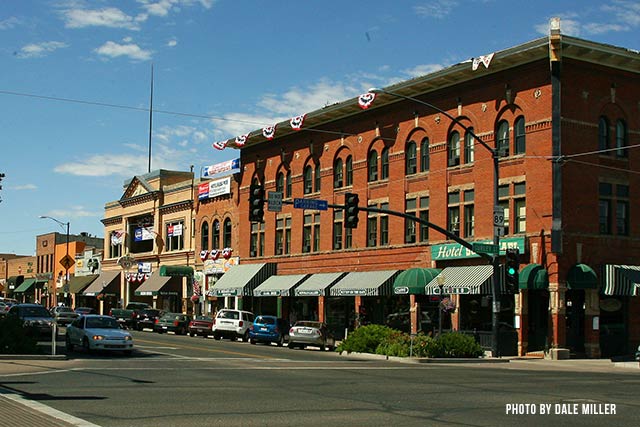 WORLD'S OLDEST RODEO
Prescott, Ariz. June 28-July 4
worldsoldestrodeo.com
How much does the World's Oldest Rodeo mean to its general manager, J.C. Trujillo, who was the 1981 world champion bareback rider? Well, a day after undergoing successful colon surgery, he returned a phone call to talk about his favorite rodeo.
"I was born and raised here in Prescott," said Trujillo, 68, who was inducted into the ProRodeo Hall of Fame in 1994. "My dad came here in 1919 and competed here at the Prescott Frontier Days, the earliest in 1934. He rode bareback horses. I can't remember when I wasn't around the Prescott Frontier Days."
Nobody alive saw the first official rodeo in Prescott – which occurred July 4, 1888. In 1913, the first year the rodeo took place on the site where the arena remains today, it took the name of Prescott Frontier Days.
It became the "World's Oldest Rodeo" in 1985 – the same year that name was approved and registered by the U.S. Patent Office based upon five separate criteria to which it qualified.
"Prescott wasn't the first rodeo – that was supposedly in Deer Trail, Colo.," Trujillo said, "but it was the first place that charged an entry fee to the cowboys, charged admission and created a fan base. I always say Prescott planted the seed for what ProRodeo is today. They even put a set of rules together and a lot of those rules are part of what the PRCA rulebook is today."
Many will be thrilled by the 129th annual event, including local merchants.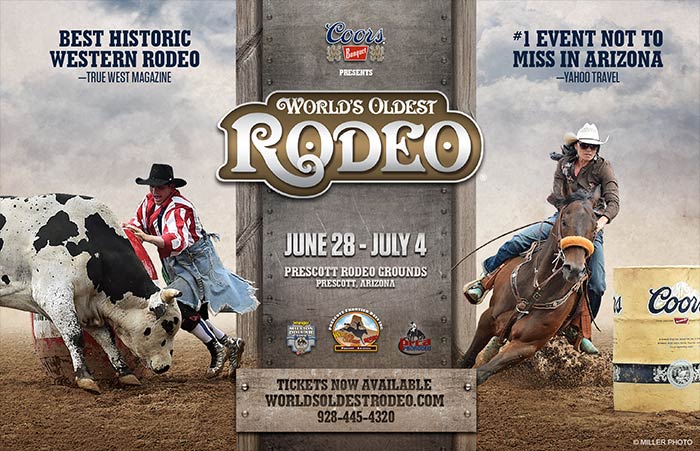 "The value of the rodeo here is known by every businessman, and how valuable it is to the economy of Prescott," said Trujillo, who has been the general manager for 13 years. "It's an old survey now, but they determined that in the seven days of the rodeo we generate over $12 million in income around the Prescott area.
"It's a giant thing here. The rodeo is the signature attraction in Prescott and the biggest thing that happens in Northern Arizona every year."
The rodeo wouldn't occur without the help of those local merchants.
"We're real fortunate to have the backing of a lot of the businesses in Prescott, and our national sponsors, too," Trujillo said. "It's a giant part of what we do."
He appreciates the extra effort and teamwork that goes on behind the scenes, although he didn't used to realize how many contributed to a rodeo's success.
"When I was competing as a rodeo cowboy, I didn't realize what it took to put on a rodeo, and that it takes 12 months to do it," Trujillo said.
"You've got to have security, parking, ticket takers, ticket sellers, all of the different aspects that go into it. It's a huge operation that the cowboy – who blows into town and then out of town – doesn't really think about."
Trujillo and his wife, Margo, moved back to Prescott from their home in Steamboat Springs, Colo., when the general manager job came open. He was coming home, and it felt right.
"It fit like a glove when I went to work here," he said. "I run the sponsorship program and do all the rodeo hiring and producing of the rodeo with Harry Vold, who's been doing this rodeo since 1972. The first year Harry was here, I won the bareback riding, and I won it five times. This rodeo's always had a special meaning to me."
The rodeo and the town of Prescott were highlighted in the 1972 movie "Junior Bonner" starring Steve McQueen, who played a veteran bull rider.
"That was a big deal when it came out," Trujillo said.
The World's Oldest Rodeo is still a big deal – all these years after it began.
Courtesy of PRCA