Cowboys Know Importance of SAR Title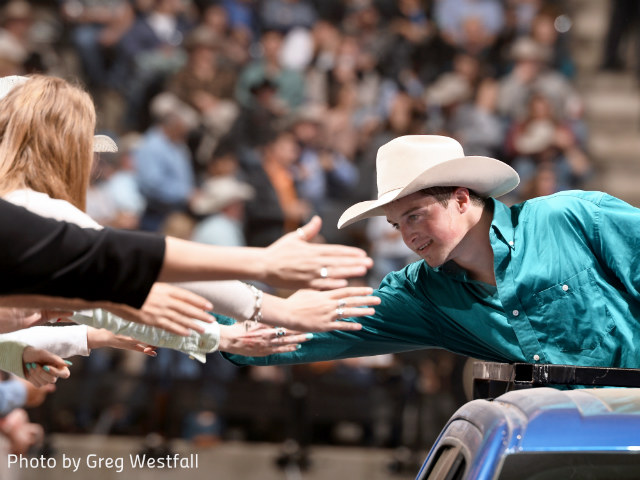 This is the 10th consecutive year that the San Antonio Stock Show & Rodeo has offered at least $1 million in total prize money (2008-17).
The 2017 SAR began Thursday, and concludes Feb. 26.
The payday – it had a $1,480,500 payoff last year – brings the biggest and brightest stars to San Antonio.
Winning San Antonio can propel a cowboy to the Wrangler National Finals Rodeo presented by Polaris RANGER – or help be the deciding factor in a cowboy winning a world championship.
Sage Kimzey, who has won three consecutive bull riding gold buckles in a row, also has had immense success at San Antonio, winning the rodeo in 2014 and 2016.
"It (San Antonio) is the defining moment of the winter run," Kimzey said. "If you had a bad winter, you can wipe all that away with a good performance at San Antonio, and it can get you that much closer to making the NFR. San Antonio also has really good bulls, big crowds and a lot of money, and those three things make it a dream set up for me."
Kimzey earned $26,737 at the 2016 San Antonio Stock Show & Rodeo, and went on to win the gold buckle in Las Vegas in December at the WNFR by $23,648 over Brennon Eldred.
"With every penny counting, if you have success at San Antonio, it just really sets your season up," Kimzey said.
Saddle bronc rider Jake Watson, the defending SAR champion, acknowledged the importance of this rodeo to his 2016 success.
Watson earned $25,168 in his first time competing at San Antonio, and qualified for his inaugural WNFR in 15th place in the WEATHER GUARD® PRCA World Standings with $68,095. Watson finished fifth in the final season standings with $204,102.
"I've been looking forward to San Antonio since it ended last year, and I'm going to try and win it again," Watson said. "It meant the season to me last year. I won a big chunk of my money during the (regular) season at this rodeo. It's an amazing rodeo. It was a whirlwind for sure to win San Antonio, and it almost still hasn't sunk in that I won that much money at San Antonio (last year)."
Steer roper Rocky Patterson also comes to San Antonio as the defending champ, and the 2016 SAR played a big role in him capturing his fourth National Finals Steer Roping gold buckle.
At San Antonio a year ago, Patterson placed second in the third round, won the average by more than a second and left town with $20,288. He won the 2016 steer roping world championship with $141,350, edging Cody Lee by $16,895.
"I had not won enough money at San Antonio before last year to buy lunch at McDonald's," Patterson said. "I didn't have anything won last year until I went there, and it got me to where I was like second in the standings, so it was really big for me. It seems like every year there are two or three people who win enough at San Antonio to qualify for the NFSR. Anytime they are going to give away that much money, I'm going to enjoy it. This is like the NFSR, with 35 other people to beat."
The steer roping at the SAR all takes place Feb. 26. Two rounds are run in the morning, and then the top 18 cowboys return for the short-go that afternoon.
Courtesy of PRCA