Crawley Continues Hot Streak in Florida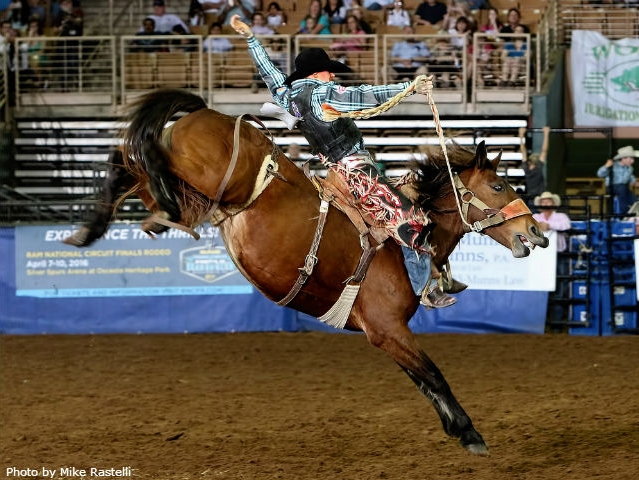 KISSIMMEE, Fla. – Saddle bronc rider Jacobs Crawley is not the type of man to settle on his previous successes, and he's showing that early in the 2016 season.
The 28-year-old captured his first world championship and second average title at the Wrangler National Finals Rodeo presented by Polaris RANGER a little more than two months ago.
He was red-hot in Las Vegas during the 10 nights, placing in seven of the rounds and finishing with an average score of 810.5 points on 10 head.
That streak has continued, as was evident at the 133rd Silver Spurs Rodeo, where Crawley rode for 85.5 points on Silver Spurs Club's Little O for the victory.
"I feel like I stepped off the 10th-round horse and went right into the new season in January," Crawley said. "The momentum I have has been great, and I've been having a lot of fun."
Nobody could blame Crawley for having fun with the way he's started 2016. After winning the first Wrangler Champions Challenge event of 2016 in Kissimmee last October, Crawley has rattled off wins in Odessa, Texas; Homestead, Fla.; Belton, Texas, and now Kissimmee, again.
He also finished second in Denver, earning nearly $10,000. He expanded his lead in the world standings with his win at the Silver Spurs Arena Sunday, and the $4,963 he earned there puts him at about $35,000 for the season.
"I don't have a number in mind for the winter," the Stephenville, Texas, cowboy said in reference to his earnings. "I just want to try to win every rodeo I go to, and it's an individual goal each weekend to win. I know everything is decided in Vegas at the end of the season, but last year it was only a few thousand dollars difference for me winning the world title. Every win is big."
Having $35,000 banked before the end of the San Antonio Stock Show & Rodeo is quite impressive for any cowboy in any event.
Crawley said the mental side of his hot streak has been important to his riding.
"It gives you a lot more confidence on horses that you typically may not be confident on," he said. "The ones that are good become great, and the great ones are even better."
Crawley was up on the final day of the Feb. 19-21 rodeo, and knew going into it that he had to beat a score of 82.5 points to earn the top check in Kissimmee.
He got on a plane Sunday morning, flew to Florida and posted the winning ride, and then was on a flight back to Texas the same night.
"It was a real nice business trip," Crawley said. "I just wanted to flash up that nice horse as much as I could, and she had a great day. From here, it's on to San Antonio this weekend and then I'm going to hit the road. The gas is stomped down, and the upcoming schedule is busy."
Other winners at the $127,453 rodeo were all-around cowboy Colton Matthews ($2,068 in tie-down roping and team roping), bareback rider Winn Ratliff (85.5 points on Big Rafter Rodeo's Mountain Cat), steer wrestler Eldon Tallant Jr. (3.6 seconds), team ropers Clint Keller and Shane Edmonson, and Manny Egusquiza Jr. and Daniel Braman IV (5.2 seconds each), tie-down roper Michael Otero (7.9 seconds), barrel racer Christy Honsberger (15.97 seconds) and Michael Riggs Jr. (87 points on Silver Spurs Club's No Says I).
For complete coverage of the Silver Spurs Rodeo, check out the March 11 issue of the ProRodeo Sports News.
Courtesy of PRCA