Cress Wins his Hometown Rodeo at Cheyenne Frontier Days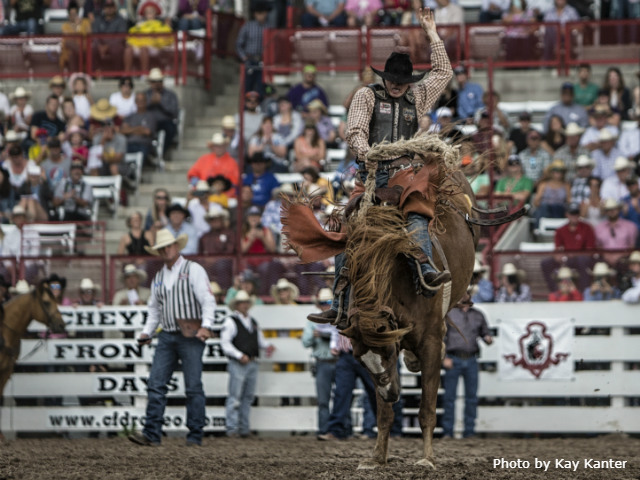 CHEYENNE, Wyo. – A hometown victory by claiming the Daddy of 'em All is how saddle bronc rider Brody Cress is continuing his winning streak.
Cress, 21, grew up just down the road from the Cheyenne Frontier Days Rodeo, so the grandstands were packed with his family, friends, and thousands of rodeo fans from the Cowboy State.
"This rodeo is hard and it has so much history, and it's my hometown; so it's one I wanted more than anything," Cress said. "I love riding in front of my family and friends, and it's awesome to do good for them."
His hot streak for just the month of July alone has added up to more than many saddle bronc riders win all year. Cress kicked off his winning streak during Cowboy Christmas and is showing no signs of slowing down as he's collected weekly paychecks totaling:
• $3,418 at Greeley, Colo., on July 3
• $4,367 at Belle Fourche, S.D., on July 4
• $2,487 at Estes Park, Colo., on July 10
• $3,341 in Casper, Wyo., on July 15
• $6,930 in Salinas, Calif. on July 23
Cress followed all of that up by raking in a grand total of $14,241 by going for 256 points on three head at the Cheyenne Frontier Days Rodeo.
A month ago, Cress was sitting at 40th in the WEATHER GUARD® PRCA World Standings and he was sitting at 16th prior to winning Cheyenne.
Cress gained steam as Cheyenne Frontier Days progressed – he tied for fourth in the first round with an 83.5-point ride, then placed second in the second round with an 84 before nailing the win in the final round with an 88.5-point ride on Sankey Pro Rodeo & Robinson Bulls' Black Box.
"I didn't know it was going to happen – I tried not to get too pressured up or nervous and just have fun," Cress said.
Cress was about $5,000 away from bursting the bubble and breaking into the Top 15, but the race is on for the final two months of the 2017 season and every cowboy is hitting the rodeo road hard.
"I had a lot of rodeoing left and it's close through the Top 30, so anything can happen," Cress said. "I've won checks every weekend, but I've dang sure got to keep it up and keep going."
Although he's excited for his win, Cress isn't letting his most-recent win alter his plans.
"It's awesome to win it, but I've got to keep it up – there's a lot of winning that has to happen to make the Finals – but, it keeps my confidence up," Cress said. "I love getting on bucking horses and need to keep my head level."
Cress hit the road immediately after Cheyenne to compete at the Wind River PRCA Roundup Rodeo in Riverton, Wyo. From there, he's heading to Iowa's Championship Rodeo in Sidney and the Dodge City (Kan.) Roundup Rodeo.
"There's a lot of good rodeos coming up and a lot of good horses, so it'll be a lot of fun," Cress said.
Other winners at the $835,283 rodeo were all-around cowboy Trevor Brazile ($13,949 in team roping, steer roping and tie-down roping), bareback rider Tim O'Connell (254 points on three), steer wrestler Baylor Roche (26.1 seconds on three), team ropers Erich Rogers and Cory Petska, and Brandon Webb and Kollin VonAhn (28.4 seconds on three), tie-down roper Lane Livingston (38.0 seconds on three), barrel racer Stevi Hillman (52.44 on three), steer roper Brady Garten (51.6 seconds on three), and bull rider Clayton Foltyn (255.5 on three).
For more coverage of the Cheyenne Frontier Days Rodeo, check out the Aug. 18 issue of the ProRodeo Sports News.
Courtesy of PRCA