Crouch Captures Big Win at Dixie National Rodeo
by Tracy Renck | Feb 18, 2016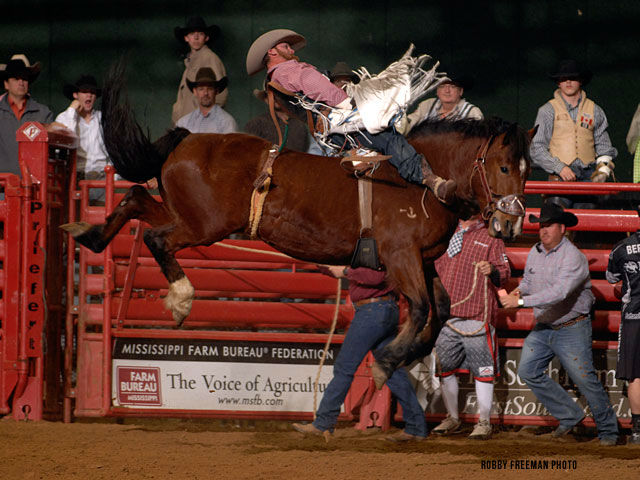 JACKSON, Miss. – This is rarified air for bareback rider Ethan Crouch and he was enjoying the view from the top of the standings at the Dixie National Rodeo Feb.17.
The Smiley, Texas cowboy had an 87.5-point ride on Hi Lo ProRodeo's Wilson Sanchez to capture the victory at the Mississippi Coliseum.
"This feels absolutely fantastic," said Crouch, 24. "This is my rookie year and 2016 has been a wonderful season and to win something like Dixie, right here at the beginning of the year, with a big ride like that on a great horse, is a blessing without a doubt."
Crouch left town with $5,732 in winnings, and he was trying his best to keep his feet on the ground after his biggest career win.
"It's great to win something big, but I have to keep my momentum going," Crouch said. "I had been here (at the Dixie National Rodeo) one other time in 2013, and I had a good horse and I didn't ride very good. I didn't want to have a repeat performance. I knew coming into this rodeo I had the one to win it on and I just wanted to step up and do my job."
Crouch had never been on Hi Lo ProRodeo's Wilson Sanchez before Wednesday, but he did do his homework on the horse. The horse competed in the 2015 Wrangler National Finals Rodeo presented by Polaris RANGER and in Round 1 Clint Laye failed to register a score on Wilson Sanchez and in Round 6 the horse bucked off Clint Cannon and gave him a mild traumatic brain injury, forcing him to doctor release out of Rounds 7 and 8.
"I watched video of the horse (from the 2015 WNFR) at my buddy's house before I came over and rode (Feb. 17)," Crouch said. "That is an outstanding horse and one you dream about getting on as a bareback rider. I knew I had to keep square and keep gassing him and he bailed out of there and kind of stalled out, right outside the gate, and I did my job and everything paid off."
Crouch's rodeo career didn't take off initially because he was coping with the death of his father, Roger Crouch. Roger, a bull rider, died while competing at an unsanctioned rodeo in 2011. He was 51.
"It really opened my eyes to the possibilities of what can happen in this sport," Ethan said about his father's passing. "It made me realize how much you need to cherish the ones who you love because they are here one day and gone the next. After my dad passed, I started back rodeoing and I was doing all right and I battled a lot of shoulder injuries. I took time off to let them heal up and I was back riding good, and I figured why not go for it (in 2016)."
Following his Jackson win, Crouch was brimming with confidence.
"I'm trying to make a run for it to win rookie of the year and make the NFR," Crouch said. "I want to be in Vegas in December. I want to be standing behind those yellow bucking chutes."
Other winners at the $198,278 rodeo were all-around cowboy Justin Thigpen ($4,479, tie-down roping and steer wrestling), steer wrestler Jake Rinehart (7.6 seconds on two head), team ropers Tee Luttrell and Clay Sieber (8.5 seconds on two head), saddle bronc riders co-champions Jake Wright, (87 points on Stace Smith Pro Rodeos' Resistols Top Hat), and CoBurn Bradshaw (87 points on Three Hills Rodeo's Prom Nite), tie-down roper Justin Thigpen (16.7 seconds on two head), barrel racer Cassidy Kruse (15.44 seconds), and bull rider Roscoe Jarboe (89.5 points on Stace Smith Pro Rodeos' Pistol).
Courtesy of PRCA