Daily Themes and Events at the 105th California Rodeo Salinas
Dress the Part and Have Some Fun
Salinas, CA – Each performance of the California Rodeo Salinas is unique and celebrates a special cause. Be sure to dress the part according to the theme of the day and don't miss any of the special events during the week.
Sport your boots and celebrate your country roots Wednesday July 15th, as bull riders take on the toughest sport on dirt. The Professional Bull Riding BlueDEF Velocity Tour begins at 7pm, on Wednesday July 15th. The Salinas Sports Complex will be showcasing 15 of the top 50 bull riders in the world, prepare to be amazed!
Rabobank's Tough Enough to Wear Pink night is Thursday July 16th. Everyone will be dawning pink shirts to show their support for breast cancer research. A portion of proceeds from Thursday's ticket sales will be donated to the Comprehensive Cancer Center at the Salinas Valley Memorial Healthcare System. While Thursday is a night of awareness, it is also a night of family fun. Kids will run their hearts out in the Stick Horse Race presented by Northridge Mall on the track. The preliminary race begins at 4:30pm and the finals run during the Rodeo performance that night. Bring the kids to the autograph party after the rodeo to meet the newly crowned Miss California Rodeo Salinas 2015.
Friday July 17th is Wells Fargo's Fight Hunger Night. Don't miss the Central Coast's favorite race, the 5th Annual Produce Mascot Race. Find out if Church Brother's "Lettuce Maximus" will keep his championship title or if another mascot will take the win. Companies signed up to participate in the 2015 race are: Bengard Ranches, Church Brothers, Dole Fresh Vegetables, Mann Packing, Naturipe Berry Growers, Ocean Mist Farms, Pacific International Marketing, Sakata Seeds America, Tanimura & Antle, Taylor Farms and The Nunes Company. Each company pays an entry fee of $1000 that is donated directly to Ag Against Hunger. Ag Against Hunger (AAH) is a non-profit organization whose mission is to alleviate hunger by creating a connection between the agricultural community and food assistance programs.
Salute to Military Day is Saturday July 18th. All active military personnel, and, for the first time, Veterans, will receive free admission with identification. Don't forget to wear red, white and blue to support the Wrangler® National Patriot™ Program (WNPP). The program was created to provide funding and support for America's wounded and fallen soldiers and their families. The California Rodeo Salinas supports the WNPP and is honored to donate funds generated by the program to Monterey Bay Veterans, Inc., a local charity doing great things to help Wounded Warriors and Veterans. Also on Saturday, Tanimura & Antle presents the Special Buckaroos Rodeo on the track at 12pm. Professional cowboys and cowgirls will team up with special needs children and participate in a rodeo where the children become cowboys and cowgirls for the day.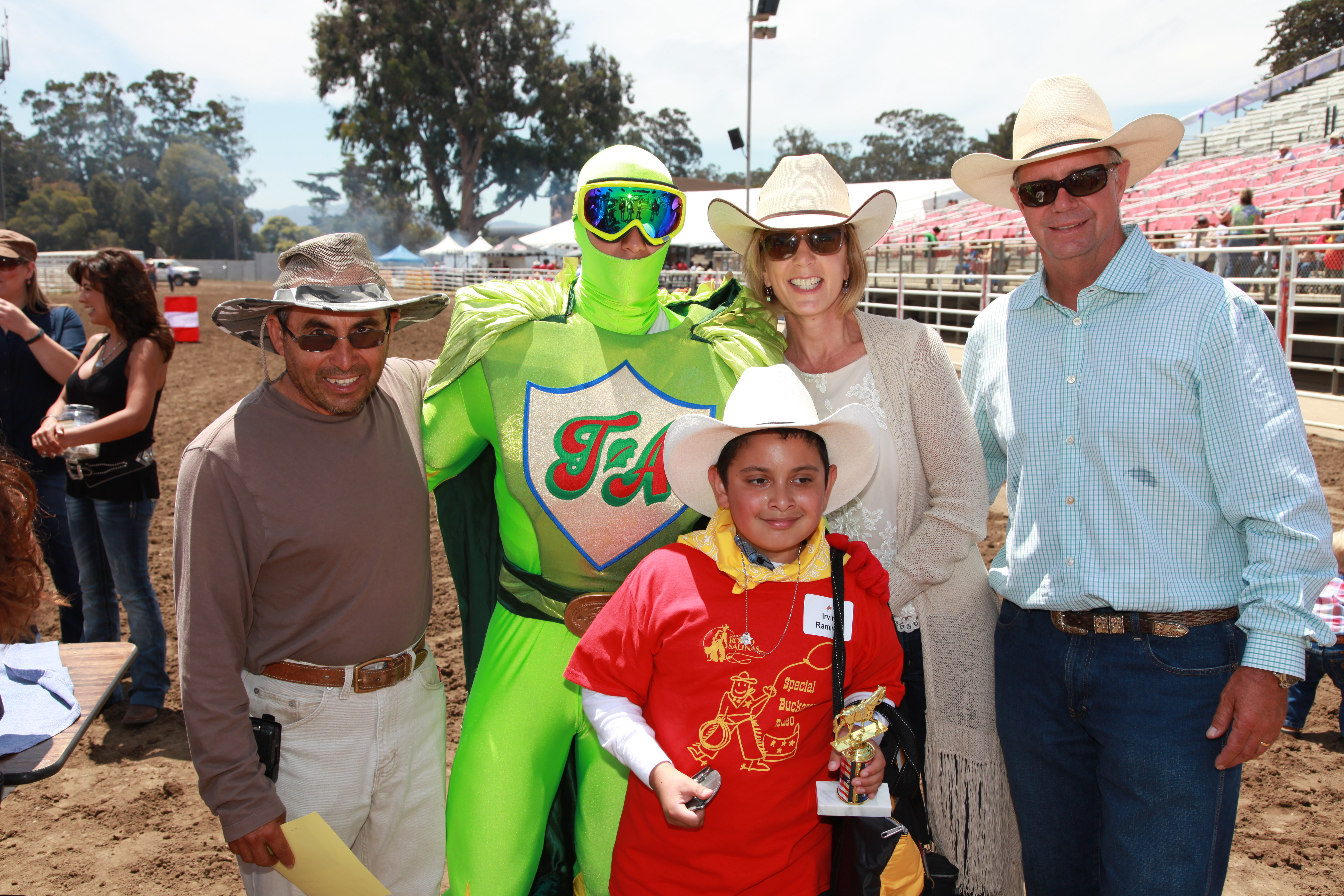 On Pendleton Whisky Day of Champions, Sunday July 19th, the California Rodeo Salinas is painting the crowd purple for the Man Up Crusade. The Man Up Crusade is a non-profit organization dedicated to creating public awareness on the issue of domestic violence. Across the nation, the color purple and the purple ribbon has been adopted to show support for victims and for advocates to honor those who have lost their lives at the hands of someone they once loved. The Rodeo is partnering with the local YWCA to spread awareness and raise funds for this cause. The YWCA owns and operates the only confidentially-located battered women's shelter in Monterey County and is the only sole-source provider of domestic violence services in the county, including counseling for adults and children, legal advocacy and court accompaniment, victim advocate training, 24-hour crisis hotlines, and teen dating violence prevention programs.
The entire California Rodeo Salinas would not take place without the support of our loyal sponsors, many of whom support the causes listed above in addition to their sponsorships. Thank you to our 2015 sponsors:
All Around Grand Champion Sponsors:
Coors
Jack in the Box
Pendleton Whisky
Wrangler
Grand Champion Sponsors:
KCBA FOX 35
Mission Linen & Uniform Supply
Paraiso Vineyards
RDO Equipment Co. / RDO Water
Republic Services of Salinas
Taylor Farms
Univision KSMS 67 & Unimas KDJT 33
Wells Fargo
Gold Champion Sponsors:
Laurel Inn Motel & Conference Center
Rabobank
Ram Rodeo
Tanimura & Antle
Champion Sponsors:
100.7 Y 100.9 La Preciosa
92.7 KTOM
Azteca KMCE TV 43
Boot Barn
Braga Fresh Family Farms
California Towing
Casa Sorrento/Hacienda Mexican Grill
Central Coast Sign Factory
Church Brothers
Coca Cola
Comcast Spotlight
Crop Production Services
Enza Zaden
EverFarm Service, Co
Famous Dave's
Farm Credit
Golz Construction, Inc
Granite Construction
Home Depot
Jefferson Farms
Justin Boots
KLOK Tricolor 99.5 FM
KOTR My 11 TV
KPIG 107 oink 5 FM/ The Beach 101.7 FM
KSES Jose 107.1 FM
KWAV 96.9 FM
McDonald's
NewsChannel 5 KION CBS 46/KMUV Telemundo 23
Pape Rents
Power Talk 1460 AM & 105.1 KOCEAN
Producers Dairy
Safeway
Salinas Valley Memorial Hospital
Sonja Giovanetti Consulting
The Hippo 104.3 FM
The Monterey Herald
The Salinas Californian/Californian Media Group
Toni Michelle-Salon
Vista Verde Labor
Wolfhouse Radio Group – KMJV & KRAY
Wolfhouse Radio Group – KTGE & KEXA
Major Sponsors:
102.5 KDON
1st Capital Bank
Ace High Designs
Alco Water Company
American Door & Gates
Artistic Hang Ups
Ausonio Company
Bengard Ranches
Best Buy
Bj's Restaurant and Brewhouse
Boutonnet & Ocean Mist Farms
Brent Eastman Insurance Services
Bunker and Sons
C & A Truck Brokerage
C&N Tractors
Cal Coast Machinery
Central Coast Cooling LLC
Christensen & Giannini
Coastal Grower Magazine
Coastal States Insurance
D & M Traffic Services, Inc
Dataflow Business Systems
Denham Plastics/Bin Dr/Orbis
Dole Fresh Vegetables
Don Chapin Company
Drew Massa Transportation
El Sol
Faithful Fans of the 3rd Week of July
Farm Fresh Deli & Café
Foothill Packing, Inc.
Frank & Cheri Heffren/ Cal Poly Ag Engineering
Glamour Glow Tanning
Green Valley Farm Supply
GreenGate Fresh
Grower's Pub
Jenkinson Construction
KSEA La Campesina 107.9
La Plaza Bakery
Landsberg Orora
Livewire Information Systems
Lowe Packaging Group
Mann Packing
McDonald's – Raymond Costa
McSherry & Hudson Insurance & Risk Management
Mike Storm Family
Monterey Signs
My Cars
Naturipe Berry Growers
Outback Steakhouse
Pacific Ag Rentals
Pioneer Cleaning Supplies
Quinn Company/Massey Ferguson
RC Farms
RJS Farms
Salad Shoppe
Salinas Valley Tire
Sam Ruiz Painting
Sambrailo Packaging
SILKE Communications
The Club at Crazy Horse Ranch
The Jim & Sally Martins Family
TS&L Seeds
Tuff Shed
Union Bank
Valley Fabrication
Valley Pacific Petroleum Services
Valley Trophy & Detectors
Willingham Woodworks
Sponsors:
A & O Pharmacies
Alliant
Amanda M deDampierre
American Farms
AT&T
Bank of America
Bankers Casino
Barlocker Insurance Services
California Water Service Company
Coastal Tractor
Comgro Soil Amendments, Inc
D'Arrigo Bros. Co., of California
Debbie and Jimmy Boteilho
EBX Logistics
G & R Fabrication
Genesis Freightliners
Gist Silversmiths
GlamSquad//Beauty by Alecia
Growers Container Co
Hayashi Wayland
Headstart Nursery/Zeph's One Stop
Henry Hibino Farms, LLC
Hilltown Packing
Holiday Inn Express
ID Concepts (SDI Company)
Jim Martins
Joe Gunter Investigations
Joseph J. Massolo
Keithly-Willilams Seeds
K-Lift Services Co., Inc.
LA Hearne
Mansmith's Barbeque
Massolo Brothers Trucking
McCormick Company
McShane's Nursery & Landscaping Supply
Montana Silversmiths
Monterey Regional Airport
Moresco Farms, Inc.
Muzzi Family Farms
NewStar Fresh Food
Nielsen Properties/Fowler Ranch
Noland, Hamerly, Etienne & Hoss
Northridge Mall
Oil Can Henry's
Pacific International Marketing
Pacific Valley Bank
Pan American Insurance Agency
Pezzini Berry Farms
PODS
Quinn Rentals
Rossi Bros Tire & Auto Service
Sabor Farms
Sakata Seed America
Sandy Shaffer
Sconberg Ranch
Second Chance Youth
Sherwin Williams
Snowseeds Organic
Star Market
Star Sanitation
Star Shopping Center
Steinbeck Country Equine, Inc.
Sturdy Oil
Super Sales Auto Accessories
Tom & Terry Pettitt
The Nunes Company
The Tree Man
Titan Insurance (Choice Media)
Tricord Tradeshow Services, Inc.
Vegetable Growers Supply
Wawona Frozen Foods
Western Harvesting
To learn more about the 2015 California Rodeo Salinas or to purchase event tickets visit www.carodeo.com. The Salinas Sports Complex is open for business Monday-Friday from 10am to 6pm. Beginning Monday, July 6th, the Box Office will be open for business 7 days a week from 10am to 6pm and will be open later on July 15th-19th as the PBR and Rodeo take place.