Dent Wins Spanish Fork with 88-Point Ride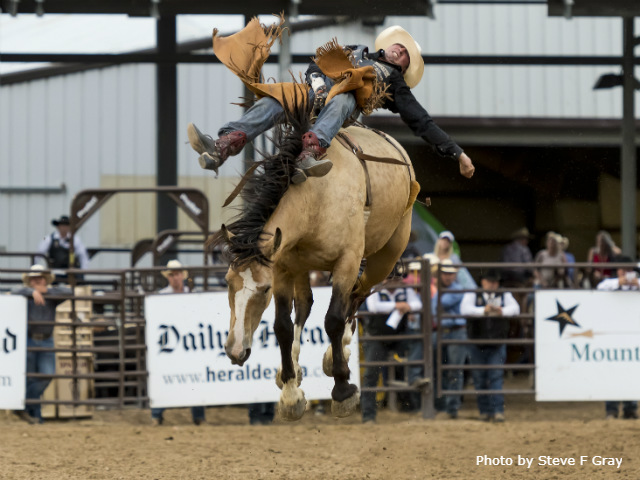 SPANISH FORK, Utah – The Spanish Fork (Utah) Fiesta Days Rodeo dished out $7,663 to bareback rider Steven Dent for his 88-point ride on Frontier Rodeo's Gun Fire on July 24.
"It's a great rodeo and they've got good bucking horses and a lot of money, and the best crowd we ride in front of all year," the 31-year-old Nebraskan said. "To get off and be 88 is pretty exciting."
Dent's score was just one point shy of matching the Spanish Fork arena record of 89 points, which is shared by James Sursa (2006) and Ryan Gray (2009).
"That horse (Gun Fire) was really good – he just jumped and kicked hard straight away and made a tight hook to the left for the last few seconds," Dent said. "He was just what a guy wants – up and down and with something to spur at."
Dent's aiming for his eighth qualification for the Wrangler National Finals Rodeo presented by Polaris RANGER, having qualified in 2007-08 and 2010-14. Although he's picked up some checks along the way, Spanish Fork was his first win of the 2017 season.
"It's been a trying year," Dent said. "I haven't been (drawing very well) and this is the latest I've ever been to finally win one. It's a weight off my shoulders so I can get on a roll and get where I want to be."
Dent was sitting at No. 23 in the WEATHER GUARD® PRCA World Standings prior to winning Spanish Fork. His position is likely to move up considerably thanks to the $7,663 he won at Spanish Fork, along with the $2,207 he earned at the K-Days Rodeo at Edmonton, Alberta, on July 23, and the $1,600 he earned at the Komatsu Equipment Days of '47 Cowboy Games & Rodeo at Salt Lake City, which ended on July 24.
"This sets me up a lot closer to where I want to be – I was $10,000 out of the Top 15, and to get within striking distance is a big help," Dent said, estimating he'll have about $50,000 earned once his recent winnings are added into the world standings. "Most of the other times I made the NFR, I haven't been close to that – so I should be good going into the last couple of months.
"It's good to get on a roll before Cheyenne (Frontier Days) and hopefully I'll do some good there," Dent said. "But, I'm a long way from where I want to be and I have a lot of work left to do."
Other winners at the $276,762 rodeo were all-around cowboy Caleb Smidt ($3,538 in tie-down roping and team roping), steer wrestler Ross Mosher (7.7 seconds on two head), team ropers Clay Smith/Paul Eaves (9.0 seconds on two head), saddle bronc rider Heith DeMoss (88.5 points on Frontier Rodeo's Medicine Woman), tie-down roper Reese Riemer (17.5 seconds on two head), barrel racer Stevi Hillman (16.72 seconds) and bull rider Derek Kolbaba (89.5 points on Frontier Rodeo's Joy Stick).
For more coverage of the Spanish Fork Fiesta Days Rodeo, check out the Aug. 4 issue of ProRodeo Sports News.
Courtesy of PRCA