Dougherty Cashes in with California Rodeo Salinas Win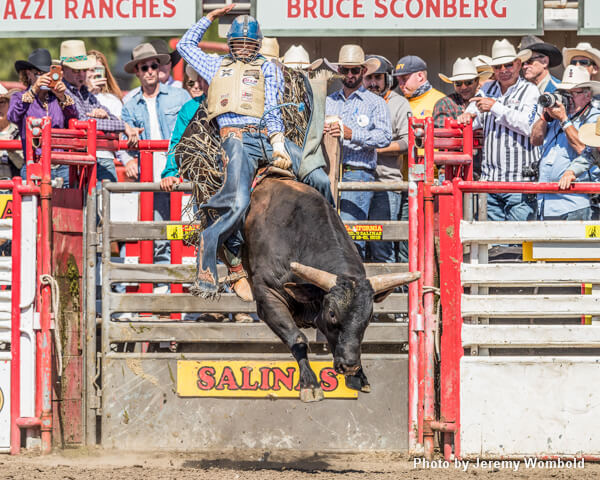 SALINAS, Calif. – Just missing earning a coveted bid to the Wrangler National Finals Rodeo has provided all the fuel for Chase Dougherty.
Dougherty took a strong step in reaching that goal Sunday.
The Canby, Ore., cowboy won the storied Wrangler ProRodeo Tour's California Rodeo Salinas with a 171.5-point score in the two-head average.
"It's pretty cool," said Dougherty, 20. "This is probably the biggest regular-season win I've ever had."
A year ago, Dougherty was on the outside looking in at the Wrangler NFR, finishing 19th in the PRCA | RAM World Standings with $72,593. Thanks to his performance in Salinas, Dougherty, who was 14th in the July 16 standings with $52,069, earned $8,040.
"This win is really important, and it makes you feel like you belong here and you're doing the right thing and you should be rodeoing," Dougherty said. "I'm determined to make the NFR this year."
Dougherty set the stage for his first career Salinas win with an 84-point ride in the first round, which tied for fourth place.
Then, Dougherty clinched the short round with his 87.5-point ride on Corey & Lange Rodeo's Scared Famous. Dougherty had a front-row seat to get a report card on Scared Famous earlier this summer.
Dougherty's younger brother, Colton, 18, had an 88-point ride on Scared Famous to win the Central Point Wild Rogue Pro Rodeo in Central Point, Ore. (May 31-June 2). Colton is on his PRCA permit.
"I called Colton when I drew Scared Famous at Salinas and asked him about a couple of things," Chase said. "I actually expected the bull to go right because that's what he did with my little brother, but he went left with me and that caught me off-guard a little bit, but it turned out to be a good ride."
Dougherty was fourth out in the finals at Salinas and then had to see if his score would hold by the time all 12 cowboys competed. Dougherty edged his traveling partner, Cole Melancon, who finished second in the average with 169 points.
"I just went back and put my stuff away," Dougherty said. "I didn't even know I was in the lead until the end of the rodeo. Right now, I feel like I'm riding really good and everything seems to be lining up. It was also great to see Cole finish second."
Dougherty didn't have time to celebrate because he is scheduled to compete at the Ogden (Utah) Pioneer Days on Monday.
"I just want to keep this momentum going," Dougherty said.
Other winners at the $394,645 rodeo were all-around cowboy C.J. DeForest Jr. ($3,122, tie-down roping and team roping), bareback rider Tim O'Connell (173.5 points on two head), steer wrestler Will Lummus (23.6 seconds on three head), team ropers Pat Boyle/Jared Hixon (58.6 seconds on five head), saddle bronc rider Ryder Wright (172 points on two head), tie-down roper Monty Lewis (35.1 seconds on three head), and barrel racer Brittany Pozzi Tonozzi (65.03 seconds on four runs).
Courtesy of PRCA