Driggers/Nogueira Off and Running After Round 1 of Wrangler NFR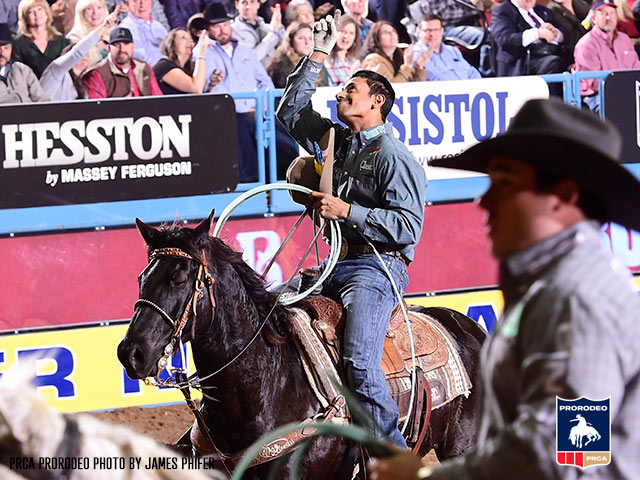 LAS VEGAS – Entering the 2018 Wrangler National Finals Rodeo, the tightest competition throughout the events was in team roping.
The margin of difference in team roping heading was $393, with Kaleb Driggers in second place. His heeling partner, Junior Nogueira, was in first place by $591.
That margin isn't so close any more.
Driggers and Nogueira posted a 4.2-second run to win the first round of the 2018 Wrangler NFR, Thursday, Dec. 6, grabbing the top spots in the PRCA | RAM World Standings in front of $16,864 at the Thomas & Mack Center in Las Vegas.
"I was excited coming here and coming in second," Driggers said. "Honestly, the only team I ended up watching was the team in front of me. I was just trying to focus and do my job. The start is pretty much always the same, you've just got to watch the steer, try to focus, do your job and not get caught up in what everyone else is doing."
Driggers, who trailed only Clay Smith, increased his 2018 earnings to $151,182. Nogueira upped his money to $152,166.
Last year, the team ropers each finished in second place.
"We work the whole year to get here and have a couple months to get prepared (for the NFR)," Nogueira said. "We set the bar high, being so close to winning the world. I missed winning the world two, three times, I was close. I've learned a lot and just want to do my job."
The partners wanted to prepare for the Finals as much as possible. So they tried to re-enact what it was like to rope inside the Thomas & Mack.
"We set up our arena with the same dimensions to get prepared (for the NFR)," Driggers said. "With all the fans and money on the line, we're just trying to get as much as we can and be as prepared as we can."
Three teams were tied at 4.6 seconds ahead of Driggers and Nogueira, who were last out. They mostly focused on their run, not the teams ahead of them.
"I watched from behind a little bit but just wanted to do my job and focus on my run," Nogueira said. "I let him head and I focused on heeling."
While Nogueira, of Presidente Prudente, Brazil, has an All-Around World Champion title, the longtime pair are hoping for a couple of team roping gold buckles.
"Your dream as a cowboy," Nogueira said, "you want to make the NFR and be world champion."
Waguespack wins Round 1 for third consecutive year
Thursday night was Round 1 of the Wrangler NFR. So it must mean a victory for steer wrestler Tyler Waguespack.
For the third consecutive season, Waguespack won the first round, kicking off the 2018 Finals with a 3.6-second run.
"Man, that is awesome, and that is the round where you want to get things started with and get everything going," said Waguespack, of Gonzales, La. "I've been lucky enough to do it the last three times."
Waguespack split Round 1 in 2016 with a 3.8-second run and won it outright in 2017 in 3.5 seconds.
The victory boosted the 27-year-old (he turns 28 Dec. 19) from 10th in the PRCA | RAM World Standings to second place, just $194 behind leader Curtis Cassidy.
"I just want to make the best run I can on the steer that I have," said the 2016 world champion.
Waguespack was aboard Scooter, the 2017-2018 PRCA | AQHA Horse of the Year for steer wrestling.
"Scooter is owned by Tyler Pearson and Kyle Irwin, and that is just incredible to get to ride him," he said. "It gives you a lot of confidence knowing you're riding the best animal there is in that event. He makes my job that much easier. I knew that steer was going to leave and run pretty sharp and be good on the ground, but luckily, we had a lot of horsepower underneath us. Scooter was able to run him down, and I was able to get my feet on the ground in a great spot."
Waguespack edged Blake Knowles, who finished in 3.8 seconds.
Waguespack entered the Finals with $79,584 won. He's now up to $115,815.
Benton off and running
Trey Benton III kicked off the 2018 Wrangler NFR the same way he did in 2017 – with a Round 1 win.
Benton rode Wayne Vold Rodeo's VJV Whiskey Hand for 88.5 points and the win.
And much like last season, Benton got to Las Vegas healthy and feeling good. He felt so confident, he told some media members two nights prior that he was ready to put on a show.
"Last year was the first time I felt comfortable here, and I had been here three times before that," the 27-year-old Texan said. "Last year, I thought I could show my highest potential and now I'm ready to be better than I was last year."
Last year, Benton won $211,737 at the Finals.
"I was more nervous last year because I had never seen a healthy year (at the Wrangler NFR)," he said. "This year is a relief. To start the NFR with a round win is pretty good."
Benton knew little about the bull he drew.
"I didn't know anything about him, but I'd heard he was good."
Kicking off the Finals with a Round 1 victory is a big confidence booster, he said. He's hoping it's going to help propel him for the rest of the rodeo.
"I feel loose and comfortable, and I don't see why I can't do it nine more times," he said.
Benton – and the rest of the bull riders – still have a ways to go to catch leader Sage Kimzey, who placed second in the round. Kimzey's winnings, coupled with his $10,000 for qualifying for the Finals, pushed him over the $300,000 mark for 2018. The four-time defending world champion is up to $327,756 in earnings in 2018.
Wyatt Denny takes advantage of unknown Night Crawler
Wyatt Denny made an immediate impact in the 2018 Wrangler NFR.
The bareback rider from Minden, Nev., entered the Finals in 15th place in the PRCA | RAM World Standings. After his 87.5-point ride on Pickett Pro Rodeo's Night Crawler, Denny leaped to 10th.
"I know most every one of those horses," said Denny, 23. "I know their names, maybe not what they do, but I know their name at least. When we got the draw, I was like what the heck is this? I had never heard of this horse. I looked up his stats and they were ridiculous – 23s down the board. I was like, holy cow, that is cool."
Denny netted $26,231 for the win. Denny's earnings for the 2018 season climbed to $113,728.
Opening with the victory was key to trying to make a run at his first world title.
"That's the best way you could, really," he said. "Going out No. 1 in the first round, that's an awesome push for the rest of the week."
Denny's trip to Vegas is his third consecutive run at the Wrangler NFR. He's already won more money after one round than he did after the full 10 days last year. He finished in 13th at the Wrangler NFR a season ago with $30,730. This year, including his $10,000 for making the Finals, he's already up to $36,231.
"It's pretty dang special," he said. "When you're second out and you hold it that whole time, it's pretty nerve-wracking. Every guy here can beat anybody. It's pretty nerve-wracking, but when it's all said and done there's no better feeling."
First-round win has Smidt aiming for second title
Tie-down roper Caleb Smidt has plenty of experience. Heck, he won the 2015 world title.
That doesn't mean he doesn't get a little nervous before the opening round of the Finals.
"You get a little nervous every time you back in there, and if you're not nervous I don't know what you're doing here," said Smidt, of Bellville, Texas. "I get nervous back there, but once you get back in the box you have to think about what you have to do and just rope to the best of your ability."
Smidt did that.
The 29-year-old made a 7.6-second run to win the first round Thursday night.
"This is awesome, and any round you win here is good," he said. "That's good to start off this week like this. Hopefully I can keep it going and see how it turns out after nine more rounds."
If Smidt keeps at it for nine more rounds, he could be looking at title No. 2. Thursday's victory pushed him up to fourth in the world standings with $126,202, up from eighth.
"I just need to rope my roping like I did tonight and see how it turns out," Smidt said.
Smidt also pointed to his horse as a reason for the win.
"I'm riding Pockets, the horse I have ridden here the last three years," Smidt said. "He's my good horse and the only one I have. He's one of the best horses I've ever ridden and dang sure the best one I've ever owned. He's good in any situation."
Kinsel shows why she's at top
Hailey Kinsel entered the Wrangler NFR in the pole position in barrel racing. Then she went out and showed why she was atop the heap.
Kinsel and her horse, Sister, posted a 13.51-second time to win Round 1 and pad her lead.
While she may have entered with the most money won in barrel racing ($192,834), she tried not to think about it that way.
"It was good to go first (in run order) and end up first (in the results)," Kinsel said. "I'm normally more of an underdog mindset, so I keep that in my head. I kind of picture myself a little way further down the list."
The Cotulla, Texas, racer was an NFR rookie a season ago. This year, she knew what to expect and how to approach the Finals.
"Just about everything I've learned from last year has helped me, knowing where to go, what to do and not fretting about anything," Kinsel said. "I can just handle it as it comes. I know that my horse likes it here, so that gives me a little extra confidence too."
It also doesn't hurt that Sister is the 2018 PRCA | AQHA Horse of the Year in barrel racing. Kinsel and Sister know what they're in Vegas to do.
"Running barrels is our job, but a lot of the stuff that happens during the day at the NFR not so much," Kinsel said. "Coming last year, it taught me when to go to the barn and when to just take some time for myself to recharge and to be able to come back and really enjoy my time with the fans and be able to more enjoy these nights."
Kinsel upped her season earnings to $229,065.
Scheer rolls in return to Vegas
Saddle bronc rider Cort Scheer's return to the Finals for the first time since 2015 went better than he could have imagined.
The 32-year-old from Elsmere, Neb., rode Calgary Stampede's Y U R Frisky for 86.5 points and the Round 1 win.
He also won the first round in 2014.
"It's better (this time)," Scheer said. "I had a horse of Frontier's that year and I rode that horse better. But this horse was better than that one. As for winning the first round, I work off momentum and a place like this will crucify you if you don't start great."
The win moved Scheer up to fourth in the PRCA | RAM World Standings with $138,073. He had entered in ninth place in the world standings.
The victory was even more impressive since Scheer didn't think his ride was all that strong.
"I didn't have as good of a spur-out as I wanted, but that horse is amazing and it's your job to make it happen," he said. "I was blessed to be there and stoked to have that horse."
While Scheer is focused on continuing to climb the standings, he is on to the next round and not looking back at this one.
"I don't focus too much on the last one," he said. "I praise God for winning this round, but the next round is always the most important one."
Courtesy of PRCA