Eighteen Year Old Navajo Bull Rider Tops Field of 24 to Win Rio Rancho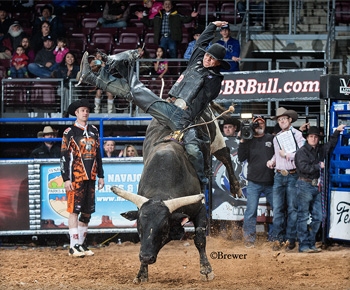 With the goal of qualifying for his first Championship Bull Riding World Finals, eighteen year old Cody Jesus from Sawmill, Arizona rode two of the three bulls he attempted to win the average score for the fourth annual Bucking on the Rio Grande presented by Navajo Nation Parks and Recreation held at the Santa Ana Star Center in Rio Rancho.
"Jesus is a tremendous talent, you don't get to do what he did tonight without it, he is a very capable rider and you can tell he has had a lot of experience already… he should make the tour and I expect him to do well," said Hedeman in a post event press conference.
There were thirteen states, two World Champions, and five Wrangler National Finals Rodeo qualifiers represented on the CBR roster in Rio Rancho. This year was the CBR's fourth trip to Rio Rancho and it served as the ninth stop on the televised Road to Cheyenne professional bull riding tour.
Jesus rode two bulls for an average score of 181 points, enough to earn him a top 25 ranking on CBR's Road to Cheyenne where he plans to begin to live out his dream of being a pro bull rider. Jesus who admitted to reporters he was nervous when he arrived at the Santa Ana Center, scored the highest mark of the night with his crowd thrilling 92 points on bucking bull of the year finalist 626 Karaoke, owned by Jerilyn Harmon of Elite Bucking Bulls.
"I was nobody when I started, and my mom and family really supported me carrying me around and driving all night with me. I came here with my family and they pick me up whether I ride or buck off," said a somewhat stunned Jesus immediately following the event.
Taking on the best bull rider in the world can be intimidating. Jesus was quick to say Sage Kimzey, the five time World Champion, was instantly friendly and helped him feel at ease around all of the other highly decorated riders sharing the locker room.
Jesus attributes Kimzey and several of the other rider's sincerity, in helping him, a key factor that allowed him to relax and ride his bulls in front of a building packed with Navajo bull riding fans.
Round One
With nine qualified rides, the round win was a tie between a rookie and a veteran bull rider. Riding in Rio Rancho as an alternate, Casey James Kirwan made the most of his position when he took the lead from Demond Haynes who was 88.5 to set the pace in section one. In section two, Kirwan racked up 90.5 points on the class favorite 059 Boomer, who was a handful tonight representing Jerilyn Harmon and Mike White's bull team. Josh Frost made a big effort to win the round but came up a little shy with 89.5 on 25T Destination Unknown. Cody Rostockyj worked hard to match Kirwan's 90.5 ride score with his qualified ride on EG1925 Painkiller.
Jesus, riding in section four, fired up the crowd fetching 89 points on a New Mexico bull, 121 Bloodshot enough to put him 1.5 points ahead of Kimzey's 87.5 on 201 Wizard from Clark View Farms.
Vastbinder had the last hole and he took Hurst's big white faced brindle bull, No Dry County, for 87.5 points to advance to the Semi Final Round that included defending Rio Rancho Champion Jacob O'Mara and rookie Tyler Bingham who were 87.5 and 86 respectively.
Semi Final Round
With the back of the chutes filled with stock contractors like New Mexico's Owen Washburn, Dawn Collum and Larry Barker, the bull power increased in round two. With three riders advancing on time the Semi Final Round was set with the twelve best scores from round one.
Denton Fugate, the first rider back on time, would be 89 points on Flab Slab. Tyler Bingham was the first to ride two and was 176 to take the lead. But as quick as they scored in the early part of the round, the tide turned and one by one the veterans hit the dirt early.
Kimzey bucked off his rematch of Cude's 9639 Crystal City, the bounty bull he won $10,000 on just one year ago. Jesus was matched up with Karaoke and 92 points later, he took the lead with 181 on two. Frost received the last score in round two with 77 points – 166.5 on two.
Shootout Round
For the first time this season the Final Four Shootout Round would be comprised of four rookie riders and in the end the bulls triumphed and produced zero qualified rides in the winner take all format of the final four Shoot Out Round.
Kirwan, Frost, Bingham and Jesus would all buck off before the required 8 seconds leaving no event winner. CBR rules state that the monies unclaimed in Rio Rancho move into the next event's bank, making the Eldorado Resort Casino Shreveport Tuff Hedeman Championship Bull Riding presented by Landers Dodge Chrysler Jeep Ram worth over $48,000 on February 4 in Bossier City, Louisiana at the CenturyLink Center.
CBR World Standings
The top four in the CBR World Standings remain the same with Kimzey, Vastbinder, Campbell and Askey one, two, three, and four. Of the four, only Kimzey and Vastbinder covered their first round bulls, but neither advanced past the Semi Final Round as they bucked off in that round.
With Kimzey earning points with his round one score, he stays comfortably at the top of the CBR World Standings after nine events. With eight events, including the five rounds of the CBR World Finals at Cheyenne Frontier Days, left on the schedule… missed opportunity is what Campbell, and Askey can call this week's trip to New Mexico and even though he earned one score, Eli Vastbinder missed a chance to gain two rounds of points on Kimzey's five bull advantage.
The top five may not have changed much but the bottom half of the twenty-four man roster will look different by Monday. Cody Jesus should break into the top twenty-four and secure a position on the CBR's Road to Cheyenne as will Tyler Bingham and rookie Casey James Kirwan who went 0 for 3 in his first three CBR events.
Bull Team Challenge
Billy Jaynes' Gang triumphed in the Rio Rancho bull team competition winning by 7.1 points, one of the largest margins we have seen on this year's Road to Cheyenne. It is not surprising that The Jaynes Gang won after rotating their bulls back to the winning combination that earned those checks, buckles and boots early winning won Huron and Laughlin's bull team buckles.
"The bull riders are really stepping it up, It's easy to ride a bull that does the same thing every time, but when they start getting out of line, they really dug in deep tonight to make the eight second whistle and that is how our rides were tonight," said Dennis Davis who flanked the winning team for the Jaynes Gang.
"We rotated Tuve in at Jackson and he was pretty rank, so we went back to Flab Slab as he bucked really good recently," continued Dennis. Boasting three ride scores totaling 288.5 points, EG1925 Painkiller was the highest ride score of the team's three outs. Cody Rostockyj tied the round win with his 90.5 points on EG1925 while Josh Frost went 89 points on 25T Destination Unknown for the team's second score. Bucking in the anchor position of the semifinal round was true blue Flab Slab who posted 89 with Denton Fugate.
1, Jaynes Gang, Orchard, Texas, 288.50 points, $20,000. 2, C&M, Waterflow, New Mexico, 281.09, $12,000. 3, Jared Allen's Pro Bull Team #1, 279.24, $8,000. 4, Jerilyn Harmon's Elite Bulls 3, 277.06, $5,000.
Champion Bull, 626 Karaoke, Jerilyn Harmon's Elite Bucking Bulls, 92 point ride score, Jesus.
Bull of the Event, Big Jake, C&M, Washburn, 90.5 rank bull score.
Rio Rancho Average Results
1, Cody Jesus, Sawmill, Arizona, 181 points, $2,250. 2, Tyler Bingham, Honeyville, Utah, 176, $2,250. 3, Josh Frost, Randlett, Utah, 166.5, $2,250. 4, Casey James Kirwan, Stephenville, Texas, 90.5, $1,500.
Jesus is the Championship Roughstock Challenge, 2016 Indian National Finals Rodeo Champion, 2016 Northern Navajo Nation Fair Bull Bash Champion, 2016 Champion for the Navajo Nation Rodeo Cowboys Association, and the Southwest Indian Rodeo Association Champion.
Courtesy of CBR