Eldred Claims Reno Xtreme Bulls Championship
by Tracy Renck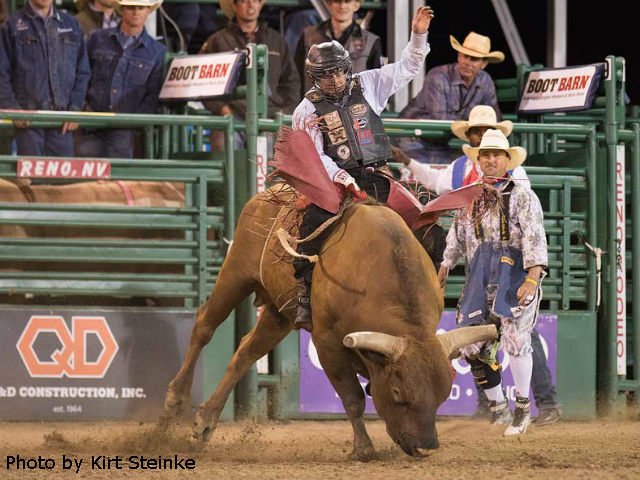 RENO, Nev. – When Brennon Eldred needed to be his best Thursday night, he was.
Thanks to an 87.5-point ride on Rosser Rodeo's Yeti in the short round, Eldred powered his way to the Reno (Nev.) Xtreme Bulls Division 1 event championship.
"That's what we all came here to do (get the victory), and it was a tough night, but it was awesome to win," said Eldred, 21.
Eldred took top honors with a 166.5-point score on two head. Cody Johansen was second with a 158-point score, followed by Jeff Askey (155.5 points).
Eldred had never been on Rosser Rodeo's Yeti before June 16, but he was thrilled with how he performed.
"I had never seen that bull before, ever, but he was a good bull," Eldred said. "He hopped, and skipped out there and he bout bucked me off a couple of times and if I would've quit one time, he would've bucked me off. It was awesome when I saw my score, because I knew he bucked and if I rode him, he was going to be some points."
Eldred gave himself a chance to claim ultimate glory in Reno by qualifying for the short round with a 79-point ride in the first round, which left him in seventh place.
When Eldred left the Reno Livestock Events Center, he collected a $7614 check – $7050 for winning the average. Eldred also is guaranteed to move up in the 2016 PRCA Xtreme Bulls standings. He was 10th in the June 13 standings with $10,834.
"It's great to win Xtreme Bulls events," Eldred said. "They're definitely not easy to win and this feels good."
Eldred joins other 2016 Xtreme Bulls Division 1 winners – Bobby Welsh (San Antonio, Texas, Feb. 27) and Parker Breding (Fort Mohave, Ariz., March 12). This was Eldred's second career Xtreme Bulls victory. He won his first title at the 2015 Xtreme Bulls Division 1 event in Lovington, N.M., with a 175.5-point score on two head.
"I don't care who I'm riding against I want to win and if you want to be the best you have to beat the best," Eldred said.
Eldred is optimistic he can utilize this Reno win to kick start things for himself. He was 17th in the June 13 WEATHER GUARD® PRCA World Standings with $27,994.
"Hopefully I can just keep this momentum going into the summer run," Eldred said.
Eldred, who joined the PRCA in 2013, has already turned plenty of heads in his brief career as he qualified for the Wrangler National Finals Rodeo in 2014 and 2015. He placed a career best 10th in the 2015 PRCA world standings.
For more coverage of the Reno (Nev.) Xtreme Bulls event, check out the July 1 issue of the ProRodeo Sports News.
Courtesy of PRCA