Ellsworth Wins RNCFR's First Round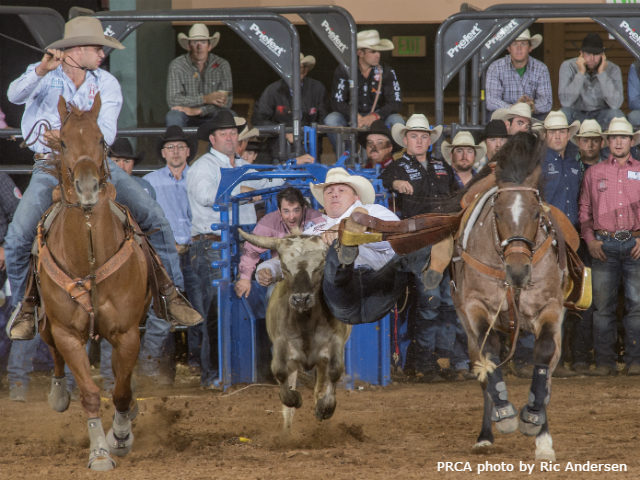 KISSIMMEE, Fla. – Despite competing in a talent-laden field, steer wrestler Olin Ellsworth didn't flinch.
The First Frontier Circuit cowboy clocked a 3.9-second run Friday to win the first round of the RAM National Circuit Finals Rodeo at the Silver Spurs Arena.
"This is probably my biggest win of my career," Ellsworth said.
Ellsworth collected a $6,254 check for his performance. He qualified for the RNCFR by winning the First Frontier Circuit year-end title.
The RNCFR money is more important than ever this year. All money won at the 12 circuit finals rodeos, All American ProRodeo Finals and the RNCFR – per new PRCA bylaws – count toward the 2017 WEATHER GUARD® PRCA World Standings.
"More than winning the money, it is just nice to be here and represent our circuit," said Ellsworth, who was making his second appearance at the RNCFR, as he also qualified in 2014.
"The Jumper family was kind enough to come three hours out of their way and bring their horse here for me, and he worked perfect. My friend, Justin Shaffer, hazed for me, and he put one right in my wheel house."
Ellsworth was on Skeeter, a horse he has ridden a few times, most recently this winter.
"That horse worked great (Friday night)," said the 6-foot-1, 225-pound Ellsworth. "I feel very comfortable on him and I was able to back in there and blow it out of the latch. The steer was so good it just took care of itself."
Ellsworth acknowledged he's true circuit cowboy. His day job is a project manager for a construction company – D.A. Collins in Wilton, N.Y. He lives in Warrensburg, N.Y.
"I've made our circuit finals a couple of times in tie-down roping, but steer wrestling is my main event, and when I won a tonight a bunch of my friends were texting me because they are watching online," said Ellsworth, 36.
"I really like steer wrestling, and I work hard at trying to stay fit with cross-fit training and yoga. I would like to keep doing this at least seven more years while they have this in Kissimmee, and there's no reason I can't keep qualifying for the RNCFR."
In addition to Ellsworth, other first-round winners were Wilderness Circuit bareback rider Caleb Bennett (87 points on United Pro Rodeo's War Party), Columbia River team ropers Hayes Smith/Russell Cardoza (4.7 seconds), Texas Circuit saddle bronc rider Jacobs Crawley (86 points on Harry Vold Rodeo Company's Pillow Talk), First Frontier tie-down roper J.R. Myers (7.7 seconds), Prairie Circuit barrel racer Tracy Nowlin (15.28 seconds) and Wilderness Circuit bull rider Josh Frost (85 points on Pete Carr Pro Rodeo's Son of Sam).
Friday night was Wrangler National Patriot Night at the Silver Spurs Arena. Before the performance began, 40-plus Marines took their oath of enlistment in the arena in a special ceremony.
The tournament-style RNCFR format determines the national circuit champions in each event. All 24 qualifiers from the 12 circuits compete in the two preliminary rounds of the rodeo. The top eight contestants from each event advance to the semifinal, with all previous scores and times thrown out. The top four move on to the final round, a sudden-death competition that determines the national circuit champion in each event.
The second round begins at 1:30 p.m. (ET) Saturday and concludes Saturday night with a 7:30 p.m. (ET) performance. The RNCFR will crown its 2017 national champions in the final performance at 2:30 p.m. (ET) Sunday.
The Saturday evening performance will be Tough Enough to Wear Pink night.
The Wrangler Network will be live streaming all the action from the RNCFR. The coverage begins at 1:30 p.m. and 7:30 p.m. April 8; and 2:30 p.m. on April 9. Log on to www.wranglernetwork.com to watch.
Courtesy of PRCA