By: Justin Felisko
February 12, 2016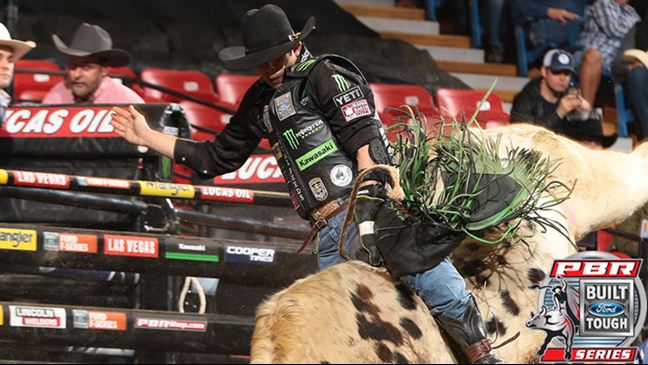 THE BASS PRO CHUTE OUT: The Built Ford Tough Series (BFTS) resumes this weekend in St. Louis with the Bass Pro Chute Out, presented by Cooper Tires. Don't forget to set your lineups for Ultimate PBR Fantasy, and if you haven't already, sign up now for your chance to win.
TIER A: Mauney lurking in Top 5
Silvano Alves is the only rider in PBR history to win back-to-back world titles and J.B. Mauney wants to change that in 2016.
The defending 2015 World Champion is currently within striking distance of the world No. 1 ranking heading into this weekend and, outside of a bout with food poisoning, he has looked much like the Mauney that won world titles in 2015 and 2013.
He may not have completely hit his zone just yet, but Mauney already has two 90-point rides and six Top-3 round finishes through the first five events. He also is averaging 87.28 points per ride.
Mauney faces Superstition in Round 1 on Friday night.
The man he is trying to hunt down in the world standings, Paulo Lima, has a matchup against Longmire (0-1, BFTS). Lima heads into St. Louis having bucked off two consecutive bulls in Sacramento. It was just the second time this season Lima has bucked off two bulls in a row.
Sacramento event winner Fabiano Vieira is set to face Son of Sioux (0-0, BFTS). Vieira has ridden seven of his last 10.
Meanwhile, Joao Ricardo Vieira continues to lead the BFTS in qualified rides (14) and riding percentage (73.68 percent). The No. 3 bull rider in the world standings has drawn Mug Shot (2-0, BFTS) in Round 1.
Robson Palermo is out this weekend because of an illness. Justin Paton has replaced Palermo in the event and will take on Mr. Bombastic.
TIER B: Gay gets Round 1 rematch
Gage Gay is the only rider in Round 1 with a BFTS rematch. Gay rode I'm Trouble (6-2, BFTS) for 85.75 points in Springfield, Missouri, last season. I'm Trouble was ridden by Kaique Pacheco for 86 points in New York.
Gay also has a rematch in the second round against Savage Jacket, who bucked him off in 3.72 seconds earlier this season in New York.
Mike Lee has drawn Wipeout, who he rode for 91 points at the Thief River Falls, Minnesota, Touring Pro Division event.
However, Gay is currently in a 0-for-6 slump and Lee is in the midst of a 2-for-10 stretch.
On the opposite end of the spectrum, Eduardo Aparecido is starting to heat up on the BFTS with qualified rides in five of his last seven. He has a Round 1 meeting with Loose Change (4-0, BFTS).
Wallace de Oliveira has won three BFTS rounds this season and has a chance to place high in Round 2 with a qualified ride on King Buck. Oliveira rode King Buck for 86.25 points at the 2015 Built Ford Tough World Finals.
TIER C: Can Marchi continue to battle through injuries
Guilherme Marchi returns to action following a week off because of injuries he sustained in Anaheim, California. The latest injuries – a left hip pointer and left rib sprain – kept him from competing in Sacramento last weekend.
The 2008 World Champion is 4-for-6 in two events this season and faces Percy (1-3, BFTS) on Friday night. Michael Lane rode Percy for 85.5 points in New York.
Kasey Hayes (4-for-13) is also back after missing Sacramento with a shoulder injury. Hayes will attempt to ride Little Air (3-0, BFTS) in Round 1.
Shane Proctor is 7-for-15 (46.67 percent) on the BFTS and has drawn Rebound (0-0, BFTS).
Cooper Davis has bucked off three in a row after winning back-to-back rounds in Anaheim. He faces Slim's Playboy (2-0, BFTS) in Round 1.
Nevada Newman is competing on the BFTS for the first time in his career and has drawn Ante Up (0-0, BFTS). The 23-year-old has ridden five straight bulls on the BlueDEF Tour, where he won the Wichita, Kansas, event two weeks ago.
Stormy Wing and Rubens Barbosa were able to get rid of goose eggs on their stat lines, can Reese Cates do it this week?
Cates has begun the season 1-for-12 and has bucked off eight in a row. He takes on Undertaker (0-0, BFTS) in Round 1.
Follow Justin Felisko on Twitter @jfelisko
© 2016 PBR Inc. All rights reserved.