February 9 ProRodeo Sports News Available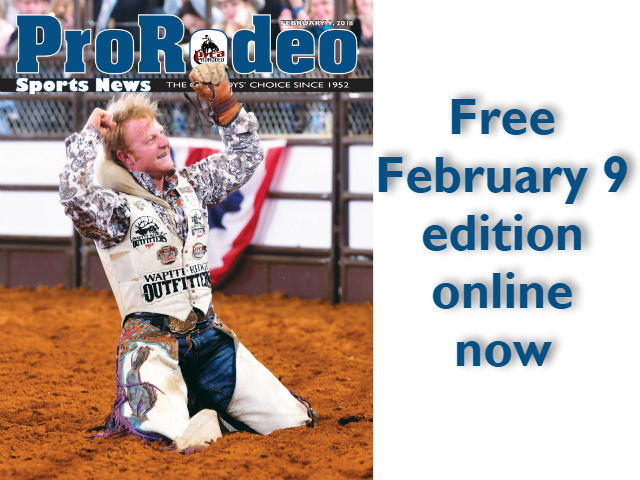 The Feb. 9 edition of ProRodeo Sports News is available and free to read online and download.
This edition features the Southwestern Exposition and Livestock Show in Fort Worth, Texas, (Page 22) and South Dakota's Rodeo Rapid City (Page 26) – worth a collective $823,511. Those two rodeos propelled numerous cowboys upward in the 2018 PRCA World Standings (Page 10), while other rodeos boosted athletes in the All-American Standings (Page 42) and the various RAM Circuit Standings (Page 44).
The 2018 season is still young, and five pairs of team ropers shared their thoughts on tackling the new season with new roping partners (Page 28).
Of course, the rodeo community is making time to find ways to give back, and the Feb. 9 edition of PSN highlights two prime examples. Rodeo clown Robbie Hodges provided an up-close look at all the ins and outs of ProRodeo for a young fan with Down syndrome (Page 32), while the John Justin Standard of the West Award program is expanding to recognize 125 rodeo volunteers (Page 18).
Bareback rider Wyatt Bloom is back in action after a series of injuries during his rookie year in 2017. The 24-year-old shares his story of recovery, as well as his favorite movies and songs, in "Cowboy Grille" (Page 8).
No PSN is complete without some insight from a cowboy's wife, which can be found in "He Said/She Said," featuring bareback rider Casey Colletti.(Page 12)
As ProRodeo moves ahead, it's important to look back at its roots. Fox Hastings, the first female bulldogger, ran away from home around the age of 12 about 100 years ago and went on to become one of the pioneers of ProRodeo, as highlighted in "Time Capsule." (Page 16)
The ProRodeo Business Journal details upcoming rodeos, providing competing cowboys and their fans with a glimpse at the rodeo road ahead. (Page 51)
Courtesy of PRCA