For the Record: Albuquerque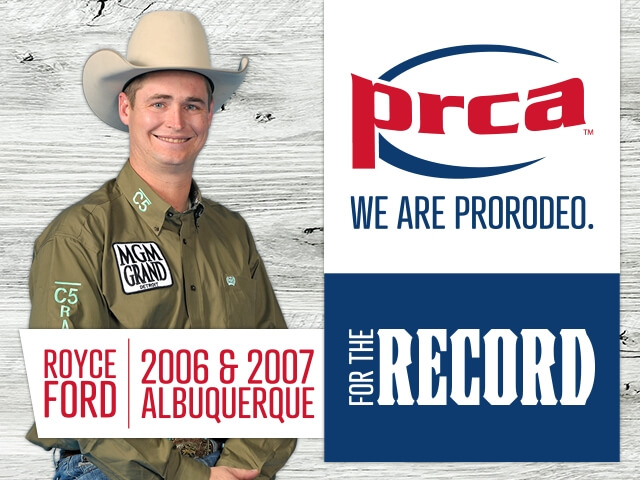 With the end of the regular season approaching, cowboys are running and gunning to make as much money as possible to break into the Top 15 and qualify for the Wrangler National Finals Rodeo.
Since 1953, the New Mexico State Fair & Rodeo in Albuquerque has attracted some of the biggest names in professional rodeo.
Bareback rider Royce Ford qualified for the Wrangler NFR eight times (2003-09, 2011), and during that time he set three records at Albuquerque that still stand. In 2006, he made a 92-point ride on Bar T Rodeo's Eight Ball, which helped him to also set the three-head average record of 258 points. He returned to Albuquerque in 2007 and set the two-head average record of 174 points.
Cowboys have from Sept. 11-16 to top Ford's records, and others, while competing for their share of the Albuquerque prize money.
Rodeo records
• Total payout: $226,941, 2006
• All-around: $7,620, Lance Robinson, 1989
• Bareback riding: 92 points, Royce Ford, 2006 (174 points on two head, Ford, 2007; 258/3, Ford, 2006)
• Steer wrestling: 3.2 seconds, Sean Mulligan and Dirk Tavenner, 2017 (6.9/2, Robinson, 1987)
• Team roping: 3.8 seconds, Derrick Begay/Victor Aros, 2008 (8.8/2, Begay/Aros, 2007)
• Saddle bronc riding: 90 points, Heith DeMoss, 2007 (172/2, DeMoss, 2007; 247/3, Tom Reeves, 2001)
• Tie-down roping: 6.5 seconds, Trevor Brazile, 2010 (14.1/2, Brazile, 2010)
• Barrel racing: 14.97 seconds, Taylor Langdon, 2016 (30.34/2, Cassie Moseley, 2009)
• Bull riding: 95 points, Jack Himes, 1972; Dan Wolfe, 2000 (184/2, Wolfe, 2000)
Courtesy of PRCA