For the Record: Dixie National Rodeo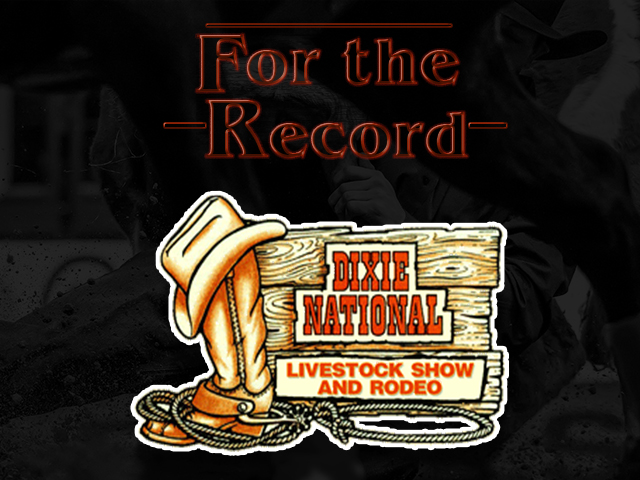 Since 1966, the Dixie National Rodeo in Jackson, Miss., has hosted some of the biggest names in ProRodeo and witnessed some fast times and high scores, as cowboys competed for this iconic rodeo's large payout.
Winning big at Jackson can set the pace for the rest of the year. It's not unheard of for a cowboy to leave with more than $10,000.
Cowboys have from Feb. 8-14 to win a piece of the prize money, but only the best make the arena record book.
Cash Myers set the Jackson arena record for most money won in all-around in 2001 with $10,913 between steer wrestling and tie-down roping.
Bareback rider Justin McDaniel set the arena record in 2009 with a 91-point ride.
Both steer wrestling arena records at Jackson were set in 1983. J.W. Farrington clocked in at 2.9 seconds, while John W. Jones Jr. came in at 6.6 seconds on two runs.
Thirty-four years after the double bulldogging record year, the same thing happened in team roping. In 2017, Jake Orman and Tyler Domingue clocked in at 3.6 seconds, while Clayton Hass and John Robertson made 8.4 seconds on two runs.
Two saddle bronc riders share the Jackson arena record of 89 points. Billy Etbauer set the record in 2005 and Levi Berry matched that score in 2007.
Tie-down roper Stran Smith set the Jackson record in 2001 in 6.8 seconds. The two-run average of 15.4 seconds was set by Jesse Childers in 2005.
Barrel racer Sherry Cervi holds the Jackson record with her 2009 time of 14.23 seconds.
Bull rider Trey Traweek set the Jackson record in 2008 with his 94-point ride.
Jackson's biggest payout was in 2015 with $235,059.
Courtesy of PRCA