For the Record: Ellensburg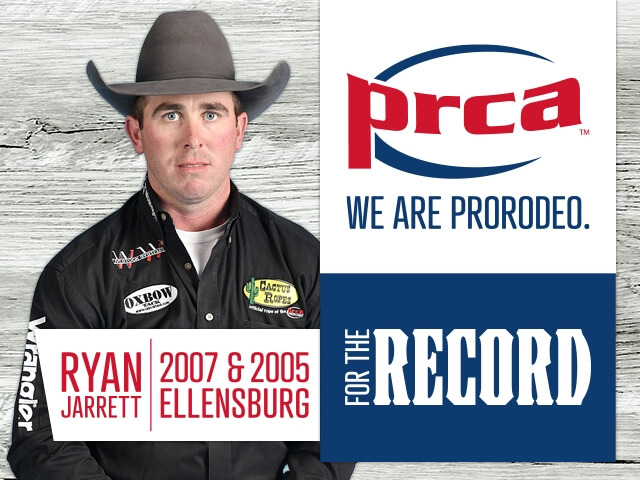 Since 1923, the Ellensburg (Wash.) Rodeo has played host to some of rodeo's greatest athletes and witnessed some fast runs and rank rides. As the end of the 2018 season approaches, cowboys will bring their A-game to earn enough money to make the Top 15 in the PRCA | RAM World Standings to qualify for the Wrangler National Finals Rodeo.
Ryan Jarrett holds two records in two different events at Ellensburg. In 2005 – the year Jarrett won the All-Around world title – he set the three-head average record for steer wrestling in 11.6 seconds.
In 2007, Jarrett also set the Ellensburg tie-down roping record of 7.3 seconds. As of Aug. 27, Jarrett, an 11-time Wrangler NFR qualifier (steer wrestling, 2005; tie-down roping, 2005-06, 2009-13, 2015-17), was ranked 18th in the world standings and 17th in the Wrangler Tour for tie-down roping.
Cowboys at Ellensburg will have a chance to top Jarrett's records, and others, from Aug. 31 through Sept. 3.
Rodeo records
• Total payout: $330,755, 2017
• All-around: $7,890, Todd Suhn, 2001
• Bareback riding: 90 points, Steven Peebles, 2010 (175 points on two head, Peebles, 2010)
• Steer wrestling: 3.4 seconds, Pat Nogle, 1979; Birch Negaard, 1997; Ethen Thouvenell, 2010 (11.6/3, Ryan Jarrett, 2005)
• Team roping: 4.2 seconds, Joel Bach/Paul Eaves, 2010 (15.6/3, Chad Masters/Michael Jones, 2008)
• Saddle bronc riding: 91 points, Jesse Kruse, 2009; Cody DeMoss, 2011; Isaac Diaz, 2013 (176/2, Kruse, 2009)
• Tie-down roping: 7.3 seconds, Ryan Jarrett, 2007; Tuf Cooper, 2015 (24.4/3, Cody Ohl, 2015)
• Barrel racing: 16.91 seconds, Sydni Blanchard, 2011 (51.48/3, Nellie Miller, 2017)
• Steer roping: 8.4 seconds, Trevor Brazile, 2007 (18.7/2, Rod Hartness, 2007)
• Bull riding: 95 points, J.W. Harris, 2006 (177/2, Tim Bingham, 2012)
Courtesy of PRCA