For the Record: Helldorado History and Records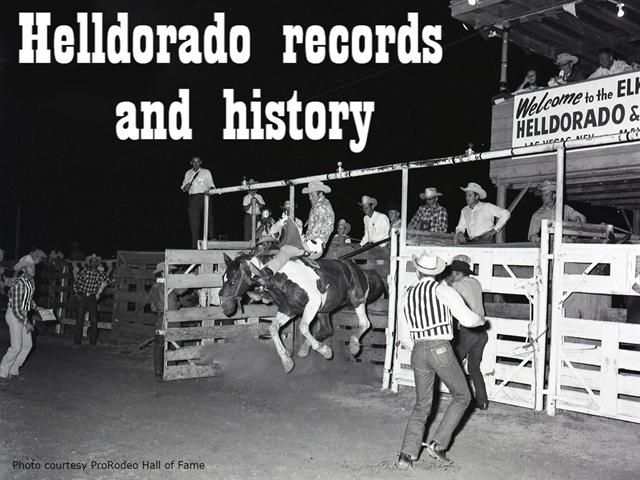 It's been a bumpy ride on the highway to Helldorado – a decade-long hiatus has left many Las Vegas Elks Helldorado Days arena records intact for more than 30 years. John Quintana's 1974 Helldorado bull riding record of 96 points is holding on strong 43 years later.
Before Las Vegas was known as the city that never sleeps, plenty of action was brewing in 1934 as the Hoover Dam was under construction. Thousands would flock to see the unprecedented construction project, so Arizona carnival baker Clyde Zerby saw an opportunity to cash in on the clientele while giving a nod to the area's frontier roots.
The first Helldorado was a "rowdy affair," featuring a provocative dance show and "other attractions that would let Dam workers blow-off steam," according to the Las Vegas Elks, who now run the annual event.
Construction of the Dam and legalization of gambling turned Las Vegas into a booming location – and the city wanted to keep the party going. The local Elks Lodge decided an annual production of the Helldorado Days festival could keep the community bustling and attract visitors seeking a taste of the Old West.
Under the Elks Lodge No. 1468 supervision, and with support from the Las Vegas Chamber of Commerce and local businesses, Helldorado Days took off with a more family-friendly approach – parades, contests and a rodeo.
By 1946, the notoriety of Helldorado Days had grown to the point that Roy Rogers filmed a movie in Las Vegas with the festival as the backdrop. The entire "Helldorado" movie is available on YouTube at https://www.youtube.com/watch?v=y69Df5ifOCA.
Unfortunately, the festival disappeared for a number of years in the late 1990s, but it was resurrected in 2005 as part of Las Vegas' centennial celebration. The rodeo returned to being a PRCA-sanctioned event in 2009 and has been going strong ever since.
The biggest Helldorado payout was in 1984 at $257,877 – that's roughly $607,956 in 2017 dollars, according to the U.S. Department of Labor's Bureau of Labor Statistics.
The Helldorado record for most money won in the all-around has remained intact since 1983 when Mike Beers won $9,879.
Bareback rider Evan Jayne set the Helldorado record in 2015 with his 88-point ride on Rosser Rodeo's Time 2 Play.
The steer wrestlers at this year's Helldorado rodeo have their work cut out for them as Rod Lyman's 1987 record of 2.8 seconds is faster than any run made so far in the 2017 season by one-tenth of a second. Also in 1987, bulldogger Butch Myers matched Frank Shepperson's 1976 record of 7.5 on two.
Team ropers Thad Ward and Olin Pulham raised the bar in 2015 with their 4.1-second run. Meanwhile, Brian Winn and Brian Roundy's 1993 Helldorado record of 10.0 on two remains unmatched.
There's a four-way tie for the Helldorado saddle bronc riding record of 87 points. Originally set by Charley Gardner in 1996, his score has since been matched by Cort Scheer in 2011, Cody Wright in 2013, and Wade Sundell in 2014.
Tie-down roper Marty Yates was the only Helldorado record-setter in 2016 with his 7.4-second run. Meanwhile, Blair Burk's 1998 record of 15.7 on two remains intact.
Check back with prorodeo.com for full results once the rodeo concludes on May 14.
Courtesy of PRCA