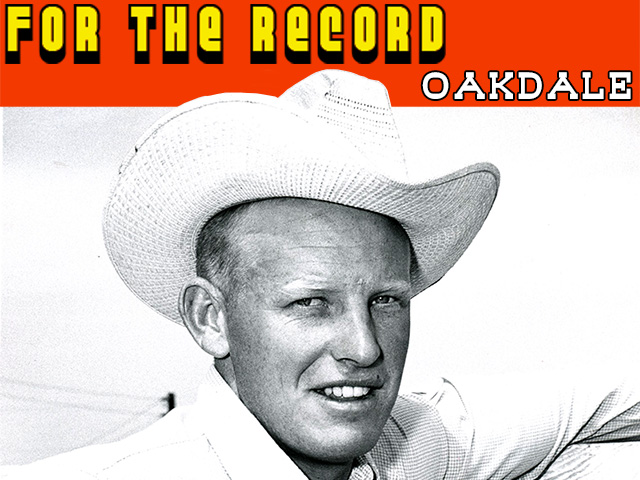 Since 1953 the Oakdale Saddle Club Rodeo has featured some of ProRodeo's biggest stars as they duke it out for a piece of the historic rodeo's prize money. From April 14-15, cowboys will have a chance to win big and possibly leave their mark in the Oakdale arena record book.
Oakdale's biggest payout was $145,200 in 1999.
Trevor Brazile holds the record for most money earned in all-around with $7,144 in 2010.
Bareback rider Steven Peebles set the Oakdale arena record of 87.5 points in 2017.
Steer wrestling's biggest year at Oakdale was in 1976 when two bulldoggers set arena records. Anson Thurman (pictured above) clocked in at 3.2 seconds and Danny Torricellas made a two-run average record in 7.9 seconds.
Team ropers Coleman Proctor and Caleb Twisselman set the Oakdale record of 3.9 seconds in 2013. The following year, Tyler Waters and Richard Durham set the two-run average record at 10.0 seconds.
Saddle bronc rider Butch Small has had the Oakdale arena record of 89 points since 1992.
Tie-down roping's competition has never been steeper than it was in 2015, when four arena records were set. Both Tyson Durfey and Jake Pratt clocked in at 7.3 seconds. Meanwhile, the two-run average record of 15.9 seconds, originally set by Trevor Brazile in 2010, was matched by Cade Swor and Rhen Richard.
Barrel racer Lindsey Ewing set the Oakdale record in 2012 with her 16.06-second run.
Bull rider Matt Austin set the Oakdale record of 89 points in 2004.
Check back with prorodeo.com after the Oakdale rodeo concludes to find out who won and if any arena records were broken.
Courtesy of PRCA