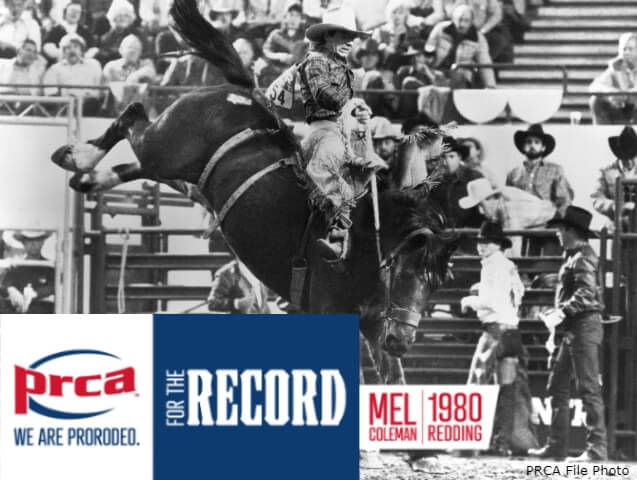 ProRodeo cowboys have struck gold at the Redding (Calif.) Rodeo since 1951, but only the best leave their mark by making a rodeo record.
On May 17-19, cowboys will have a chance to win their share of the prize money at one of the spring run's biggest rodeos. In 2009, Redding set a record for total payout with $193,451.
Chant DeForest set the record for most money won in all-around in 2017 with $6,447 from tie-down roping and team roping.
Bareback rider Cody Jessee set the Redding record of 87 points in 2000, which Clint Cannon matched in 2007.
Steer wrestler Trevor Knowles set two Redding records in 2013. He made a record-setting, 3.2-second run, which helped him also set the two-head average record of 7.4 seconds.
Team ropers Wade Wheatley and Kyle Lockett set the Redding record of 4.0 seconds in 2006. The two-run average record of 9.7 seconds was set by Chant DeForest and Bronc Boehnlein in 2017.
Four saddle bronc riders share the Redding record of 86 points. Originally set by Mel Coleman in 1980 (pictured above at the 1983 NFR), his score was matched by Cody DeMoss (2006), Jake Wright (2012) and Jacobs Crawley (2015).
Four tie-down ropers share the Redding record of 7.3 seconds. Clif Cooper and Shank Edwards set the record in 2009. They were matched by Jack Vanderlans (2011) and E.J. Roberts (2012). Clint Cooper set the two-run average record of 15.4 seconds in 2012.
Trula Churchill set the record of 16.96 seconds in 2013. The two-run average record of 34.50 seconds was set by Christina Richman in 2012.
Bull rider Rocky McDonald set the Redding record of 93 points in 1999, which Shane Proctor matched in 2013.
Check back with prorodeo.com after the Redding Rodeo concludes to find out who won and if any arena records were broken.
Courtesy of PRCA