For the Record: Rodeo of the Ozarks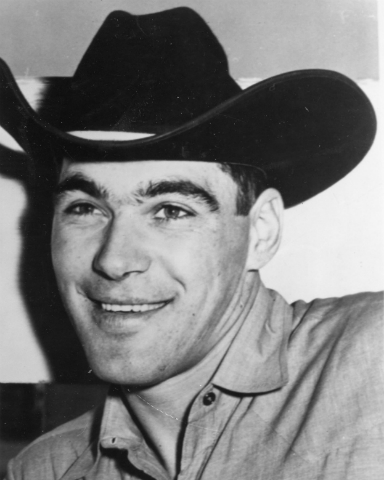 For 64 years, no bulldogger competing at the Rodeo of the Ozarks in Springdale, Ark., has been able to beat Ben Theis' 1953 arena record run of 3.1 seconds. Cowboys aiming to make the Springdale record book have until June 24 to beat the following arena records.
Justin Thigpen set the Springdale record for all-around earnings in 2013 with $5,850.
Bareback rider Bee Jay Scott set the Springdale mark in 2004 with his 91-point ride on Harper, Morgan & Carr Rodeo's Showgirl.
Only one bulldogger has come close to matching Theis' 3.1-second record run, and that was Roy Duvall's 3.2-second run in 1989. Steer wrestlers Duvall (pictured at left) and Ote Berry both set the arena record for the two-head average in 1989 as each cowboy clocked in at 6.9 seconds.
Team ropers Chace Thompson and Trey Norris III set the Springdale record in 2011 with their 4.0-second run. Meanwhile, Nick Sartain and Shannon Frascht set the two-head record in 2006 with 11.5 seconds, and their two-head mark was matched by John Alley and Clark Adcock in 2014.
Saddle bronc rider Ty Atchison set the Springdale record in 2009 with his 90-point ride on Stace Smith Pro Rodeos' Polyester Pants. Taos Muncy matched that record in 2011 with his 90-point ride on Stace Smith Pro Rodeos' Priefert Rancher.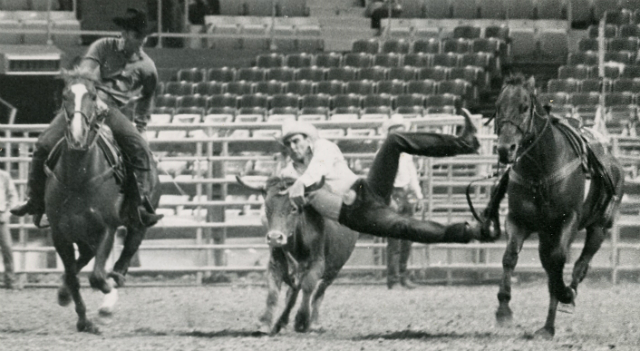 It was a big year for tie-down roping records in 2011, as Clint Cooper set the arena record with his 7.3-second run and Hunter Herrin set the two-head average record with 15.9 seconds. Herrin returned to Springdale in 2016 to match Cooper's 7.3-second run.
Two barrel racers set the Springdale arena record in 1999, as Nancy Powell and Shelly Pogue-Lewis both clocked in at 15.62 seconds.
Bull rider Jason Beck set the Springdale record in 2008 with his 94-point ride on Silverado Rodeo's Cross Roads.
Springdale's biggest payout was in 2011 with $152,000.
Courtesy of PRCA