For the Record: Sisters Rodeo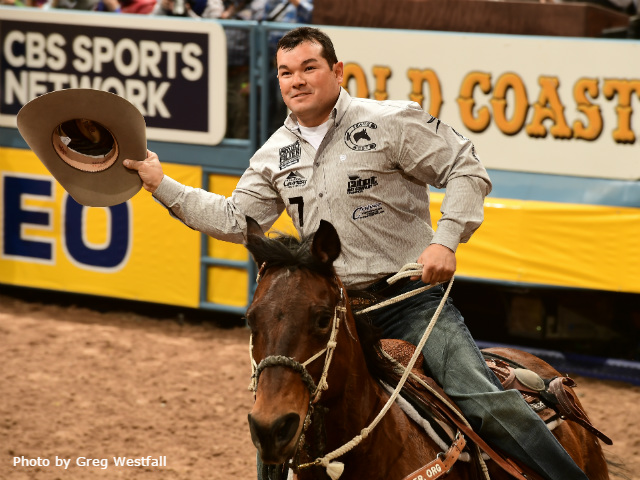 The Sisters (Ore.) Rodeo was in and out of the PRCA, having sanctioned rodeos in 1952-55 and 1969-71, then ultimately returning to the PRCA in 1988 where it has remained ever since. During that time, many records have been set – entirely by cowboys who have competed at the Wrangler National Finals Rodeo presented by Polaris RANGER.
Some of the record-holders at the Sisters Rodeo are also world champions – team roping header Chad Masters (2007, 2012), team roping heeler Jade Corkill (2012-14), saddle bronc rider Taos Muncy (2007, 2011), tie-down roper Tyson Durfey (2016), and bull rider Shane Proctor (2011).
Steer wrestler and team roping header B.J. Campbell, a three-time qualifier for the WNFR (2001, 2004-05), set the Sisters record for most money earned in the all-around with $4,960 in 2006.
Bareback rider Ryan Gray, an eight-time qualifier for the WNFR (2005-11, 2013), made an 88-point ride on Big Bend Rodeo Company's Faded Dice in 2008.
Steer wrestler Shawn Greenfield, a seven-time WNFR qualifier (2003-07, 2009, 2011), holds two Sisters Rodeo records. In 2005, Greenfield clocked in at 8.3 seconds on two head. Then five years later, in 2010, he returned to Sisters and set another arena record with his 3.6-second time.
It was a big year for team roping in 2011 at the Sisters Rodeo as JoJo LeMond and Marty Becker set the arena record with their 4.5-second run. Meanwhile, Chad Masters and Jade Corkill clocked in at 9.9 seconds on two head. LeMond qualified for the WNFR five times (2008-10, 2015-16), and Becker qualified in 1995 and 1997. Masters has qualified for the WNFR 10 times (2003-04, 2006-12, 2015) and Corkill has qualified eight times (2008-15).
Saddle bronc rider Taos Muncy, an eight-time WNFR qualifier (2007, 2009-15), set the Sisters record with his 88-point ride on Flying 5 Rodeo's Spring Planting in 2015. Chuck Schmidt, a three-time WNFR qualifier (2011, 2015-16), matched his score in 2016 while riding Big Bend Rodeo's Broken Spring.
Tie-down roper Blair Burk's 1997 arena record of 7.8 seconds went unmatched for 19 years until Matt Shiozawa showed up in 2016. Burk qualified for the WNFR 14 times (1995-2007 and 2009), and Shiozawa has qualified nine times (2005-07, 2009, 2011-12, 2014-16). As for the two-head average record, nine-time WNFR qualifier (2007-11, 2013-16) Tyson Durfey's 16.9 seconds from 2010 remains unmatched.
Barrel racer Amy Dale Coelho's 17.34-second run in 2001 has yet to be surpassed or matched.
Bull rider Marty Staneart, a seven-time WNFR qualifier (1983, 1985, 1988-89, 1991, 1993, 1998), made a 91-point ride in 1993 that wasn't replicated for nearly two decades until five-time WNFR qualifier (2011-13, 2015-16) Shane Proctor made the same score on Corey & Lange Rodeo Company's Quickstop in 2012.
Sisters' highest payout was in 2009 with a grand total of $158,050.
Courtesy of PRCA