Former RCA/PRCA President Dale Smith Passes
by ProRodeo.com | Jan 18, 2017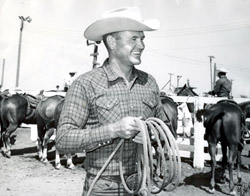 COLORADO SPRINGS, Colo. – ProRodeo Hall of Famer Dale Smith, who served three terms as president of the Professional Rodeo Cowboys Association and won two team roping world championships – missing a third by a mere $13 – passed away Jan. 15. He was 88.
Smith's funeral will be held at 10 a.m., Jan. 21 at the Gilbert Third Ward Chapel at 1010 S. Recker Road, in Gilbert, Ariz. The viewing is scheduled for 9 a.m. Smith had been suffering from health problems since 1999.
Smith served as president of the Rodeo Cowboys Association from 1962-69 and in 1971-72, then again from 1976-81 after it became the PRCA. His 16 years at the helm are the longest any person has served in that capacity. Smith was inducted into the ProRodeo Hall of Fame with the inaugural class in 1979.
He also made his name as a team roping world champion in consecutive years (1956-57). He missed a third straight in '58, finishing $13 behind Ted Ashworth.
Smith was the first cowboy to qualify for the National Finals in four disciplines – as a tie-down roper, steer roper and as both a header and heeler in team roping. Trevor Brazile is the only other cowboy to accomplish that feat, and did it in the same four events. Smith qualified for the Finals in his three events in both 1959 and '60. Only seven cowboys – including Brazile, Roy Cooper Larry Mahan, Ty Murray, Bobby Berger and Tom Ferguson – have ever qualified for the Finals in three events in one year, and all but Brazile are ProRodeo Hall of Famers.
Smith was born Feb. 6, 1928, in Safford, Ariz. Like his father, Jim, he became a successful cattleman and had ranches in Kingman and Arivaca, Ariz.
Courtesy of PRCA