Fountain Wins Helldorado on Hell Boy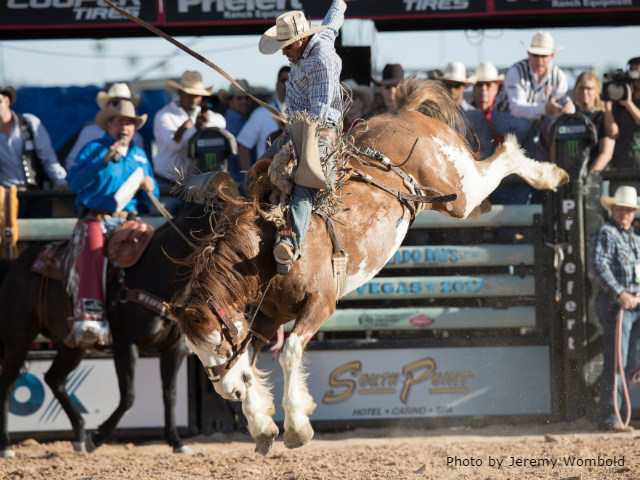 LAS VEGAS, Nev. – Rookie saddle bronc rider Leon Fountain earned the third win of his ProRodeo career at the Las Vegas Elks Helldorado Days Rodeo by a half-point.
Fountain nailed an 85.5-point ride on Bar T Rodeo's Hell Boy and cashed in for $2,888 by besting CoBurn Bradshaw, a two-time qualifier for the Wrangler National Finals Rodeo presented by Polaris RANGER.
Prior to Helldorado, the 21-year-old Fountain's only other ProRodeo wins were at the Alamosa (Colo.) Roundup on June 24, 2016, and the Oakdale (Calif.) Saddle Club Rodeo on April 9 of this year.
"This is my second win this year and my third one in ProRodeo ever – so it means a bunch to me," Fountain said. "I just love doing it, placing here and there – I love doing it and trying to accomplish my goals."
Although Helldorado Days is a four-day rodeo, each cowboy only gets one shot to win. Fountain found out his 85.5 from Saturday was good for gold on Sunday evening.
"I drew really good and the horse was most of it," Fountain said, comparing Hell Boy's bucking to a bull's – with plenty of jumps and some fishtailing.
"Shoot, there's a lot of guys that could have beat it, and I was hoping they wouldn't. I was pretty tickled about it."
Before the Helldorado Rodeo started, Fountain was ranked second in the Resistol PRCA Rookie Standings with $10,608 and was No. 37 in the WEATHER GUARD® PRCA World Standings.
"It all helps and hopefully I'll keep doing good and get into the Top 15," Fountain said.
With the summer run quickly approaching, Fountain has already doubled his 2016 earnings, when he ranked ninth in the 2016 RAM Rodeo Permit Standings with $5,259.
"I feel like I'm riding 10 times better," Fountain said. "I'm being more serious and working harder at it."
Hitting the gym for cardio and light weightlifting for at least an hour-and-a-half a day and competing in up to four or five rodeos per week is paying off well for this New Mexico cowboy as he's hitting the road for the Redding (Calif.) Rodeo with an air of confidence.
"I'm feeling pretty confident – I've got a good horse there and hopefully it goes good," Fountain said. "I'm going to keep doing what I'm doing and make myself better, stay healthy and keep riding good and just keep working at it."
Other winners in Las Vegas were all-around cowboy Jordan Ketscher ($4,189 in tie-down roping and team roping), bareback riders Buck Lunak (84.5 points on Flying U Rodeo's Lil Red Hawk) and Clayton Biglow (84.5 points on Diamond G Rodeo's Sis Is Sassy), steer wrestlers Jarret New, Chance Howard, Dakota Eldridge and Ty Erickson (6.0 seconds each), team ropers J.T. Taylor/Josh Reed (4.8 seconds), tie-down roper Trevor Brazile (7.4 seconds), barrel racer Tillar Murray (14.54 seconds), and bull rider Roscoe Jarboe (86 points on Flying U Rodeo's Holey Kat).
For more coverage of the Las Vegas Elks Helldorado Days Rodeo, check out the May 26 issue of the ProRodeo Sports News.
Courtesy of PRCA