Frey Wins Fort Smith with Fast Finish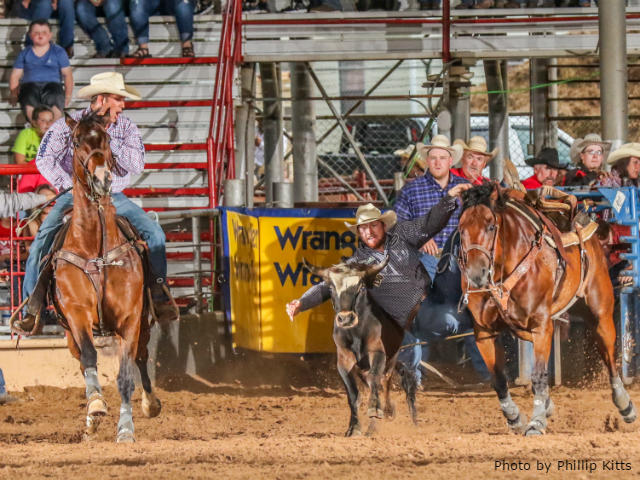 FORT SMITH, Ark. – Steer wrestler Shane Frey is on a mission to become the third man in his family to compete under the bright lights of Las Vegas. His performance at the Old Fort Days Rodeo will help that mission.
The 25-year-old from Duncan, Okla., won the second round Saturday night at the rodeo's final performance with a time of 3.9 seconds, which also propelled him to the average title with a two-head time of 9.2 seconds.
Frey, who entered the weekend 27th in the WEATHER GUARD® PRCA World Standings, earned a total of $3,700. He's hoping to reach the Wrangler National Finals Rodeo presented by Polaris RANGER for the first time, which would put him in the same company as his father, Shawn, and uncle, Winston.
"Making it to the NFR would be a dream come true," Frey said. "I want to become the third member of my family to make it there. From the time I was a little kid, I wanted to be a bulldogger. My parents told me from the time I was 2 years old that I wanted to bulldog. I got a little too big to ride bucking horses anyways, so it ended up working out."
Frey, who checks in at 6-1 and 225 pounds, is definitely too big to ride bareback horses as his father did while making NFR appearances from 1988-90.
His uncle made it to Las Vegas as a steer wrestler in 1993, and Frey's grandfather, Warren, competed in both bareback riding and steer wrestling, as well as bull riding.
Just two years ago, Shane making to the WNFR seemed like a pipe dream. He finished 133rd in the world in 2015, but since then, has been on an upward trajectory.
"I got a new horse (12-year-old Ruger) about three years ago, and it's taken some time for us to get on the same page, but he's been working great this year," Frey said. "A lot of my success is about my mindset – I changed my practice schedule and my work ethic, and have been working a lot harder at it. My traveling partner, Riley Duvall, has been a big help as well."
Frey finished a career-best 29th in the world last season, and should move into the Top 25 on the strength of his Fort Smith win.
After a 5.3-second run in the first round, which didn't earn a check, Frey stayed focused and clocked a blazing-fast 3.9 in the final round to take the title.
"I was just planning on coming back and being solid with my second run," he said. "I showed up and liked my steer, and some of the guys who had luck in the first round fell out of the average. I was as sharp as I could be, and it went my way."
Frey edged Blair Jones by a tenth of a second for the average title, and was four tenths faster than traveling partner Duvall, who finished third.
"I tried to carry that same mentality from last year into this year, and I've been trying to keep a positive head when things aren't going so good," Frey said. "I've had a good start to this season, and I'm having a lot of fun.
"I'm very happy with the position I've put myself in, and feel like I've given myself a good shot coming into the summer, and that's what I wanted to do."
Other winners at the $121,415 rodeo were all-around cowboy Marcus Theriot ($4,400 in tie-down roping, steer wrestling and team roping), bareback rider Tim O'Connell (85.5 points on Andrews Rodeo's Fire Water), team ropers Theriot/Cody Doescher (4.1 seconds), saddle bronc riders Joe Lufkin (87 points on Stace Smith Pro Rodeos' Midnight Cowboy) and Brody Cress (87 points on Andrews Rodeo's Lock And Load), tie-down roper Shane Hanchey (17.3 seconds on two head), barrel racer Taylor Carver (16.47 seconds) and bull riders Guthrie Murray (88 points on Andrews Rodeo's Rawhide Jacket) and Trevor Kastner (88 points on Andrews Rodeo's Mellow Yellow).
For more coverage of the Old Fort Days Rodeo, check out the June 23 issue of the ProRodeo Sports News.
Courtesy of PRCA