From the Vault: Deb Copenhaver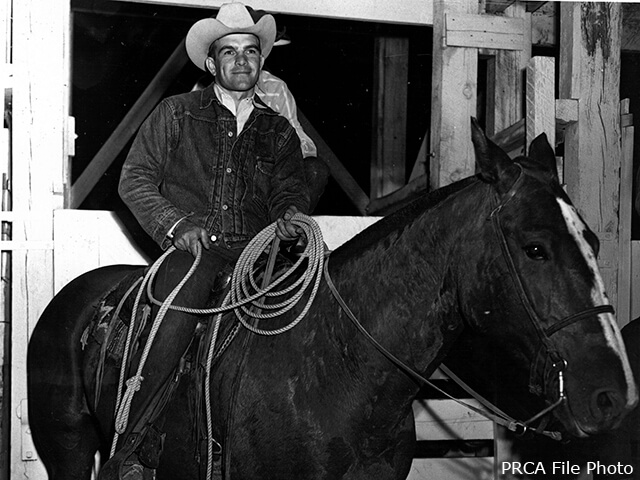 Deb Copenhaver is considered one of the greatest bronc riders to come from the Pacific Northwest.
He won a pair of saddle bronc riding world championships (1955-1956), was runner-up to Casey Tibbs three times (1951, '53 and '54) and was inducted into the ProRodeo Hall of Fame in 1992.
Nicknamed "Fireplug" as much for his fiery, competitive nature as his stocky build, the 5-foot-7 Copenhaver won plenty of big rodeos – Calgary in 1953, '55 and '58; Madison Square Garden in 1952 and '55; Pendleton (Ore.) in 1954; Salinas (Calif.) in 1952; Denver in 1956; and Fort Worth (Texas) in 1954.
To win his 1955 title, Copenhaver traveled more than 90,000 miles, hit both coasts and Canada and ventured as far south as San Antonio. One weekend he chartered a plane to enter seven rodeos in five states (four of which ran concurrently).
Born in Wilbur, Wash., in 1925, he grew up during the Great Depression and began breaking horses and exercising racehorses as a young boy. He entered his first rodeo at age 15, but enlisted in the Navy Seabees at 17 and spent two years in North Africa during World War II. After the war, Copenhaver worked as a logger in the Northwest for a couple of years before embarking on his rodeo career full time in 1948.
Known as a "thinking" rider, Copenhaver started the style of the "dehorned" saddle, now required in saddle bronc riding competition. He did it partly by accident. After a bronc mashed the horn when it ran into the unsaddling chute, Copenhaver whittled off the rest of the horn and a new style was born.
He went on to serve on the PRCA Board of Directors from 1986-89.
Copenhaver's son, Jeff, was the 1975 Tie-down Roping World Champion, and his daughter, Debra, is a former Miss Rodeo Washington and a respected bronze sculptor. At 88 years old, Copenhaver built a tiny, roadside chapel on his ranch about 50 miles west of Spokane, Wash.
Courtesy of PRCA