From the Vault: Toots Mansfield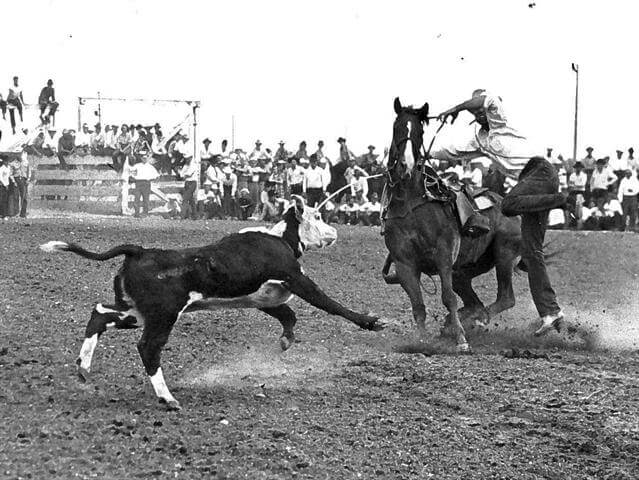 What started as a fun way to earn extra cash for Coy Herman Mansfield (better known as Toots), became a lifelong career as a pivotal role in professional rodeo both as a competitor and as an ambassador of the sport.
Masnfield was born May 15, 1914, in Bandera, Texas. He started roping calves as a teenager to earn money for groceries during the Great Depression. From there, he developed into one of the greatest tie-down ropers in rodeo history.
In all but one year from 1939-50, Mansfield either won the tie-down roping world championship or was runner-up. His seven tie-down roping gold buckles (1939-41, 1943, 1945, 1948 and 1950) remained the ProRodeo record for 19 years until Dean Oliver surpassed him. Mansfield's seven are still tied for second most with Fred Whitfield.
Toots Mansfield developed his own style of flanking cattle, dismounting from the left side of his horse and navigating down the rope onto the calf's right side. While many cowboys tried to emulate the Texan's technique nobody did it as well.
Riding Juan Salina's black gelding Honey Boy, Mansfield was recognized as the man to beat whenever he competed. He won the championship at Madison Square Garden in New York seven times, Fort Worth (Texas) four times, Pendleton (Ore.) and Cheyenne (Wyo.) three times each.
When the ProRodeo Hall of Fame opened its doors in 1979, Mansfield was part of the inaugural class. He was a master at handling calves on the ground, and his skill led him to establish the first successful rodeo school for aspiring ropers in the mid-1950s.
From 1945-51, Mansfield served as president of the Rodeo Cowboys Association and remained a part of the sport he loved until his death on Dec. 6, 1998, at age 84.
Courtesy of PRCA