Frontier Communications Partners with PBR
By: Andrew Giangola
August 19, 2016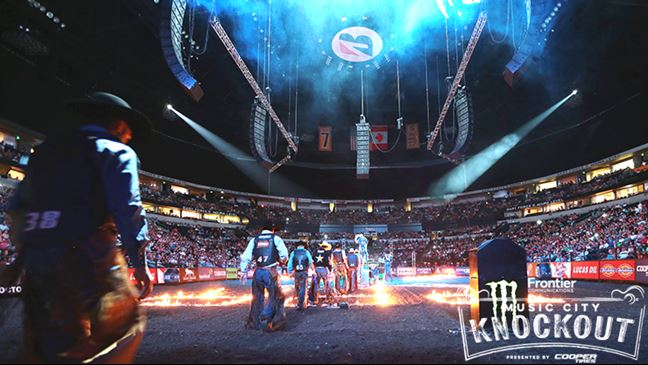 PUEBLO, Colo. – As PBR (Professional Bull Riders), prepares for the second half of the 2016 season this weekend in Nashville, the world's premier bull riding organization has announced a new multiyear partnership with Frontier Communications.  Frontier will be the official communications partner at 19 events across PBR's elite Built Ford Tough Series as well as its expansion Blue DEF Tour.
The new partnership will include six event entitlements in the Built Ford Tough Series, beginning at Bridgestone Arena in Nashville (Aug. 19-20) with The Frontier Communications Music City Knockout, Presented by Cooper Tires, one of the PBR's four annual "Majors" awarding additional points and prize money and televised on CBS Sports.
Additionally, the partnership will include presenting sponsorships at 2017 PBR Built Ford Tough Series events in Chicago and an event location to be named, as well as two new PBR elite series events held in key Frontier Communications markets to be finalized shortly.  At these title-sponsored PBR events, Frontier will have local media support and in-arena marketing and promotional programs including signage, kiosk charging stations for fans, and "Frontier Front Row" seat upgrades.
Frontier will also have four upcoming event entitlements at PBR Blue DEF Tour events in 2016 and in 2017 an additional seven event entitlements on PBR's premier expansion tour.
"We are excited to be kicking off our partnership with PBR at the Frontier Communications Music City Knockout in Nashville," said Cecilia McKenney, EVP and Chief Customer Officer of Frontier Communications.  "This partnership gives us an opportunity to show appreciation to our customers, and deliver a first-class experience for PBR fans."
"We are thrilled to partner with a growing technology-based company like Frontier Communications," said PBR CEO Sean Gleason.  "PBR fans are known to actively support our sponsors, and both inside and outside the arena, we'll be helping connect these passionate fans to Frontier in regions important to their business."
This season, PBR on CBS viewership is up 20 percent and the sport has set 10 local event attendance records.  PBR is now available globally in nearly a half billion homes.
© 2016 PBR Inc. All rights reserved.