Frost Heats Up in Florida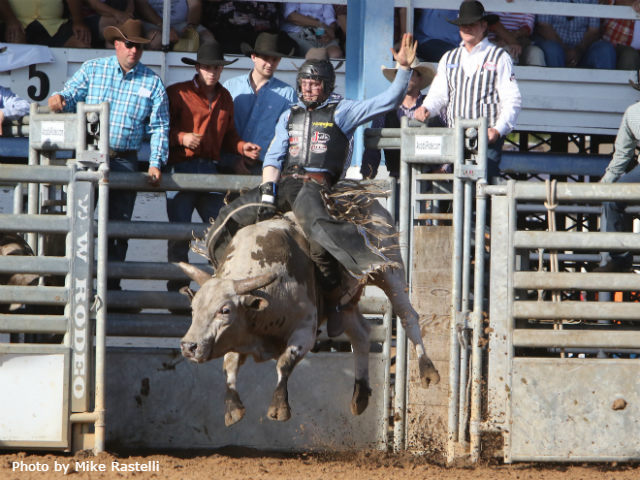 ARCADIA, Fla. – Joe Frost traveled 2,285 miles to compete at the Arcadia All-Fla Championship Rodeo, and it was worth the long flight.
The 24-year-old Randlett, Utah, bull rider covered Frontier Rodeo's Back Down for 86 points to win the title and earn a check for $4,258.
"I try to never think about the expenses or traveling, because that's just part of the job we do," Frost said. "In my mind, it doesn't matter if I'm rodeoing in my back yard or getting on a plane for four hours – I make it just about bull riding and not stress about money, because that doesn't do you any good."
He didn't need to stress about his performance in Arcadia. In fact, the ride he made on Back Down not only led to a big check, but also a bit of revenge.
"I got bucked off that bull in Spanish Fork (Utah) last year, and he bucked my brother Josh off at a college rodeo," Frost said. "So, that was a good one to have again and get him rode – I got some revenge for the family.
"He's a bull who's better out of the right-hand delivery, and he's really fast and a guy has to be moving and hustling or he'll get ahead of you in a hurry. Winning this makes me feel better that I wasted a chance at $4-5,000 the first time I saw that bull."
This was Frost's second trip to Arcadia, as he earned a sixth-place check at the rodeo last year.
"I really like that rodeo – they have a good crowd and (Eight-time World Champion) Donnie Gay is helping announce, and he always adds a little flavor to it," Frost said. "It's exciting when you make a good ride with him rambling in the background."
Surprisingly, this is Frost's first victory of the 2017 season. Still, he entered the weekend sixth in the WEATHER GUARD® PRCA World Standings on the strength of plenty of second- and third-place finishes.
"It's about consistency and being able to ride every different kind of bull you face," he said. "I'd rather be second at three rodeos than first at one and buck off at the other two. The name of the game is winning as much money as you can, but it's nice to get a win now and then."
Frost, who has qualified for the Wrangler National Finals Rodeo presented by Polaris RANGER the past three years, missed three months of action last April through June with a blood clot. He's finished in the top six of the world each of the past three seasons, and is now hoping to have a season full of health.
"I'd like to think the sky is the limit, but I've never been able to go a full year, and have always had injuries," he said. "But my goal is to be the world champion, and to stay fresh and go to as many rodeos as I can."
Other winners at the $100,266 rodeo were all-around cowboy Nelson Wyatt ($2,759 in tie-down roping and team roping), bareback rider Orin Larsen (87 points on Frontier Rodeo's Times Up), steer wrestler Kyle Irwin (4.2 seconds), team ropers Nelson Wyatt/Brad Culpepper (5.5 seconds), saddle bronc rider Clay Elliott (87.5 points on Frontier Rodeo's Memphis King), tie-down roper Zeb Chapman (9.8 seconds) and barrel racer Taylor Carver (17.31 seconds).
For more coverage of the Arcadia All-Fla Championship Rodeo, check out the March 31 issue of the ProRodeo Sports News.
Courtesy of PRCA