Fugate Grabs Old Fort Days Title
by Tracy Renck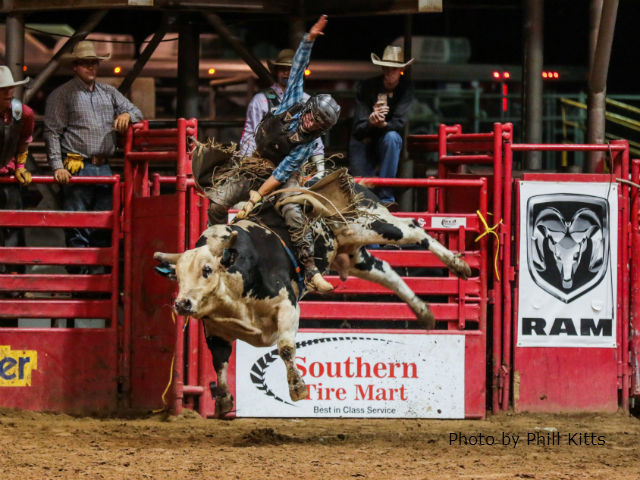 FORT SMITH, Ark. – Denton Fugate acknowledged he was in much-need of a confidence boost.
Well, the Dixie, Mo., bull rider received the jolt he was looking for when he won the Old Fort Days Rodeo (May 30-June 4) with an 85.5-point ride on J Bar J's Cold Dice at Harper Stadium.
"He was a really good bull," said Fugate, 21. "He made one big jump and then turned back to the left, back into my hand, and that's how I like them. He bucked really hard the whole time and it just all worked out. It felt like a really good ride. I've been in kind of a slump for a little bit, so it was really nice to get that ride."
According to Fugate, when he climbed aboard Cold Dice, he didn't have a plan of action.
"I had never seen that bull before," Fugate said. "I didn't have a game plan for him or anything like that, but everything just fell right into place."
Fugate made his ride June 1 at Fort Smith, and when the rodeo concluded, he won a $3,271 check.
"That money is going to help me out a lot coming into the summer," Fugate said. "I have a big summer run planned and this is going to help out a bunch. I went to Fort Smith last year, and it sure didn't go as good for me as it did this year, because I got thrown off last year."
Fugate is in his second season of going full time in the PRCA, and he's upbeat about his progress.
"I've learned a whole lot, especially about trying to be more confident and entering," said Fugate, who competes in the Great Lakes Circuit. "I'm also just trying to be more consistent, and this win should really kick-start my summer."
Other winners at the $123,150 rodeo were all-around cowboy Cole Elshere ($1,929 in saddle bronc riding and bull riding), bareback riders Tim O'Connell (86 points on J Bar J's Hell On Hooves) and Anthony Thomas (86 points on J Bar J's Dirty Rags), steer wrestler K.C. Jones (8.6 seconds on two head), team ropers John Alley and Clark Adcock (4.2 seconds), saddle bronc rider Doug Aldridge (83 points on J Bar J's Just Bugs), tie-down roper Marty Yates (8.6 seconds) and barrel racer Sabra O'Quinn (16.51 seconds).
Courtesy of PRCA