Game Notes: Chicago Invitational
By: Jordan Marie Johnson
January 09, 2016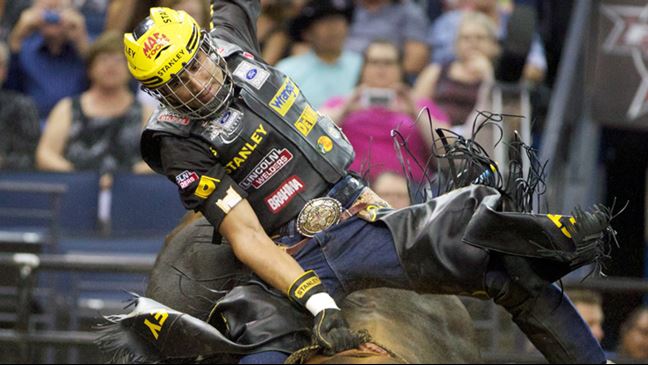 THE EVENT:
THE BFTS AWAKENS – The PBR's elite Built Ford Tough Series (BFTS) will commence the 2016 season by returning to Allstate Arena in Rosemont, Illinois, for the fourth year in a row, and the seventh overall. The competition will begin at 6:50 p.m. on Saturday, Jan. 9 and at 1:50 p.m. on Sunday, Jan. 10.
NEXT UP – The Monster Energy Buck Off at the Garden is the next stop for the BFTS, as the PBR heads to Madison Square Garden in New York City, Jan. 15-17. The event will take place at 8 p.m. on Friday, Jan. 15; 6:50 p.m. on Saturday, Jan. 16; and 1:50 p.m. on Sunday, Jan. 17.
PAST CHICAGO EVENT WINNERS – Three-time PBR World Champion Silvano Alves was the only rider to go 3- for-3 on his bulls, while also placing first in the Built Ford Tough Championship Round to nail down his first win of the 2015 season in Chicago last year.
2015 Silvano Alves
2014 Marco Eguchi
2013 Billy Robinson
2011 Robson Palermo
2008 Adriano Moraes and Dustin Hall
2006 Austin Meier
FORMAT – The Top 35 bull riders in the world will compete in Round 1 on Saturday and Round 2 on Sunday, facing one bull in each round. The riders with the Top 15 total scores after two rounds will advance to the Built Ford Tough Championship Round on Sunday for an additional ride and a chance at the $30,000 event title.
POSSIBLE POINTS – There are 700 possible points available in Chicago, as the winner of the event average will receive 400 points and each of the three round wins are worth 100 points apiece.
TELEVISION BROADCAST – CBS Sports Network will air Round 1 of the Chicago Invitational on Saturday, Jan. 9 at 10:30 p.m. ET as well as Round 2 and the Built Ford Tough Championship Round on Sunday, Jan. 10 at 8 p.m. ET. Veteran broadcaster Craig Hummer will provide the play-by-play, color commentary will be provided by Ty Murray, while Leah Garcia will handle dirt-level interviews.
PBR LIVE will stream the entire event live with Round 1 taking place on Saturday, Jan. 9, at 7:50 p.m. ET, and Round 2 and the championship round on Sunday, Jan. 10, at 2:50 p.m. ET. PBR LIVE is now available at no charge to all fans and media. Visit www.PBR.com/live to view.
PROVIDING PROTECTION – The Dickies® Bullfighters this weekend are Jesse Byrne of Okotoks, Alberta; Shorty Gorham of Cotulla, Texas; and Frank Newsom of Paoli, Oklahoma.
© 2016 PBR Inc. All rights reserved.