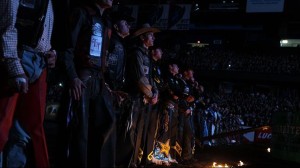 BUCK INTO THE WINDY CITY – The Built Ford Tough Series is back in Chicago for the second season in a row and the fifth time in PBR's history.
UP NEXT – The BFTS will travel to Duluth, Ga., after a two-year hiatus visiting the Gwinnett Center on Saturday, Jan. 18, and Sunday, Jan. 19. Bull riding begins at 8 p.m. ET on Saturday, and at 2 p.m. on Sunday.
PAST EVENT WINNERS – Billy Robinson won the Chicago Invitational last year after riding Smackdown for 92.5 points, notching the highest-scored ride of his career. Robson Palermo won in 2011 and plans to make a comeback this season after undergoing surgery on both of his shoulders. Here is a complete list of past winners in Chicago:
2013: Billy Robinson
2011: Robson Palermo
2008: Adriano Moraes and Dustin Hall
2006: Austin Meier
FORMAT – This weekend, the Top 35 bull riders on the BFTS will compete in Round 1 on Saturday night and Round 2 on Sunday afternoon, facing one bull each day. The riders with the Top 15 scores after two rounds will advance to the Built Ford Tough Championship Round for an additional ride and a chance at the $30,000 event title Sunday.
POSSIBLE POINTS – There are 900 possible points available in New York as the winner of the event will receive 300 points and each of the three round wins is worth 100 points plus the ride score.
PROVIDING PROTECTION – The Dickies® Bullfighters are Jesse Byrne of Okotoks, Alberta; Shorty Gorham of Cotulla, Texas; and Frank Newsom of Paoli, Okla.
TELEVISION BROADCAST – PBR LIVE will broadcast the Chicago Invitational at 9 p.m. ET on Saturday, Jan. 11, and at 2 p.m. ET on Sunday, Jan. 12.
CBS Sports Network will broadcast Round 1 on Saturday at 10 p.m., as well as Round 2 and the championship round on Sunday at 8 p.m. Veteran broadcaster Craig Hummer will provide the play-by-play; color commentary will be provided by J.W. Hart, and Leah Garcia will handle dirt-level interviews.
Both Saturday and Sunday will be PURE PBR broadcasts that will also include commentary from Dickies® Bullfighter Shorty Gorham. The PURE PBR broadcasts provide a new approach, including everything from candid moments between rides to various opportunities for the broadcasters to not only explain, but also visually illustrate whatever point they're trying to make. Expect Hummer, Hart and Gorham to take viewers inside the world of the PBR, spending one-on-one time with riders before their respective rides and giving viewers a chance to listen in on the one-of-a-kind conversation.
BFTS telecasts are produced for the PBR by David Neal Productions, a Los Angeles-based production company led by 34-time Emmy® Award winner and Peabody Award winner David Neal, who serves as executive producer and creative lead.
Click HERE for the rest of this week's game notes.
© 2014 PBR Inc. All rights reserved.
Courtesy of PBR