Goodine Gets Career-Best Win at Strathmore
by Tracy Renck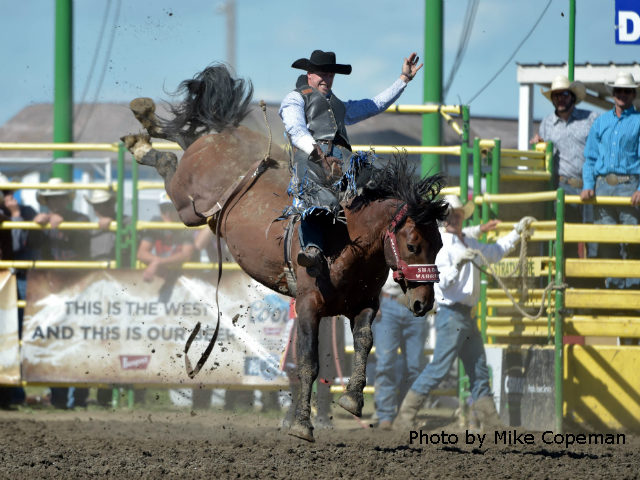 STRATHMORE, Alberta – Getting laid off may have been the best thing for journeyman welder Cole Goodine – at least in terms of his rodeo career.
Goodine, a standout bareback rider in his home country of Canada was laid off in the spring and joined the PRCA just over a month ago in search of another form of income.
"I had a lot of time to train and work out and I'm in the best shape of my life," said Goodine, 26, who qualified for the Canadian Finals Rodeo in 2014-2015. "I thought why not try it down South (in the PRCA) and maybe go hard next year."
The move paid off for Goodine in the short term.
The cowboy won the two-head average with 173 points to capture the biggest win of his career at the Strathmore Stampede Aug. 1 during Heritage Day in Alberta.
"I can definitely say winning this was on my bucket list, but I really didn't expect it with the caliber of guys who were here," Goodine said. "I only live 45 minutes away from (Strathmore) in Drumheller, Alberta and I consider Strathmore a hometown rodeo, so it was really cool to win here."
Goodine had an 85-point ride in the first round and then clinched the title with an 88-point ride on Calgary Stampede's Shadow Warrior in the finals.
"I had never been on that horse before, so I was watching a bunch of videos of the horse the night before the finals," Goodine said. "What I saw in the videos is that horse looked like a handful. I was really expecting the horse to try and take things away from me right from the start and try and hit me in the back. I was just focused on not letting him go until I was ready."
To Goodine's surprise, Shadow Warrior cooperated with him.
"It felt like he blew up underneath me and gave me a perfect start," Goodine said. "It was just a great ride from there. When I got off I knew it was one of those rides that I did everything I could and the horse was good. I felt like I was on top of the world."
After Goodine recorded his total, he had to wait for five more riders to see if it would hold – and it did. He collected $5,778 in earnings for his performance.
"There were a lot of good horses and a lot of good riders left to go, so I was definitely stressing," Goodine said. "It was a relief when I won and it is still barely sinking in."
The victory was extra special for Goodine since he had several friends and family in the stands, and his father, Doug, a former bull rider in Canada, was there behind the chutes watching the action.
"My dad has always been my hero and my biggest mentor and it was huge having him there for this win," Cole said. "It was pretty emotional. He also was being a little sarcastic with me and told me I will never want to work again now that I'm riding well."
Other winners at the $240,838 rodeo were steer wrestler Morgan Grant (13.0 seconds on three head), team ropers Clay Ullery/Riley Wilson, saddle bronc rider Chuck Schmidt (169.25 points on two), tie-down roper Logan Hofer (29.8 seconds on three head), barrel racer Callahan Crossley (35.643 on two runs), and bull rider Dakota Buttar (85.25 on head).
For more coverage of the Strathmore Stampede, check out the Aug. 12 issue of the ProRodeo Sports News.
Courtesy of PRCA