Gray Makes Successful Trip to Logandale
by Justin Shaw | Apr 11, 2016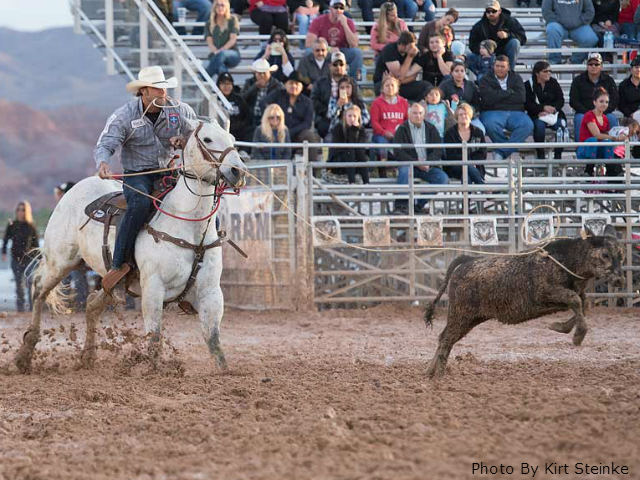 LOGANDALE, Nev. – Adam Gray is only going to three rodeos in April, so he needs to make them count. So far, so good.
The four-time Wrangler National Finals Rodeo tie-down roping qualifier won the first of those three rodeos when he took the victory lap at the April 6-10 Clark County Fair & Rodeo in Logandale, Nev.
Gray, 32, grabbed the title at the Wrangler Million Dollar Tour presented by Justin Boots gold rodeo with an average time of 29.8 seconds on three head.
"I've never done very well at Logandale, so this feels good," Gray said. "I've placed in go-rounds here, and this is the first year they've had a short round, which I love.
"It's a nice plane ride home after this win, and I can pay some bills now. You can't just place along in April like you can in July, because there aren't as many chances to win. I usually only go to three in April, so this isn't new for me."
Gray will stay closer to his home in Seymour, Texas, next week when he competes at the Buc Days Pro Rodeo in Corpus Christi, and then will head to Clovis, Calif., the following week.
His trip to Logandale was a short one, as Gray flew in April 9 and left April 11. After failing to place in the first round, Gray was third in the second round and the finals aboard a horse whose name he didn't even know.
"I rode Josh Peek's horse in the last two rounds," Gray said. "I don't know what the horse's official name is, but I call him Vakidis, after the character in the movie Semi-Pro. He's a big horse, and reminds me of Vakidis because of his size."
Gray says Logandale is always one of his favorite rodeos of the season because it signals the start of the spring rodeo run. However, the weather was uncharacteristically wet.
"Normally it's sunny, but it rained on us the whole time," he said. "But I like being here because the barriers are longer and it's a different type of roping from the indoor arenas, and it's a nice change. It was muddy today, but I don't mind the mud. It was muddy for everyone, and I don't mind getting dirty because I have confidence in the mud."
Gray entered the weekend 17th in the WEATHER GUARD® PRCA World Standings – the same place he finished the 2015 regular season, just missing out on a WNFR berth.
The $5,702 he earned in Logandale will help to keep that from happening again this season.
"I'm as determined as ever, and I feel like I need to take care of business all year," Gray said.
Other winners at the $257,332 rodeo were all-around cowboy Ryan Jarrett ($7,184 in tie-down roping, steer wrestling and team roping), bareback rider Orin Larsen (165 points on two head), steer wrestler Dirk Tavenner (17.8 seconds on three head), team ropers Thad Ward and Olin Pulham (16.8 seconds on three head), saddle bronc rider Cody Wright (167.5 points on two head), barrel racer Kimmie Wall (35.08 seconds on two runs) and bull rider Bayle Worden (171 points on two head).
For more coverage of the Clark County Fair & Rodeo, check out the April 22 ProRodeo Sports News.
Courtesy of PRCA