Gregg Claims First Career Win at Ellensburg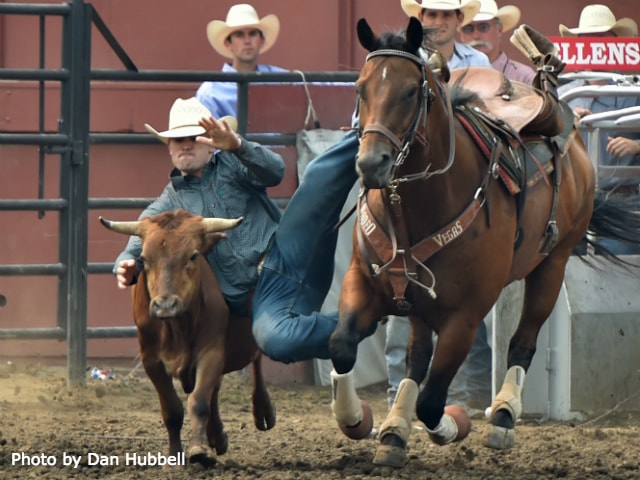 ELLENSBURG, Wash. – Steer wrestler Taylor Gregg has been a PRCA cardholder since 2013. In 2017, in front of his family and friends, he notched not only the first win of his career, but a big one.
Clocking a total time of 14.2 seconds in three go's at the Ellensburg Rodeo, Gregg split the win with fellow bulldogger Curtis Cassidy. Gregg, 26, and Cassidy each took in $3,923 for their matching three-head times. Gregg collects checks totaling $6,450.
"It's pretty sweet," Gregg said. "I high school rodeoed in this state and we had our state finals here at Ellensburg, so coming back here is always really fun – win, lose or draw. To win it, I mean this is the first ProRodeo I've ever won, so to have that first win at Ellensburg is pretty awesome."
Gregg, a native of Walla Walla, Wash., was in no shortage of support in the stands at the Ellensburg Rodeo Grounds.
"My dad was actually pushing for me, so that was pretty nice," Gregg said. "My mom was here, and I wouldn't be here without them. So it was definitely nice having them here.
"Just seeing the look on my mom's face when she came up to greet me after I'd won it," Gregg said. "How proud she was of me, it made everything worth it."
After a 5.6-second first-head time, Gregg was but a fly on the wall peering into a talented field of steer wrestlers. Then something shook the hornets' nest. Notching a time of 4.4 in the second round and a 4.2-second run in the short-go, Gregg credited his fortune at Ellensburg as a key to his first ever win.
"Honestly, it was all luck," Gregg said. "I drew really good. Jeff Green lets me ride his horse and it was a really good horse. For steer wrestling, it makes it really easy when you ride a good horse and draw really good, so I was really lucky."
Gregg was familiar with the steer he was handed in Monday's short round, and he used that experience to prepare himself for his quickest round of the weekend.
"I drew steer No. 38 in the short round at Kennewick (Wash.) actually," Gregg said. "I knew how good he was, so I was pretty happy to have his number right by my name. I knew I could make a good run on him, but I had no idea that I would end up first at the rodeo."
Even after recording his first win in the PRCA, Gregg doesn't plan on letting it get into his head. Going forward, he still wants to take the same, steady approach.
"I just try to take it one steer at a time," Gregg said. "Big rodeos or small rodeos, I just try to go win. I have a lot of people that help me be successful. I was really lucky to be successful here."
Other winners at the $330,755 rodeo were all-around cowboy Tuf Cooper ($10,161 in tie-down roping and steer roping), bareback rider Richmond Champion (171.5 points on two head), team ropers Brandon Beers/Cesar de la Cruz (17.3 seconds on three head), saddle bronc rider CoBurn Bradshaw (173.5 points on two head), tie-down roper Cooper (24.6 seconds on three head), barrel racer Nellie Miller (51.48 seconds on three head), steer roper Corey Ross (28.6 seconds on two head) and bull rider Sage Kimzey (169.5 points on two head).
For more coverage of the Ellensburg Rodeo, check out the Sept. 15 edition of ProRodeo Sports News.
Courtesy of PRCA