Hadley Barrett: Sept. 18, 1929 – March 2, 2017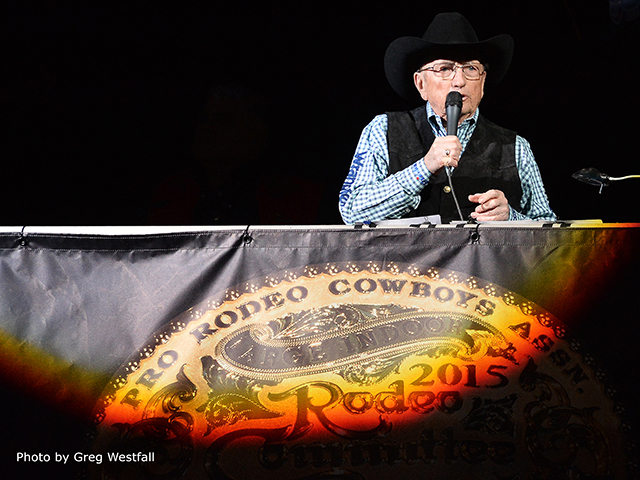 COLORADO SPRINGS, Colo. – The Professional Rodeo Cowboys Association lost a legend March 2.
Announcer Hadley Barrett, who was inducted into the ProRodeo Hall of Fame in 1999, passed away in the early morning hours of March 2 as a result of heart failure while at University Hospital in Denver, Colo. He was 87.
"I'm having a hard time dealing with this because he was not only my dad, but my best friend," said Trent Barrett, Hadley's son.
The last rodeo Barrett announced was the San Antonio (Texas) Stock Show & Rodeo, which ran Feb. 9-26.
Veteran announcer Wayne Brooks, who has worked with Barrett for years, was trying to come to grips with his passing.
"I've talked to everybody in the last two or three hours this morning, and the consensus is that he was supposed to be bulletproof," Brooks said. "Because that's not only the way everybody depicted him, but that's the way he came across. Regardless of age, the numbers don't count, he was just an ironman. We all know (passing away) is going to happen to us someday, but it doesn't seem possible that's happening now with him. It's unreal for sure."
Brooks worked with Barrett some, most recently at San Antonio, and was scheduled to work with him at Rodeo Austin (Texas) March 11-25.
"The level with which everybody around him held him was unbelievable, even to this day, whether it's fans, committees, cowboys, stock contractors, the list goes on and on," Brooks said.
"Not just because of his tenure, but because of the kind of man he was. To not have that piece of the puzzle in these locations is going to be very odd, very strange, very different. The thing that created his longevity in our game is after a rodeo performance when you went and listened to him, you felt like he was your friend."
Barrett was born Sept. 18, 1929, in North Platte, Neb. This ranch-raised Nebraskan started his career as a contestant and formed his own dance band, but found his place in rodeo history behind the microphone.
A PRCA member since 1965, Barrett has announced all the big rodeos and a great number of the smaller ones across the country. He has been the voice of the Sidney (Iowa) Championship Rodeo since 1983; worked the Buffalo Bill Rodeo (North Platte, Neb.) for more than 30 years; the Greeley (Colo.) Stampede for more than 20 years; and worked for more than a decade at Cheyenne (Wyo.) Frontier Days.
Barrett was named PRCA Announcer of the Year in 1983, 1985, 1989 and 2002. He worked five National Finals Rodeos (1968, 1976, 1979, 1983 and 2008) and the 1967 National Finals Steer Roping, as well as called the action at the Canadian Finals Rodeo seven times.
He has worked as an NFR television announcer since 1980. He was among the first to announce while on horseback, and had always been credited with an honest approach to arena accidents and mishaps. Barrett's legacy is his willingness to share his talent and experience with others. He is known for taking rookie announcers under his wing and sharing hard-earned information.
"He had that capacity just to get up and love every day he was in touch with the rodeo business," Brooks said. "It's that passion that kept him going. He loved the game as much as he loved his family. He was an amazing man."
As of this time, Barrett's funeral arrangements are pending.
Courtesy of PRCA