Hallam Recovering from Spinal Injury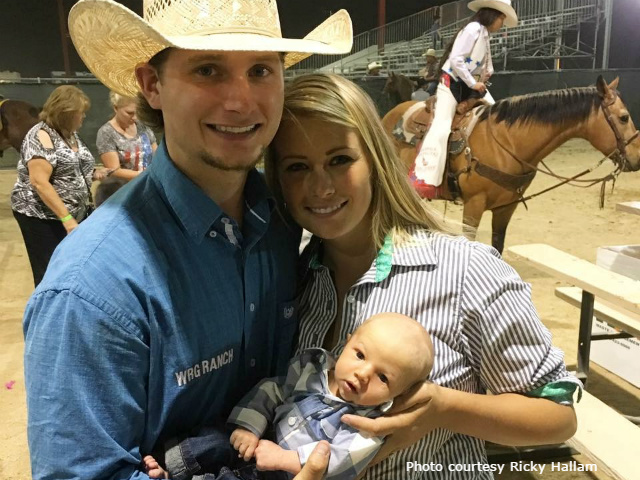 Bull rider Ricky Hallam is recovering from a spinal cord injury he suffered when he was bucked off Flying 5 Rodeo's Sammy's Fine Line on June 21 during the Reno (Nev.) Rodeo.
"The bull took a long jump out and then he beat me around the corner and I tried to hustle in there and I didn't get back in position," said Hallam, 24. "My hand came out of my rope and I fell inside and he came around spinning and folded me up on the ground."
Hallam, who was wearing a helmet, landed directly on his head and broke his C6 and C7 vertebrae, which are located toward the bottom of the cervical spine.
"The doctor told me, with how much the vertebrae moved over I should have been paralyzed, and it's a miracle I'm not," said Hallam, who lives in Norco, Calif. "In the arena, I was trying to move, but my left arm and left leg wouldn't move. They put me on a stretcher and took me to the hospital (Renown Regional Medical Center) in Reno."
After the swelling went down, Hallam had surgery June 24. A plate was put in the front of his neck and screws and rods were put in the back of his neck to hold it together.
"I'm walking now and I will be wearing a neck brace for eight to 12 weeks, and I will start physical therapy after that," Hallam said.
Hallam and his fiancée, Allie Marshall, have a son, Ryder Hallam, who was born April 7. Marshall started a GoFundMe page to help with expenses for Hallam's recovery. To donate, visit www.gofundme.com/y3yq4-rickys-recovery-fund. As of 2 p.m. (MT), June 28 the gofundme page had raised $18,443.
"This is something I never thought would happen to me," Hallam said. "I'm grateful I wasn't paralyzed. I couldn't imagine having a young son and not being able to walk."
Courtesy of PRCA