Hall's Heading to Kissimmee
by Tracy Renck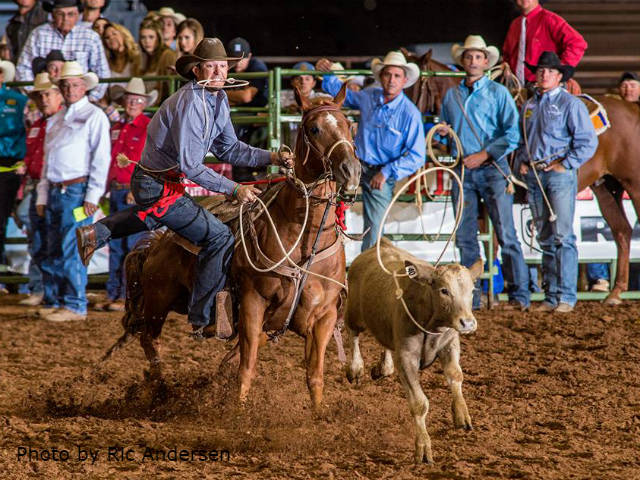 LAS CRUCES, N.M. – Seth Hall knew the task at hand and delivered.
The tie-down roper clocked a solid 10.1-second time in the third round of the RAM Turquoise Circuit Finals Rodeo to propel himself to the average win with a time of 32.0 seconds in the three-head average Saturday.
"This is the second time I have won the average at the Turquoise Circuit Finals Rodeo, but it has been a few years," said Hall, 26. "I think the last time I won the average here was in 2011. This just feels great. We've had a long summer and we've been going to quite a few rodeos and I really wanted to get this average win. I needed to have a good end of the year and have something to look forward to for next year and now I do."
Hall earned $4,464 at the Southern NM State Arena – $2,678 for capturing the average. Hall, who grew up in Los Lunas, N.M., was out of the mix to claim the Turquoise Circuit year-end title, so he had to take top honors in the average to punch his ticket to the RAM National Circuit Finals Rodeo April 6-9, in Kissimmee, Fla.
"The first thing I was feeling when I won was we're headed to Florida," Hall said. "This was a great accomplishment for this year. It was really a relief. We put a lot of work into this season. Plus, I've never been to Florida before so it's going to be awesome to get to go down there."
Hall just edged Brent Lewis, an 11-time qualifier for the Wrangler National Finals Rodeo, who had a 32.3-second time in the average. Hall set the tone for his weekend by winning the first round in 9.4 seconds.
"Brent made a really good run (in the third round of 10.0 seconds) and the guy behind me (J.D. Kibbe, the last guy to go) also had a little bit of a gap on me, so I had to go after it in the third round," Hall said. "I wasn't worried about Brent's run or what J.D. might do, I just had to make my run as fast as I could. I came here to win. I just did my job and tied him down. This has been a full-time job the last couple of years I'm going to keep doing this until I can make the show (the Wrangler National Finals Rodeo presented by Polaris RANGER)."
Other winners at the $171,800 rodeo were all-around cowboy Brent Lewis ($7,353, tie-down roping and steer roping), bareback rider Luke Creasy (232 points on three head), steer wrestler Dean McIntyre (14.5 seconds on three head), team ropers Erich Rogers/Cory Petska (15.9 seconds on three head), saddle bronc rider Cooper DeWitt (153 points on two head), barrel racer Sherry Cervi (50.28 seconds on three runs), steer roper Garrett Hale (42.5 seconds on three head), bull rider Lon Danley (80 points on one head).
For more coverage of the RAM Turquoise Circuit Finals Rodeo, check out the Oct. 21 issue of the ProRodeo Sports News.
Courtesy of PRCA