Hannum Continues Family Tradition, Wins Reno Rodeo
by Bob Stephens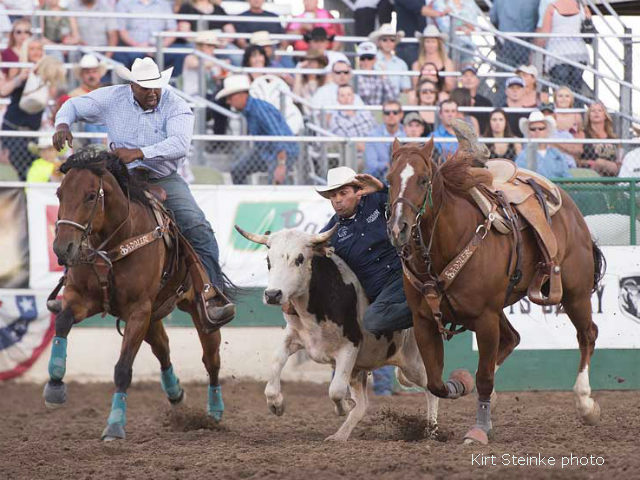 RENO, Nev. – A beaming Olin Hannum became the third member of his celebrated rodeo family to win the prestigious silver spurs as champion of the Reno Rodeo.
Hannum came through with a clutch final run in the 12-man short round before a sellout crowd Saturday night to win the steer wrestling average with a time of 12.5 seconds on three head.
That earned him $10,916 – plus those coveted silver spurs.
"I've had to look at my dad's and my brother's silver spurs for a long time now," Hannum said. "It's great to win a pair of my own."
His brother, Jake, won the all-around at the Reno Rodeo in 2007 while competing in tie-down roping and team roping. Their father, Jack Hannum, a ProRodeo Hall of Fame inductee in 2015, won the steer wrestling in Reno in 1983.
"I looked at those spurs my dad won all the time I was growing up," Olin Hannum said.
Jack Hannum and his wife, Lynn, passed away a day apart on Sept. 15-16, 2014.
On Olin Hannum's shirt collar was the word "Mom" with the middle letter looking a bit like the breast cancer ribbon.
"That's our family brand that goes on our cattle and horses," Olin said. "It's a heart with crosses on the bottom. My mom fought cancer and I wear it on my shirt for everybody who goes through that. That's why it's on there, because it looks like the breast cancer sign."
Hannum said he thought about his dad a lot during the last week.
"I felt his presence with me here tonight," he said.
Jack Hannum was a big influence on his sons when he was alive, and a presence for them as they traveled the ProRodeo road.
"He was with me when I won Cheyenne (in 2011) and other big rodeos," Olin Hannum said. "We're a tight-knit family. Most of my family texted me tonight."
Veteran Trevor Knowles – who left his home in Oregon at 5 p.m. Thursday to arrive for Friday's 10 a.m. slack at the Reno Rodeo and then posted Friday night's fastest time – put the pressure on Hannum in the short round with a 4.1-second run.
"I knew I had to be 4.7 to tie Trevor," Hannum said.
Hannum was up last and completed his run in 4.5 seconds to earn the championship.
"This is one of the biggest rodeos, and whoever wins Reno sets themselves up to make the (Wrangler) National Finals (Rodeo)," Hannum said. "This is a great way to start my summer and the Fourth of July run."
Jake Hannum's only WNFR qualification came in tie-down roping the year he won the Reno Rodeo. Jack Hannum's fifth and final NFR appearance came the year he won Reno.
Olin Hannum's lone WNFR qualification came in 2011; he barely missed last year while finishing 17th in the world. He hopes to make it again this year – and if he does, it'll be on a new horse, Maverick.
"I broke out a really green horse earlier this year," Hannum said. "He was a ranch horse until January when a friend told me he thought he'd make a good bulldogging horse. He was right. I won my first three on him."
Hannum and Maverick won three rodeos in California the weekend of May 6-8: the Kern County Sheriff Reserve Stampede Days Rodeo in Bakersfield; the Woodlake Lions Rodeo and the Mother Lode Round-Up in Sonora.
Now, he can add the Reno Rodeo to that list.
Saddle bronc rider Heith DeMoss earned his second set of silver spurs in as many years as the repeat champion with a score of 247 points on three head.
Other winners at the $488,939 rodeo were all-around cowboy Seth Hall ($4,394 in tie-down roping and team roping), bareback rider Clayton Biglow (253.5 points on three head), team ropers Garrett Tonozzi and Wyatt Cox (16.7 seconds on three head), tie-down roper Hunter Herrin (25.3 seconds on three head), barrel racer Stevi Hillman (51.14 seconds on three runs) and bull rider Markus Mariluch (158.5 points on two head).
Read more about the Reno Rodeo champions in the July 15 ProRodeo Sports News.
Courtesy of PRCA