Hass Tops Traveling Partners in Hermiston
by Justin Shaw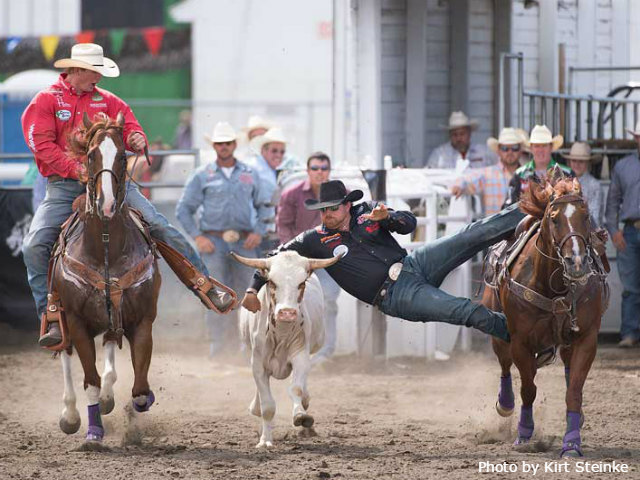 HERMISTON, Ore. – Clayton Hass may be trying his hand at some team roping this season, but that doesn't mean his steer wrestling isn't as sharp as ever.
The 32-year-old from Terrell, Texas, was tops in a loaded steer wrestling field at the Farm-City Pro Rodeo, which included two of his traveling partners finishing in the top four.
Hass posted a time of 10.3 seconds on two head to claim the average title and a total of $3,458. His buddies, Ty Erickson and Josh Boka, finished second and fourth in the average, respectively.
"It's always nice to get a big win and keep chipping away and adding money," Hass said. "I have 27 rodeos left, and I'll get them in. We're going to seven next week alone. I want to win as much as I can, because I have a family to feed and want to stay high in the standings."
Hass, who qualified for the Wrangler National Finals Rodeo presented by Polaris RANGER in both 2014 and '15, entered the weekend fifth in the WEATHER GUARD® PRCA World Standings.
Aboard his trusted horse, Cadillac, Hass has put together another banner year in bulldogging. However, that isn't the only event he's competing in.
Hass is also competing in team roping – on both sides of the event.
"I'm trying to rope as much as I can wherever I am, and my goal was to try to be up there in the all-around race," Hass said. "I'm doing a little of both heading and heeling. It all depends on the day which one I'm better at. I'm entered with Ty (Erickson) at White Sulphur Springs (Mont.). He made the College Finals in team roping, and he's talented."
Hass is currently seventh in the all-around world standings. In addition to the nearly $60,000 he's won in steer wrestling, he's also added $6,324 as a header and $1,622 as a heeler.
Earlier this season, he won the all-around and team roping with Cody Doescher at the State Fair of Louisiana (Shreveport) Pro Rodeo. He's even toyed with the idea of tie-down roping this season.
However, his main focus remains throwing steers to the ground as quickly as possible – and he's one of the best in the world at that skill set.
Hass has finished eighth and fifth the past two seasons, and is in a prime spot to not only make a third trip to the WNFR, but win a gold buckle.
"It's a big advantage to be able to ride a horse you know, and Cadillac and I know each other and we have a lot of confidence in each other," Hass said. "A lot of things can still happen, and you see how the cookie crumbles at the end of the season. But if I do win the world, there will be a big party."
In addition to Erickson and Boka, Hass also travels with Tyler Waguespack. Erickson and Waguespack currently sit second and third in the world, making their rig the best on the rodeo road.
"It's good to have guys who are winning a lot in the same rig," Hass said. "We all want to win the world title, but we'll be happy for whoever wins."
Other winners at the $196,742 rodeo were all-around cowboy Rhen Richard ($5,533 in team roping and tie-down roping), bareback rider Jake Vold (87 points on Calgary Stampede's Xplosive Skies), team ropers Garrett Tonozzi and Wyatt Cox (10.1 seconds on two head), saddle bronc riders Tyrell Smith (83 points on Kesler Rodeo's Navajo Sun), and Sterling Crawley (83 points on Calgary Stampede's Weary Joke), tie-down roper Tyler Prcin (16.7 seconds on two head), barrel racer Kimmie Wall (17.09 seconds) and bull rider Cole Melancon (83.5 points on Corey & Lange Rodeo's Comatose).
For more coverage of the Farm-City Pro Rodeo, check out the Aug. 26 issue of the ProRodeo Sports News.
Courtesy of PRCA