Hawley/Romo Charge into RNCFR Semis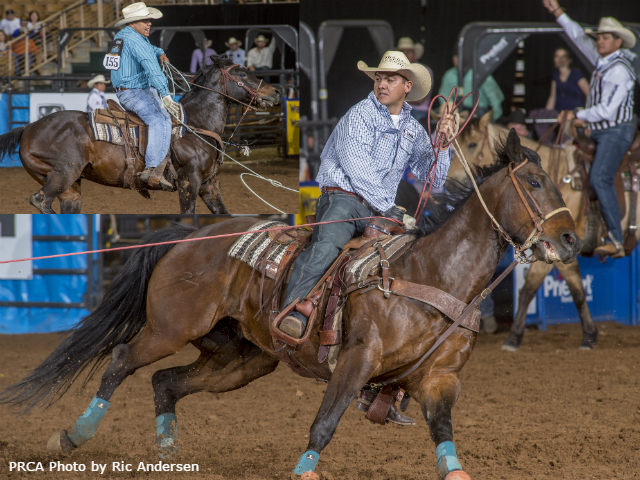 KISSIMMEE, Fla. – Team ropers Edward Hawley Jr. and Ty Romo made some memories Saturday that they'll never forget.
The Turquoise Circuit cowboys, who are making their RAM National Circuit Finals Rodeo debut, won the average with a two-head time of 10.9 seconds at the Silver Spurs Arena.
The duo not only collected a total of $12,793 each for their two runs and average win, but also qualified for the 8-team semifinal round, which will take place during the rodeo's final performance at 2:30 p.m. (ET) Sunday.
"This has been awesome," Hawley said. "We drew a couple of good steers, and things are going good."
Romo concurred with his partner.
"Last year, I bought my PRCA card and we had a good season together and won the year-end title in the Turquoise Circuit," Romo said. "This was a goal I set when I bought my card, to make it to the RNCFR, and this has been a great experience so far."
Hawley and Romo weren't dominant in the first two rounds, but plenty solid. They finished second in the first round with a 4.9-second run, and tied for fourth in the second round by stopping the clock in 6.0 seconds Saturday afternoon.
Those runs allowed Hawley and Romo to earn the $6,254 check for capturing the average.
"That money is good," Hawley said. "That's what keeps us going."
The RNCFR money is more important than ever this year. All money won at the 12 circuit finals rodeos, All American ProRodeo Finals and the RNCFR – per new PRCA bylaws – count toward the 2017 WEATHER GUARD® PRCA World Standings.
The Wrangler Network will be live streaming all the action from the RNCFR Sunday when the national champions are crowned. Log on to www.wranglernetwork.com to watch.
"If we can keep winning money here, I'm going to have to make Ed go hard the rest of the season," said Romo, who is riding his horse, Ush. "We are circuit cowboys, but if a guy wins $30,000 we would have to go more, for sure."
Romo acknowledged he's thrilled that he and Hawley have shown they are able to compete against the best team ropers in the world.
"This is just awesome," Romo said. "I watch these guys on TV and I look up to them a lot. To have your name in front of them in the average is pretty amazing."
If the pair can make more deposits in their bank accounts, Hawley said he would like to hit the PRCA trail more. He and Romo have been roping together since 2012.
Hawley and Romo are Arizona cowboys, living in Surprise and Whiteriver, respectively.
"We usually stick close to the circuit, but we had a good year last year and we have a lot of momentum on our side, especially the last few weeks," Hawley said. "We have a lot of confidence right now."
The tournament-style RNCFR format determines the national circuit champions in each event. All 24 qualifiers from the 12 circuits competed in the two preliminary rounds of the rodeo. The top eight contestants from the two-head average in each event advanced to the semifinals, with all previous scores and times thrown out.
The top four move on to the final round, and a sudden-death competition determines the national circuit champion in each event.
"The plan for (Sunday) is see how we draw and go from there," Romo said. "We will have to see what the other guys do, so we know what we have to do."
Hawley is already anxious to see what he and Romo can accomplish in the semis.
"I'm going to try and stay as aggressive as I can at the barrier," Hawley said. "If I can get a good start, that should set everything else up."
Hawley is riding his mainstay horse, 18-year-old Gunner.
"I've had him since he was 4, and we've gone everywhere together," Hawley said. "I've been taking him to rodeos since he was 6 years old. We've done a lot of good things together."
In addition to Hawley and Romo, other average winners after the second round were bareback rider Caleb Bennett (172 points on two head), steer wrestler Nick Guy (8.2 seconds on two head), saddle bronc rider Tyrell Smith (160.5 points on two head), tie-down Randall Carlisle (16.5 seconds on two head), barrel racer Jana Griemsman (30.64 seconds on two runs), and bull rider Jordan Spears (168 points on two head).
Here are the eight (or in some cases of ties, nine) competitors/teams which qualified for Sunday's semifinals:
Bareback Riding
Caleb Bennett, Tremonton, Utah
R.C. Landingham, Hat Creek, Calif.
J.R. Vezain, Cowley, Wyo.
Wyatt Bloom, Bend, Ore.
Tanner Aus, Granite Falls, Minn.
Cody Kiser, Carson City, Nev.
Jessy Davis, Power, Mont.
Justin Miller, Billings, Mont.
Tyler Nelson, Victor, Idaho
Steer Wrestling
Nick Guy, Sparta, Wis.
Olin Hannum, Malad, Idaho
Dean McIntyre, Cloncurry, Australia
Ty Erickson, Helena, Mont.
Matt Reeves, Cross Plains, Texas
J.D. Struxness, Appleton, Minn.
Justin Shaffer, Hallsville, Texas
Baylor Roche, Tremonton, Utah
Team Roping
Edward Hawley Jr., Surprise, Ariz./Ty Romo, Whiteriver, Ariz.
Jesse Stipes, Salina, Okla./Buddy Hawkins II, Columbus, Kan.
Brit Ellerman, Ft. Lupton, Colo./T.J. Watts, Eads, Colo.
J.B. Lord, Sturgis, S.D./Levi Lord, Sturgis, S.D.
Erich Rogers, Round Rock, Ariz./Cory Petska, Marana, Ariz.
Coleman Proctor, Pryor, Okla./Billie Saebens, Nowata, Okla.
Luke Brown, Stephenville, Texas/Wesley Thorp, Throckmorton, Texas
Jacob Dagenhart, Statesville, N.C./Caleb Anderson, Mocksville, N.C.
Saddle Bronc Riding
Tyrell Smith, Sand Coulee, Mont.
Jacobs Crawley, Boerne, Texas
Chuck Schmidt, Keldron, S.D.
Jesse Wright, Milford, Utah
Heith DeMoss, Heflin, La.
Cameron Messier, Odessa, Texas
Cooper Dewitt, Rio Rico, Ariz.
Ryan Mackenzie, Jordan Valley, Ore.
Tie-down Roping
Randall Carlisle, Athens, La.
Matt Shiozawa, Chubbuck, Idaho
Cody Quaney, Cheney, Kan.
Josh Peek, Pueblo, Colo.
J.R. Myers, Felton, Pa.
Joseph Parsons, Marana, Ariz.
Ryle Smith, Oakdale, Calif.
Jared Kempker, Eugene, Mo.
Barrel Racing
Jana Griemsman, Piedmont, S.D.
Carmel Wright, Roy, Mont.
Tiany Schuster, Krum, Texas
Ari-anna Flynn, Charleston, Ark.
Lori Todd, Willcox, Ariz.
Nellie Miller, Cottonwood, Calif.
Emily Miller, Weatherford, Okla.
Brittany Pozzi Tonozzi, Victoria, Texas
Bull Riding
Jordan Spears, Redding, Calif.
Garrett Smith, Rexburg, Idaho
Lane Lasley, Marshall, Ark.
Michael Riggs Jr., Claxton, Ga.
Josh Frost, Randlett, Utah
Roscoe Jarboe, New Plymouth, Idaho
Jess Davison, Laramie, Wyo.
Parker Breding, Edgar, Mont.
Tanner Learmont, Cleburne, Texas
Courtesy of PRCA