Hearbreak Hole to Hero: You Go, JoJo
by Kendra Santos, PRCA Director of Communications | Mar 04, 2016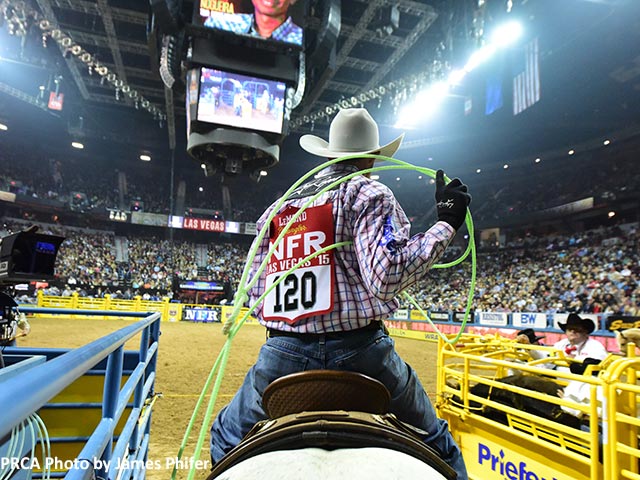 I always have a huge heart for the guys who finish 16th in the world. In most cases, they were one flat tire, missed flight, broken barrier or free-hand-slap at the whistle away from a shot at the $10 million Big Show. And we all know the toll it takes in terms of physical, mental and financial sacrifice to finish anywhere near the Top 15.
So, bareback rider Jessy Davis, bulldogger Bray Armes, header JoJo LeMond, heeler Quinn Kesler, saddle bronc rider Chad Ferley, tie-down roper Clint Robinson, bull rider Jeff Askey, steer roper Jason Evans and barrel racer Jill Welsh—the cancer survivor who so regularly blew everybody's doors off aboard her 2015 American Quarter Horse Association/Women's Professional Rodeo Association Barrel Horse of the Year, Custer—here's to all of you. May you be motivated instead of deflated by the near miss.
I'd have to give the roller coaster ride of 2015 to JoJo. Talk about your highs and lows. After roping with Josh Patton last winter and Dakota Kirchenschlager the rest of the year, JoJo was 12th in the world on the heading side riding into September. Then he hit the turf—literally—in the steer roping at Pendleton and broke his right collarbone. From there, he got the unexpected call that—due to Jake Barnes' roping wreck and traumatic brain injury—he was rolling up to rope with Junior Nogueira at the Wrangler National Finals Rodeo presented by Polaris RANGER. Then JoJo—the 16th-place guy—comes one wrap around the saddle horn from winning the world? Say what??
It's all true. And to back up a bit, JoJo makes no excuses for why he didn't make the NFR outright last year.
"Not making the Finals didn't bother me at all," said JoJo, 33, who lives in Andrews, Texas, with his wife, Blair, and kids, Newt, Shaylee and Gunnar. "I didn't rope good enough and I didn't have good enough horses to make it last year. The guys who work hardest and rope the best deserve to rope at the Finals. If you don't do your job you don't get paid, and our team did not rope good enough to make it last year."
JoJo and Dakota—a couple of renowned gunslingers—did get off to a wildly successful start. In the first two weeks of their partnership, they were 3.6 at both Hugo, Okla., and Silver City, N.M., and placed second in the average at Fort Smith, Ark.
"It was fast whenever we caught," JoJo said. "But I didn't have enough horsepower and Dakota's horse was out a lot throughout the year. We just didn't rope to the expectations everyone had for our team.
"At Pendleton, my second steer stepped to the right over there on some fresh grass where nobody'd been. I was riding Chris Glover's good horse, Champ, I picked up on him and when I did he slid his butt up underneath him and went down. It wasn't that bad a wreck. I hit my elbow on the saddle horn is what broke my clavicle."
If there's a guy out there who had a shot at gritting it out and running on guts and fumes to the finish line it's JoJo. "I tried to keep roping," he said. "We went to Kansas City and Amarillo, and I about wet my britches trying to swing a rope. I popped it off at Kansas City and couldn't get my rope to the steer at Amarillo. So I sat out the last week (of the regular season). I didn't go to Omaha, because I thought it would be a lot better for Dakota. I missed our last four rodeos in Omaha, Stephenville (Texas), San Bernardino and Poway (Calif.)."
JoJo qualified for his second Clem McSpadden National Finals Steer Roping in 2015, finished second in the average there behind Trevor Brazile and also finished second in the 2015 world all-around race only to Trevor. But he just barely got back into the swing of things with his roping arm before the NFSR in November. At NFSR's end, and after missing the NFR cut, JoJo thought his season was over.
JoJo was gathering cows in an ice storm in Lamesa, Texas, on some leased land about 65 miles from home, when he got the call from Junior. His first thought: "I was just concerned for Jake," JoJo said. "He's a living legend in our sport and has been a hero of mine since I was a kid. You don't want anyone to get hurt, especially someone you idolize. If you don't look up to Jake Barnes in the team roping world you're not human. He works harder than everyone else, he's a great role model and he always makes good decisions. Jake's changed team roping. Junior was really scared when he called me. I hated it.
"I was not wanting to go to the Finals. I didn't want to be that guy. I didn't make it. Then my wife explained to me that somebody was going to take that spot, so it might as well be us."
He got the cows in, then went to making calls to round up a ride. JoJo didn't have a head horse after retiring his main mount, Bull, 21, to the pasture at Glover's place in Keenesburg, Colo., after Cheyenne last summer, and sending George Cantu's paint horse that he rode a lot last year back home to Midland, Texas, after Albuquerque.
JoJo took four horses to the Finals—Kent Youngblood's gray horse Goose, Cantu's sorrel horse Snow, the sorrel horse Kaleb Driggers bought from Jake they call Dre, and—yes—old Bull got called up from the pasture one more time. JoJo rode Goose in all but the fourth and fifth rounds, and paid for him with part of the $127,404 he won with Junior at NFR '15. Bull—the horse JoJo was riding when he and Randon Adams set the 3.4-second NFR and world record in Round 9 of the 2009 NFR before it was broken by Chad Masters and Jade Corkill in 3.3 a few runs later—got the nod in rounds four and five because, "I thought he deserved to get to go."
The ninth round of the 2009 NFR—3.3, 3.4, 3.8 (Clay Tryan and Cory Petska) and a pair of 3.9s (David Key and Rich Skelton, and Nick Sartain and Kollin VonAhn)—is a night that will never, ever slip my mind. JoJo and Randon, who roped ninth that Dec. 11 perf, set the world record and brought the whole house down. Then—right after Chad and Jade dropped every jaw in the joint with their 3.3 (they were the 14th of 15 teams to rope that round)—here came JoJo running up the tunnel to slap those guys on the back. I'll always remember his genuine joy. He was way past pumped.
"That's the greatest night ever in team roping," JoJo said. "It was incredible to get to be a part of that. A few of us had been 3.5 before (JoJo and Randon were 3.5 in Corpus Christi, Texas, earlier that year, and at that time there were five 3.5s in the record books). Our whole goal that year was to have the world record. I hadn't really thought about winning a world championship. A lot goes into every gold buckle—a lot of sacrifice—but I wanted to go down in the record books for something and you're not going to go down in history just for making the National Finals.
"My kiddos were babies in 2009, so I wanted to go home and be with my family (their baby, Gunnar, arrived prematurely in March 2010, and spent several weeks in the neonatal intensive care unit). Chad Masters has always been a great person. What a stand-up guy he is. He's a great champion and a great friend of mine. To get to experience that with him was a great accomplishment to me. Those guys stepped up to the plate and flat out beat us. It was just an amazing night. When things go like that it makes for history in that one night."
Surprisingly and atypical of his natural style, JoJo was thinking about the 10-steer average riding into Vegas in 2015, "because whoever won the average was going to win the world title, just about. I'm not as dumb as I look."
Fair enough. The NFR average did pay $67,269 a man at the historic cowboy slot machine also known as the 2015 NFR. And furthermore, "Junior doesn't need a strategy. He's so talented that he doesn't need a game plan. I wasn't there for me. I was there trying to help Junior.
"What a great experience. It was awesome. Junior's a great person—a great Christian man who's strong in his beliefs and very talented with a rope."
JoJo and Junior got on a weeklong roll, placing in eight of the first nine rounds. Their only hickey had been a barrier added to a money run in round two. The stars seemed to be lining up to rewrite history—with 50.2 seconds on nine steers, they had 8.9 to tie Jake and Clay O'Brien Cooper's 59.1-second NFR average record from back in 1994. Yes, Jake's replacement and Jake's partner were going to be the ones. The way they had it figured, basically stopping the clock would win the average (Luke Brown and Kollin VonAhn won it in 65.3) and if they placed third in the round or better the gold buckle was within reach (depending, of course, on the runs of several other teams).
"We knew that steer ducked his head and came left pretty hard," JoJo said. "I just wanted to make sure I got him caught. I don't know what happened. Nothing felt any different than any other night. I just missed my dally. I bet I haven't lost my rope 10 times in my whole life. Headers don't lose their rope. It broke my heart for Junior. It cost him winning the world championship."
Junior showed amazing grace, pointed to the "Praying for Jake" button he and JoJo both wore 24/7 in Vegas, and grabbed JoJo's hand and lifted it up to acknowledge a courageous effort as they rode out the back end. Junior did Jake—the man he calls "Dad"—proud.
"I was terribly upset," JoJo said. "You don't ever want to cost someone the world championship. My dream of a world championship was extinguished the end of September when I found out I didn't make the NFR. But that was a big chance for Junior, so I felt really bad about that."
JoJo and Junior still finished third in the average on nine, behind Luke and Kollin, and Coleman Proctor and Jake Long. And JoJo knew his $261,281 year—which also included $2,541 in tie-down roping money—was a great big blessing. The way it went, JoJo finished seventh in the world on the heading side and Junior, who rode into Vegas 12th, climbed to fourth.
"It was a good year," JoJo said. "Both the NFR and NFSR paying so much made it a lot better, and me doing good at both was outstanding. It was the best year I've ever had. It was also the first year I did both events all year. When I made my first NFSR in 2013, I hardly team roped. When I was making the Finals in the team roping (from 2008-2010 before last year) I only tripped here and there. I like both events a lot, and I'm going to try to rope calves quite a bit this year, too. Team roping does pull rank over the others, though. I don't want to cut my partner out and make a selfish decision, so I always try to think of what's best for my team and not what's best for me."
JoJo's heading for Jim Ross Cooper in 2016. "I'm excited about it," JoJo said. "We're good childhood friends. It's just like getting to rope with a brother.
"Last year got me motivated. The way rodeo's paying right now and the opportunities we have—a guy needs to do it. I'm not getting any younger."
But is he old and wise enough to grasp just how close he came to achieving the impossible? Allen Bach came from 15th to win his second of four world team roping titles in 1990. But nobody shoots the gold-buckle gap from that 16th-place heartbreak hole. It's supposed to be beyond reach, because you missed the NFR boat.
"I think it was God's will," JoJo said. "God had a plan. I think God puts us in places, and that's where he wanted me to be right then."
Courtesy of PRCA