Heith DeMoss Snares Kennewick Victory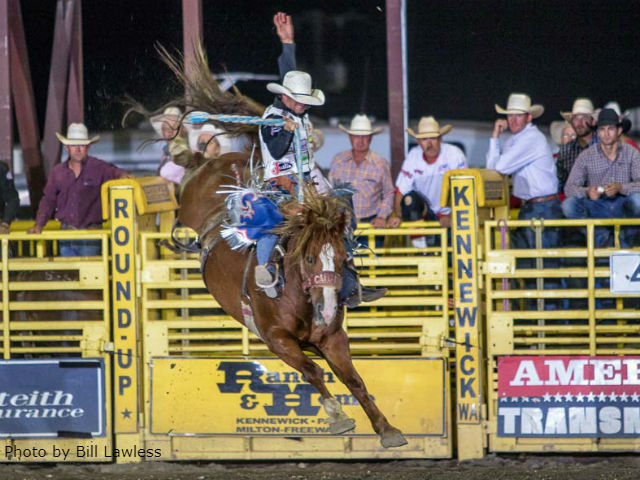 KENNEWICK, Wash. – Another day at the office resulted in a new line on Heith DeMoss' impressive resume.
The veteran saddle bronc rider won the Horse Heaven Round-Up for the first time in his career Aug. 26.
DeMoss captured the average title with 168.5 points on two head at the Lithia RAM Arena.
"I've always been real close to winning this thing," said DeMoss, 32. "It was good to finally go ahead and breakthrough, I reckon. I've always wanted to win this rodeo and it has been on my bucket list. They bring the best horses in the world and the best guys in the world, and to win at a place like this is really a notch on the old belt."
In the first round, DeMoss put himself in position to win the rodeo with his 84-point ride. When DeMoss settled in for his ride in the finals with Calgary Stampede's Wild Cherry, he got all he could handle.
"I think my horse got most of the points, I was just lucky enough to stay on top of him until the whistle blew," DeMoss said. "I had never been on that horse. I had seen him with Zeke Thurston and Cort Scheer, and some other top hands. You dang sure have the tiger by the tail when you put your saddle on that horse. He's a bad cat, that's the only way I know how to explain it."
DeMoss acknowledged he just made it to the whistle with Wild Cherry.
"He's advanced-rider only horse," he said. "I just barely made it. I think the whistle blew and I bucked off at 8.1 seconds. I was on top there when I heard the whistle, but it wasn't long before I hit the ground."
The performance at Kennewick earned DeMoss $5,805, which should move him into the Top 10 in the WEATHER GUARD® PRCA World Standings. DeMoss was 11th in the Aug. 21 standings with $71,581.
"This is how I make my living and to win is dang sure a blessing," DeMoss said. "I just got done building a house, so I can use the money."
DeMoss joined the PRCA in 2004 and has qualified for the Wrangler National Finals rodeo eight times (2007, 2009-11, 2013-2016).
"The thrill of the fight is why I still love to do this so much," DeMoss said. "When one gives it all he has got and you give it all you have got, it's something cool that happens that can't be replaced by anything else."
Other winners at the $280,099 rodeo were all-around champion Ryle Smith ($3,861, tie-down roping and steer wrestling), bareback rider Tim O'Connell (171 points on two head), steer wrestler Rowdy Parrott (11.8 seconds on three head), team ropers Dustin Egusquiza/Kory Koontz (15.5 seconds on three head), tie-down roper Caleb Smidt (25.1 seconds on three head), barrel racer Sydni Blanchard (34.67 seconds on two runs) and bull rider Chase Dougherty (171.5 points on two head).
Courtesy of PRCA