Hillman Has Big Payday at All American Finals
By Jolee Jordan
Waco, Texas — It's hard to imagine any horse could have more decisively shown her range in the last month than Stevi Hillman's mare Morning Traffic.
In less than a week in September, the five year old daughter of PESI stallion Frenchmans Guy out of Evening Traffic placed third on a 14-second pattern at the Justin Boots Playoffs in Puyallup, Wash., and then won the famous Pendleton Round-Up, a course that runs 29-seconds in length.
Hillman noted at the time that she was headed home to Texas to get her horse back indoors to prep for her first trip to the Wrangler National Finals Rodeo, less than two months away in Las Vegas December 1-10.
After four runs at the All American ProRodeo Finals presented by Pendleton Whiskey, which is held in conjunction with the Heart O' Texas Fair, it would be a safe bet to say Hillman and the pretty little palomino she calls Martini are ready for Vegas.
Hillman qualified to the Finals held each October by finishing 27th in the season standings; All American standings are kept from all rodeos with less than $30,000 and the top 30 cowgirls who have competed in at least 30 rodeos go to the Finals.
Making the short trip to Waco from her home in Weatherford, Hillman competed in the first bracket of the tournament style rodeo on October 8-9, picking up a second and a third in her first two rounds to advance to the Saturday semi-final round. Only the three high money winners moved on to the final night.
With $3,473 already in her pockets, Hillman and Martini drew the ninth and final spot to run in the semi-finals. With all previous scores dropped, the final night is sudden death with the top four from the semi-finals coming back in the Championship Round later within the same performance for another run at the title.
Arkansas cowgirl Laura Kennedy led off the final night but a costly barrel penalty ended her night early. The season leader in the All American, Cayla Melby ran second but suffered the same fate as Kennedy.
Perennial finalist Michele McLeod ran next aboard the great stallion Slick by Design. McLeod won Bracket A with more than $4,000 won and took the lead in the semi-finals with her run of 16.15 seconds.
It was to be a short lived lead, however, as Mary Walker, the only former champion of the All American to make the finals in 2016, posted a 16.13 seconds aboard Latte. Walker competed in Bracket C on Thursday and Friday nights, winning the round on Friday with an identical time of 16.13.
"He's been off a couple of weeks, just playing around at home," Walker told Pro Rodeo Live's Steve Kenyon on Friday, "so he was a little rusty last night but tonight, he felt really good."
Jordan Moore followed Walker and also had trouble, taking a penalty. Florida cowgirl Sabra O'Quinn was next in the draw, one of the cowgirls to win a preliminary round here way back on Sunday, October 9. She and Nosey moved to third with their run of 16.25 seconds.
Like McLeod, Calyssa Thomas has a habit of making the finals in Waco, finishing in the top four a year ago. She posted the fastest time of the rodeo—at that point—during the opening round of Bracket C with a run of 15.87 seconds on her horse DJ.
"It's a really nice set-up," Thomas told Kenyon. "I came down here the last couple of years and my horse likes it and I like it. We just came down from [the Badlands Circuit] with the really tiny pens so it's refreshing."
Thomas banked $3,821 to finish about $350 ahead of Walker in Bracket C. She followed Walker again on Saturday night, stopping the clock at 16.17 seconds to move to third in the round.
After Ari-Anna Flynn's 16.31 left her fifth, Hillman ended the round knowing she needed to beat O'Quinn's 16.25 to advance to the Championships. She got what she needed at 16.15, good enough to split second in the round and bump Thomas to the fourth, the final qualifying hole.
After a short break, the four round runs through events quickly and it wasn't long until the barrel racers were once again in the holding pen preparing for their final runs. Not only was the title of All American Champion on the line and a big payday worth $7,500, but all the money won this year counts for 2017 standings, giving the competitors a chance to get a big jump start on next season.
As the final qualifier, Thomas led off the final round and she set the bar high at 16.05 seconds.
Then came Hillman, who has shined in the big moments this season, whether it be in the short rounds at Casper and Reno aboard her horse Cuatro Fame or in the Justin Boots Playoffs and finals at Pendleton aboard Martini.
Flying down the alley in the Extraco Events Center, Hillman and Martini laid down a flawless run, bringing the crowd to a frenzy when the leaderboard flashed her time: 15.73 seconds. Not only was it the fastest run of the 2016 All American Finals, it was just one one-hundredth off the arena record, set in the finals in 2012 by Walker.
After McLeod bumped over the third can, only Walker stood in Hillman's way and she'd have to duplicate her Championship winning run from four years ago to have a shot to win it all again. When Latte made his big move behind the first, he carried it over, ending Walker's chance to repeat.
"This little mare is just amazing, God has sure blessed me with some awesome horses," Hillman posted to her Facebook later that night after a victory lap in a Ram Truck and the awards ceremony where winners are giving saddles and buckles along with a bottle of Pendleton Whiskey. "Martini and I won the All American Finals in Waco tonight. Split 2/3 in the finals, then came back in final 4, to win it and dang near break the arena record."
"What a night!"
Hillman trained Martini, who is owned by Cody and Michelle Darling. Her win in Waco was worth $12,473 towards a second trip to the Wrangler NFR next year.
Thomas picked up $5,000 for second in the Championship Round, bringing her rodeo total to $9,421 while Walker finished third in the money at $5,873 thanks to the $2,400 Semi-Final win.
On the PRCA side of things, champions in Waco included bareback rider Winn Ratliff (90 points on Pickett Pro Rodeo's Top Flight), team ropers Jake Cooper/Tyler McKnight (9.5 seconds), saddle bronc rider CoBurn Bradshaw (88 points on Big Rafter Rodeo's Pearl), tie-down roper Caleb Smidt (7.2 seconds), steer ropers Scott Snedecor and Cody Lee (33.1 seconds on three head) and bull rider Dalan Duncan (86 points on 4L & Diamond S Rodeo's Go Texan).
The total purse at the 2016 All American Pro Rodeo Finals was $482,384.
For more information on the All American Pro Rodeo Series Finals, please visit www.prorodeo.com and www.hotfair.com.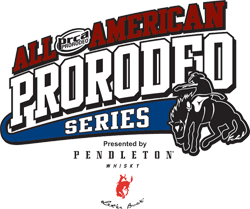 Bracket C
1st Go
1.Calyssa Thomas, Trcashenbadger, 15.87, $2,779
2.Cayla Melby, Brookstone Jo, 16.10, $2,084
3.Fonda Galbreath, Frosted Cookies, 16.13, $1,389
4.Mary Walker, Perculatin, 16.27, $695
2nd Go
1.Walker, 16.13, $2,779
2.Jana Griemsman, Chase It With Brandy, 16.15, $2,084
3.Thomas, 16.17
4.Layna Kight, Flirting Time, 16.17
Bracket C — Total Earnings
*Thomas, $3,821
*Walker, $3,473
*Melby, $2,084
Griemsman, $2,084
Galbreath, $1,389
Kight, $1,042
*Advance to Semi-Finals (Melby won tie breaker based on regular season AA standings)
Semi-Finals
1.Walker, 16.13, $2,400
2.Michele McLeod, Slick by Design, 16.15, $1,500
3.Stevi Hillman, Morning Traffic, 16.15, $1,500
4.Thomas, 16.17, $600
Finals
1.Hillman, 15.73, $7,500
2.Thomas, 16.05, $5,000
Event Total Earnings (Finalists)
Hillman, $12,473
Thomas, $9,421
Walker, $5,873
McLeod, $5,668
Ari-Anna Flynn, Sunny Two Socks, $4,863
Jordan Moore, CCR Ring of Fire, $4,168
Sabra O'Quinn, $2,084
Laura Kennedy, Hopes Money Boy, $2,084
Cayla Melby, Brookstone Jo, $2,084
Courtesy of WPRA