Horse Power: Summit Pro Rodeo's Arapaho Bucking Again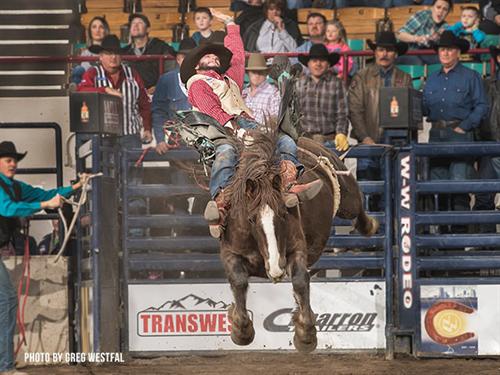 As J.D. Hamaker flew down the highway, he was simply hoping that his prized mare, Arapaho, would make it to Nampa.
The owner of Summit Pro Rodeo had a 120-mile drive to get the bareback bronc from Gooding, Idaho, to Nampa, and Arapaho was suffering from an extreme case of colic.
"It was a hectic, fast trip," Hamaker said. "We had to pull over four times between Gooding and Nampa to give her more pain medicine to try to keep her on her feet. I was driving north of 90 (mph) the whole way, and Ty didn't have a fun time in the trailer. I didn't think she was going to make it to Nampa."
Hamaker's son, Ty, a former PRCA bull rider, was tasked with being in the trailer with the horse to make sure she stayed upright.
As brutal as those 120 miles were for J.D., it was worse for Ty.
"It was pretty stressful," Ty said. "Having that good mare back there – she was looking pretty bad, and I didn't know if she was going to make it. Being in a trailer that's going 100 on the interstate, and trying to keep a horse that big on her feet, while trying to stay on your feet, isn't fun."
Somehow, 8-year-old Arapaho made it all the way to the Idaho Equine Center in Nampa, where Dr. Shane Smith and Dr. Peter Knox were able to perform emergency surgery and save her.
It was a huge relief for J.D., who had acquired the horse at the beginning of 2016 from Alicia Fettig in North Dakota.
"I knew Arapaho was something special before I even bought her, and when she bucked in Denver (in 2016) it reassured me that she was what everyone said she was," J.D. said. "I definitely thought she would've been an NFR horse if she was healthy."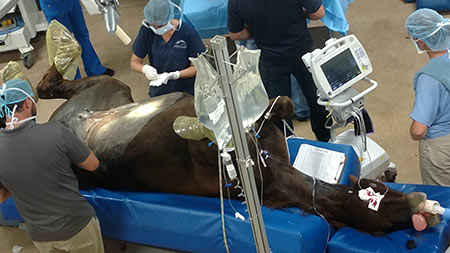 Tanner Aus, who's qualified for the Wrangler National Finals Rodeo presented by Polaris RANGER the past two years, rode Arapaho in Denver in 2016, as was quite impressed.
"She's really electric, has a lot of action, and stays close to the bucking chutes – those are good qualities for any horse to have, but for one to have all three really sets her apart," said Aus, who won Round 1 in Denver with an 87-point trip in 2016. "That's absolutely an NFR horse, and I would say she belongs in the TV pen. I'd love to draw her in Vegas someday."
Arapaho was on track for her first WNFR appearance in 2016 before the colic hit. She stayed in Nampa for two weeks after the surgery, and then traveled back to Laramie, Wyo., where she had to stay in a 10×10-foot stall for 60 days to heal up.
Making the story even more incredible is that the horse was pregnant throughout this entire ordeal, and didn't lose her colt.
"She's a tough horse, and it's amazing that she can go through that – being on the operating table with all of her insides pulled out, and then a few months later, be bucking in Denver," Ty said. "I was totally amazed when they gave her an ultrasound, and she was still pregnant."
Arapaho was turned out into a large pen in late November, and the Hamakers gave her plenty of recovery time before bringing her back to buck for the first time in Denver in January.
J.D. admits he was extremely nervous before the horse's first trip in Denver – which was her first time being bucked in five months.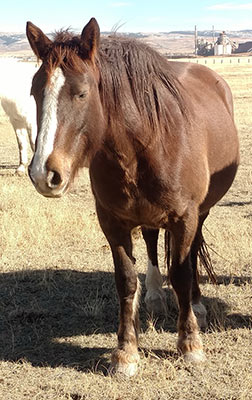 "I didn't know how she'd react to all of it," he said. "She went through a lot, and then all of the time she spent in that small stall, isolated from the other horses, we didn't know what it would do to her mentally. She wasn't in great rodeo shape, either. She was good in Denver this year, but she wasn't at the level she was before, or where we want to get her back to. But, I was just happy that she did well."
In Arapaho's first trip back from injury, she matched up with Taylor Broussard. She was quick, powerful and electric, earning marks of 22 from both judges – which was the fourth-best-scored bareback horse of the entire National Western Stock Show and Rodeo.
Her second ride in Denver was marked 20 by both judges – not a bad pair of trips for a horse that nearly died just months ago.
"Her second trip in Denver, she kicked the back of the chute extremely hard, and that's partly why her second trip wasn't as good as her first," J.D. said. "Ty was flanking, and it knocked him off the back of the chute. She's a horse the cowboys like, and she's one they get along with."
Arapaho is due to give birth in May, and will now head back to the Summit ranch until then. She'll return to the rodeo arena in June or July, hoping to buck at enough rodeos to make it to her first WNFR, a year later than expected.
"There are no guarantees, but she definitely has the tools to be a great bucking horse," J.D. said. "We're just happy to have her back and healthy now."
Courtesy of PRCA