Howard Pins Down RSCFR Victory
by Matt Naber | Nov 13, 2016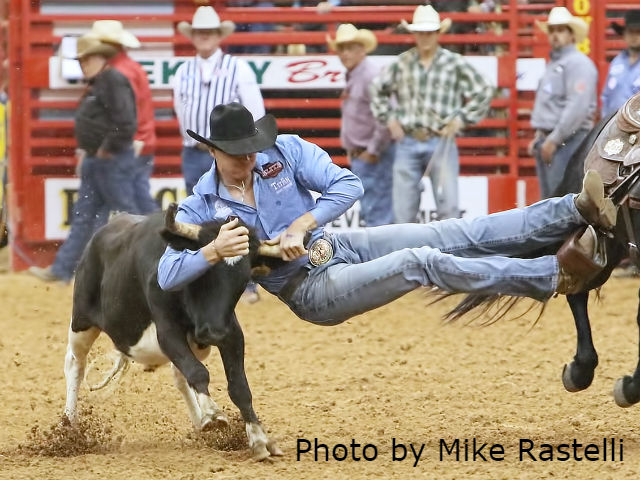 DAVIE, Fla. – Tying twice was all it took to wrap up Chance Howard's steer wrestling victory at the RAM Southeastern Circuit Finals Rodeo on Nov. 12.
Howard tied with Will Lummus in the first round, as both finished three-tenths of a second faster than Tyler Waguespack, the No. 3 steer wrestler entering the upcoming Wrangler National Finals Rodeo presented by Polaris RANGER.
"Everyone in the circuit is good – we had three guys qualify for NFR and Gary Gilbert was year-end champ – gives you a good run for the money and good competition," Howard said. "Competing against them gives you confidence that you know you can get there and accomplish your goals. I grew up bulldogging with all of those guys, and they are good competition and motivate you to do better."
The second steer was faster than the first, taking Howard 5.1 seconds to pin to the ground.
"The second steer was a bit stronger, and ran a bit more," Howard said. "The first and third steers were good, but two was a little tougher. He just ran harder and ran me out of the money."
The third round saw Howard tie once again with a 4.3, but this time around it was for second place alongside Justin Thigpen, and right behind Jason Thomas' 3.7.
"I got some good starts, and things lined up just right – they all ran straight," Howard said, estimating that a 4.3-second run is typical for him. "This time around, it turned out to be pretty good there. I just kept my cool and never let myself get nervous."
That final round added up to a 2.5-second lead in the average, sending Howard to his first RAM National Circuit Finals Rodeo, April 6-9, in Kissimmee, Fla.
"It makes you feel good and ready to go to the Finals," Howard said.
The Cedarville, Ark., cowboy entered the RSCFR ranked third in the Southeastern Circuit with $9,377, and he left as the top bulldogger at the Finals, collecting $6,594 along the way.
"That was my goal going in there, to try to win the average and get a spot to go to the RAM Circuit Finals," said Howard, 25.
This was Howard's fourth time competing at the RSCFR, and he drew on those past experiences, as well as his one-time appearance at the RAM Great Lakes Circuit Finals Rodeo.
"This is my first time winning the average – I'd placed before, but never won it," Howard said. "It wasn't any harder, things just worked out my way this time."
Following his victory at the RSCFR, Howard has his eye on the 2017 WNFR.
"I'm going to keep at it and see if I can make the Finals next year," Howard said.
Howard also has his sights set on the Daddy of 'em All, the Cheyenne Frontier Days Rodeo.
"I just keep on planning on getting a little further and set my goals a little higher," Howard said. "I'm going to all the winter rodeos in January and February and will see how the winter goes – I'll be all over the place."
Other winners at the $190,836 rodeo were all-around cowboy Bart Brunson ($3,023 tie-down roping and team roping), bareback rider Winn Ratliff (243 points on three head), steer wrestler Chance Howard (13.7 seconds on three head), team ropers John Alley/Clark Adcock (14.4 seconds on three head), saddle bronc rider Heith DeMoss (244 points on three head), tie-down roper Randall Carlisle (24.8 seconds on three head), barrel racer Lindsey Hayes-Banks (44.52 seconds on three runs), and bull rider Lane Lasley (155 on two head).
For more coverage of the RAM Southeastern Circuit Finals Rodeo, check out the first 2017 issue of ProRodeo Sports News.
Courtesy of PRCA