Hughes Ropes Red Bluff Title with Consistency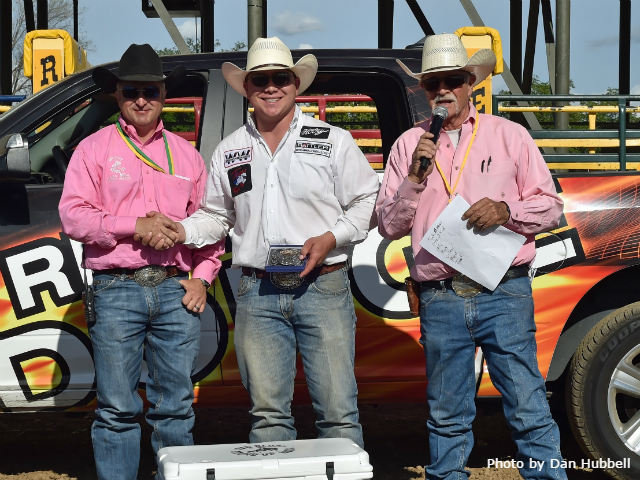 RED BLUFF, Calif. – With his biggest fans watching back home, tie-down roper Westyn Hughes gave them plenty to smile about.
The 19-year-old from Caldwell, Texas, was nearly 2,000 miles from home when he took the title at the Red Bluff Round-Up, topping the field with a time of 40.9 seconds on four head.
"It's always been a dream of mine to come to Red Bluff and win this rodeo, and I'm fortunate enough to do it this year," Hughes said.
"On a four-header you play it just a tad bit conservative and don't take as many gambles. You want to get the rope around the neck and not break the barrier, that's the key. You can't win with a broken barrier – you don't have to be 7, you just need to be consistent."
That's exactly what Hughes did. He didn't place in the first or third rounds, but won the second round with a time of 8.4 seconds, and then placed third in the finals with a run of 10.0.
That was easily enough to take the average title, as Hughes was nearly two seconds ahead of second-place Cimarron Boardman.
He took home the prestigious Red Bluff title, while earning a total of $6,024. It made everyone back home who was watching on the Wrangler Network very happy.
"My support system is huge," Hughes said. "I talk to my grandparents on the phone all the time while I'm rodeoing, my dad has run many calves in the practice arena until late into the night with me over the years, and my mom and sister always support me.
"This isn't just about me – when I win, everybody in my family wins. They've put in the same amount of time and effort into this as I have."
Hughes seems to be on his way to improving upon his 25th-place finish in the 2016 WEATHER GUARD® PRCA World Standings.
He was 19th entering the weekend, and the money won at Red Bluff should move him close to – if not into – the Top 15.
"This is going to help the bank account quite a bit, and it's going to take a lot of stress off me," said Hughes, the 2016 PRCA/Resistol Rookie of the Year in his event. "This is one of the biggest wins I've ever had, and I hope I can keep this momentum going and stay sharp."
Hughes has the horsepower to be a serious contender this season. In addition to the horse he rode in Red Bluff – 11-year-old Klorox – he also owns 2008 PRCA Horse of the Year, Oz, who he bought from Justin Maass, an eight-time qualifier for the Wrangler National Finals Rodeo presented by Polaris RANGER.
"Oz didn't make this trip, I'm giving him a little time off," Hughes said. "The thing about Klorox is that he's really easy to score good on, and he doesn't make any errors. In this event, the horse is 75 percent of it, and you can't win without a good one. I like Oz for a shorter score with smaller cattle, and Klorox is good at a bigger arena with bigger calves, like out in California."
Making the WNFR for the first time in 2017 is important to Hughes in more ways than one. His grandfather, Glenn, is battling lung cancer, and Hughes wants to be in Las Vegas in December for him.
"It would be a big deal for me to be able to do it for him this year and have him see me accomplish that," Hughes said. "He's worked so much to help me achieve success."
Other winners at the $250,294 rodeo were all-around cowboy Ryle Smith ($7,051 in steer wrestling and tie-down roping), bareback riders Shane O'Connell (85.5 points on Bridwell Pro Rodeos' Caddy Wagon) and Tilden Hooper (85.5 points on Bridwell Pro Rodeos' Raggidy Ann), steer wrestler Chance Howard (19.2 seconds on four head), team ropers Coleman Proctor and Billie Jack Saebens (38.1 seconds on four head), saddle bronc rider Hardy Braden (85 points on Calgary Stampede's Turbo Rocket), barrel racer Stevi Hillman (34.58 seconds on two runs) and bull rider Trey Benton III (88.5 points on Rosser Rodeo's Heartbreak).
For more coverage of the Red Bluff Round-Up, check out the May 12 issue of the ProRodeo Sports News.
Courtesy of PRCA