Jayne Continues Success in Greeley
by Justin Shaw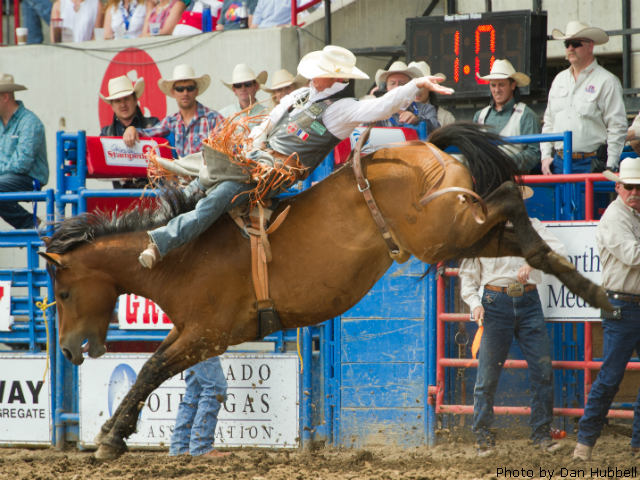 GREELEY, Colo. – A year ago, bareback rider Evan Jayne just missed out on his first title at the Greeley Stampede. This time, he made sure the victory lap would be his.
Jayne – who finished two points behind Orin Larsen for the 2015 title – blew away the competition with a two-head average score of 173.5 points. That total was 8.5 points better than second-place Tanner Aus and Heath Ford, and was a half-point off the two-head rodeo record set by Tim O'Connell in 2014.
"You just have arenas where you're more comfortable riding, and Greeley is one of those for me," Jayne said. "I've been good here the last few years, and came in with no pressure and that helped.
"I was just a half-point away from the record, but it feels pretty good to be up there that close. But all I really wanted was to win the rodeo."
The 34-year-old native of Marseille, France, won the first round with an 85-point ride on Beutler & Son Rodeo's Showbiz. He then took it up a notch with an 88.5-point trip on Beutler & Son Rodeo's Movie Madness to win the finals and the average July 3.
The 88.5 in the short round was a half-point off the arena record. However, Jayne left Greeley with a total of $9,034, and couldn't have been happier.
"I had been on Movie Madness a few years back, and I was happy to draw that horse again," Jayne said. "When Bennie (Beutler) brings out his top 10 horses in the short round, it's anybody's game.
"It's been a hot weekend for me so far. It's the wave of rodeo, and I picked the right week to ride well and draw well. It happened last year during Cowboy Christmas, and I won about $18,000."
Jayne entered the lucrative weekend 10th in the WEATHER GUARD® PRCA World Standings.
Jump-started by his large haul in Greeley, he's hoping to put together a streak that will have him in good position for a second straight trip to the Wrangler National Finals Rodeo presented by Polaris RANGER.
He made history last year as the first European-born contestant at the WNFR, and has followed that campaign with another successful one in 2016.
"I've never had to prove anything to anybody but myself," he said. "I wanted to show myself that I can make it to the NFR two or three times before I retire, and that all the sacrifices I've made over the years were worth it."
Jayne was nearly perfect in Greeley, but says he did make one mistake before riding in the muddy arena Sunday.
"I was wearing white today, which was the worst thing I could've done," he said with a laugh. "The pickup man sprayed me real good with mud, but I'm still very happy with the win."
Other winners at the $307,698 rodeo were all-around cowboy Ryan Jarrett ($5,593 in tie-down roping, steer wrestling and team roping), steer wrestler Mike McGinn (8.1 seconds on two head), team ropers Cole Dorenkamp and Josh Fillmore (11.8 seconds on two head), saddle bronc rider Rusty Wright (171 points on two head), tie-down roper Timber Moore (17.6 seconds on two head), barrel racer Lisa Lockhart (35.17 seconds on two runs) and bull rider Garrett Tribble (159.5 points on two head).
For more coverage of the Greeley Stampede, check out the July 15 issue of the ProRodeo Sports News.
Courtesy of PRCA