Jenkins Wins Average at RMCFR
by Tracy Renck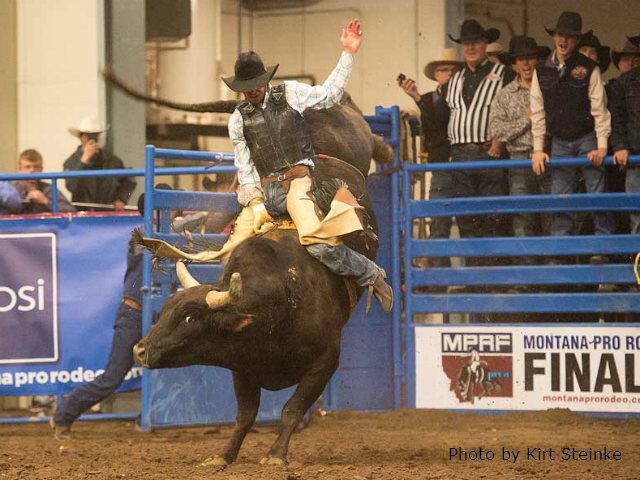 GREAT FALLS, Mont. – This wasn't a dominating performance by bull rider Dustin Jenkins by any means.
Jenkins, however, was better than anybody else at the RAM Montana Circuit Finals Rodeo (Jan. 15-17).
Thanks to an 85-ride in Round 1, Jenkins was able to claim the average title at Four Seasons Arena.
"I've never won the average here before and this feels pretty awesome," said Jenkins, 28. "I wish I would've rode my other two bulls, but it is what it is."
The Missoula, Mont., cowboys had his 85-point ride on Brookman-Hyland Rodeo's Damn It's Good in the first round and then held on for the win. No bull riders had a qualified ride in Round 2, and then Guy Nordahl 82-point ride on Kesler Championship Rodeo's Double Dragon won Round 3, but it wasn't enough to overtake Jenkins. Kody DeShon, who qualified for the 2015 Wrangler National Finals Rodeo presented by Polaris RANGER, came in third with a 79-point ride in Round 3.
Jenkins left Great Falls with $5,617 in winnings – $3,370 for capturing the average crown.
"I was on that bull (Damn It's Good) once before at a rodeo last summer and I was bucked off, but I was pretty excited to have him again and get another shot at him," Jenkins said. "I think I had a better game plan this time I got on him."
Jenkins then talked about how his winning ride unfolded Jan. 15.
"He really bucked and went to the left," Jenkins said.
When the 8-second whistle sounded, Jenkins was optimistic about what the scoreboard would say.
"I figured it was going to be somewhere in the mid-80s," Jenkins said. "So, it was cool when I saw my score."
By virtue of winning the average, Jenkins punched his ticket to the RAM National Circuit Finals Rodeo April 7-10 in Kissimmee, Fla.
"I'm absolutely excited to be going to Kissimmee to see what I can do," Jenkins said.
Other winners at the $202,222 rodeo were all-around cowboy Hank Hollenbeck ($5,056, tie-down roping and team roping), steer wrestlers Josh Boka and Ty Erickson (12.8 seconds on three head), team ropers Jade Stoddard and Ike Folsom (16.7 seconds on three head), saddle bronc rider Tyrell Smith (241 points on three head), tie-down roper Chad Johnson (28.8 seconds on three head), barrel racer Heather Knerr (40.29 seconds on three runs).
Courtesy of PRCA